The 1996 Hahn Cabernet Franc was harvested under superb conditions after perfect spring and summer weather. Great flavors, sugars, and an ideal acid profile have been translated into a terrific wine. Aromas of cinnamon and anise mingle with Bordeaux-like fruit in the bouquet. Fresh blackberries, spice, and hints of chocolate fill the palate. This is a bold but very balanced wine, with smooth tannins and a long toasted vanilla finish produced by 15 months of aging in French and American cooperage. Although the Hahn Cabernet Franc will undoubtedly continue to improve in the bottle, it is so easy to drink young that very few tasters will ever taste it at full maturity.
Grilled meats and spicy food pair beautifully with the Hahn Cabernet Franc. Oriental dishes, Mexican food, Cajun dishes and meat barbecue fare won't overwhelm this wine. We would even suggest that you try it with traditionally hard to match foods like pasta with artichokes and sun-dried tomatoes.
Hahn Estates: Accessible Wines of Imminent Style "Gorgeous" is the only word to describe Hahn Estates. Perched along the slopes of the Santa Lucia Highlands that give way to the Salinas Valley, its location redefines the word "beautiful". This is indeed Steinbeck country, the fabled Monterey of legend and lore. It is also home to some of California's finest and most distinctive wines produced by the Hahn Estates Vineyards. Although the Hahn Estates label first appeared in 1991, their origin dates to the founding of the Smith S. Hook winery in 1974. In search of the perfect microclimate for Cabernet and Merlot, Nicolaus Hahn purchased the old Smith horse ranch and the adjacent cattle ranch owned by the Hooks and began planting vines. Out of the original holdings along the slopes of the Santa Lucias, and a patchwork of prime vineyard sites for Chardonnay and other varietals in Monterey, sprang Hahn Estates. From nearly 1400 acres of some of the best vineyard land in America, Hahn Estates produces supple, silky wines of great flavor. So distinctive, in fact, are the wines, climate, soil and elevation at the estate that the BATF created the Santa Lucia Highland Appellation at the Hahns' request in 1992. To further assure the finest quality wines at the Hahn Estates, winemaker Art Nathan chooses only the choicest grapes for bottling under the estate's name; the remaining fruit is contracted out to other wineries who can truly appreciate the quality of the product.
On top of the world looking down on creation Hahn Estates fashions a number of varietal wines, but Chardonnay is without a doubt, their premier white varietal. Recently, it has received more accolades than almost any other California Chardonnay; it has soared to the top of the critics' lists. While Chardonnay reigns supreme upon the valley floor, the red Bordeaux varietals- Cabernet Franc, Cabernet Sauvignon, and Merlot-form the red triumvirate at Hahn, holding court from the higher elevations where they seem to look down on creation. These red Bordeaux varietals require substantially more warmth and sunshine than the Chardonnay that thrives on the valley floor. At an elevation of 1200 feet, Hahn's Santa Lucia Highland Vineyards provide the right environment for red grapes as they lie well above the morning fog that so often blankets the valley. In addition, these higher vineyards have a southeasterly orientation to catch the morning sun. These two significant factors help Hahn's Cabernet Franc, Cabernet Sauvignon and Merlot grapes develop the intensity and fullness of flavor for which they are renowned. Critics use the terms "bold," "classic," and "intense" when describing them. We tend to think of these wines as simply delicious. Nicolaus Hahn: A Man of Vigilance and Vision Nicolaus Hahn, a Swiss citizen, was raised in both the United States and Europe. Before embarking on his passion for California wine, he worked as a credit analyst in New York, an arbitrageur in Paris, and served as the chairman of Computer Associates, a leading international computer software company in Zurich. After an extensive two-year search in the early 1970's for the perfect microclimate and region to produce world class wines, Hahn settled in Monterey with his family. The philosophy of Hahn Estates is best summarized by Nicolaus Hahn himself when he states, "Our winemaking is influenced by the technology of the New World and the traditions of the Old. We firmly believe that wines are the children of the vineyards. The winemaker is their mentor, supporting and enhancing their attributes." Needless to say, Hahn has done a superb job with his "children" and he has earned the right to be content, to sit under his vines, amid his "children" and drink a glass of his wine. Cabernet Franc: Cinderella No More Cabernet Franc is one of the three great red grapes of Bordeaux. Its origins in the Bordeaux region of France date back some 2000 years to the Roman era. Although Cabernet Franc figures significantly in nearly all the great red wines of Bordeaux, it remains a bit overshadowed as a varietal in America by its coquettish sister, Merlot, and its more aggressive brother, Cabernet Sauvignon. It is, however, Cabernet Franc that adds complexity and texture to Cabernet Sauvignon and body to Merlot when they are blended. And, to those who say that Cabernet Franc isn't quite as exciting on its own as a varietal, we say you haven't tried many Cabernet Francs lately. And, for the stalwarts among you who still remain unconvinced, let's not forget that one of the very greatest red wines ever produced in Bordeaux, the legendary Chateau Cheval Blanc, is nearly all Cabernet Franc and could be labeled as a varietal wine. No wonder Cabernet Franc is one of the hottest new varietals in California and it increasingly figures in the "cepage," or blend, of the top names in Cabernet Sauvignon as well. We believe that this trend will continue and Cabernet Franc's star will continue to rise because it is such a flavorful grape like Cabernet Sauvignon, but it is not really as tannic or astringent, making it easier to drink when young. Rich berry fruit and chocolate flavors are often attributed to Cabernet Franc.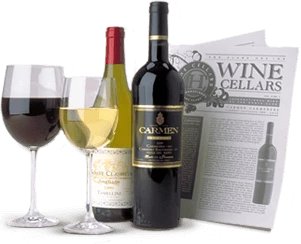 Enjoy Limited Production Estate
Bottled Wines
Discover limited production estate bottled wines such as Vergenoegd's internationally
acclaimed 2005 Cabernet Sauvignon, imported exclusively for our members.
DISCOVER OUR FOUR CLUBS