The 2008 Gustave Lorentz Reserve Pinot Blanc is a truly dry rendition of a classic Alsace varietal. It is a bright, cheerful Pinot Blanc that offers up a gentle mineral rich aroma that is laced with the scents of crisp mountain apple and fresh soft cheeses. In the mouth, the 2008 Lorentz Pinot Blanc Reserve dances across the palate, before exiting in a flourish of clean crisp flavors that hint of almond and spice. Yet, what makes this Pinot Blanc so intriguing is the same quality that makes all of Lorentz's wines so appealing: it is the ability to be a chameleon, ever-changing in the glass so as to present new facets and flavors with each sip. Although some may prefer this wine icy cold, we suggest you try it at a more ambient temperature (50º-55º F). The 2008 Gustave Lorentz Reserve Pinot Blanc broadens in the glass as it shrugs off an icy chill. When only moderately chilled this wine reveals considerable subtlety and nuances of flavor that are easily overlooked when the wine is icy cold . . . but as you like it!
The 2008 Gustave Lorentz Reserve Pinot Blanc is one easy drinking wine, with or without food. However, its chameleon like nature makes it a versatile wine to pair with wide variety of cuisines and individualized dishes. Not surprisingly, traditional Alsatian favorites such as Quiche Lorraine and leek tarts provide excellent accompaniments to this balanced, flavorful Pinot Blanc. Baked or lightly grilled white fish such as cod, flounder, or tilapia offer good company to the 2008 Lorentz Reserve Pinot Blanc as well. Hors d'oeuvres, shellfish, and fish chowders supply additional first-rate accompaniments. Eclectic or traditionally hard to pair dishes such as Orzo Salad with garbanzo beans, Shrimp Fra Diavolo, or even Asian stir-fry, work especially well with this racy Pinot Blanc, too, so why not experiment and enjoy!
Gustave Lorentz is a family owned and operated winery that dates to 1836. Today, the very capable 43-year old Georges Lorentz is the Lorentz in charge, with some assistance from his "retired" father, Charles. The Lorentz winery is one of the largest family owned facilities in Alsace. It encompasses sixty-six acres of premium vineyards in Bergheim, including nearly half of the great Grand Cru vineyard of Altenberg de Bergheim and all of Kanzlerberg, the smallest Grand Cru vineyard in Alsace. Bergheim is located in the very finest section of Alsace, a mere 3 kilometers from Ribeauville and just 5 kilometers from Riquwihr. This is the "real" Alsace wine country, the very heart of the famous Route de Vin. All of the Lorentz wines come from this premier area known as the Haut Rhin and express the unique Bergheim terroir. Like most Alsace producers, Gustave Lorentz features several levels of wine from a gamut of traditional Alsace grapes. The ubiquitous Pinot Blanc provides a steady income and a solid foundation upon which Lorentz, like the majority of Alsace growers, has built his empire. Yet, Gustave Lorentz's Pinot Blanc stands above the rest. As one would expect, Riesling, Tokay Pinot Gris, and Gewürztraminer constitute the remaining stars in the estate's tiara, as they do throughout Alsace. In addition, Lorentz's wines are featured in many of the Michelin-starred restaurants in Alsace and some of the finest restaurants around the world. From simple vintage cuvées to Reserve and Grand Cru bottlings as well as the rare late harvest wines known as Vendanges Tardives, Lorentz is dedicated to the fashioning of the highest quality Alsace wines. Vive la différence!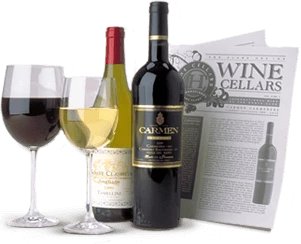 Enjoy Limited Production Estate
Bottled Wines
Discover limited production estate bottled wines such as Vergenoegd's internationally
acclaimed 2005 Cabernet Sauvignon, imported exclusively for our members.
DISCOVER OUR FOUR CLUBS