The 2002 Gustave Lorentz Reserve Pinot Gris is a bright, cheerful wine that shines with the color of the noonday sun. It proffers an intriguing nose of minerals, spice and understated fruit. On the palate the 2002 Lorentz Pinot Gris Reserve is a true chameleon of ever-changing hues and flavors, whose personality is dependent largely upon the temperature of the wine and how long it has breathed. When first opened and icy cold, the tastes of lemon ice and fresh mineral are most evident. As the wine breathes and reaches towards a more ambient temperature, it takes on broader, more hedonistic tones that deftly combine fruit and spice and everything nice. Initially, we suggest serving the 2002 Gustave Lorentz Reserve Pinot Gris icy cold. Then, we suggest you allow it to warm slowly in the glass, over at least a thirty-minute period, in order to completely appreciate this wine's evolution and metamorphosis.
The 2002 Gustave Lorentz Reserve Pinot Gris is quite a versatile wine. Its chameleon like nature makes it a natural for a wide variety of cuisines and an excellent accompaniment to many ordinarily difficult to pair foods. Not surprisingly, Quiche Lorraine, leek tarts, and spicy omelets that are made from asparagus and several types of cheese provide excellent traditional accompaniments to this generous Alsatian Pinot Gris. Pork Tenderloin, especially when marinated in fruit based sauces, presents another splendid marriage. Pâté, highly charged hors d'oeuvres, shellfish, and spicy fish chowders also supply additional first-rate accompaniments to Lorentz's Reserve Pinot Gris. And unlike the majority of lavishly oaked Chardonnay wines that still saturate the market, Asian stir-fry, fusion dishes, and most soy-based foods pose no clashes or difficulties when accompanied by this Alsatian beauty, so be daring; experiment! Enjoy!
Gustave Lorentz is a family owned and operated winery that dates to 1836. At present, the very capable 40-year old Georges Lorentz is the Lorentz in charge, with some assistance from his "retired" father, Charles. Indeed, it must be true that old winemakers rarely just die; instead, they age to perfection and impart wisdom and knowledge to their children, before gracefully fading away. The Lorentz winery is one of the largest family owned facilities in Alsace. It encompasses sixty-six acres of premium vineyards in Bergheim, including nearly half of the great Grand Cru vineyard of Altenberg de Bergheim and all of Kanzlerberg, the smallest Grand Cru vineyard in Alsace. Bergheim is located in the very finest section of Alsace, a mere 3 kilometers from Ribeauville and just 5 kilometers from Riquwihr. This is the real Alsace wine country, the very heart of the famous Route de Vin. All of the Lorentz wines come from this area known as the Haut Rhin and express the unique Bergheim terroir. Like most Alsace producers, Gustave Lorentz features several levels of wine from a wide variety of traditional Alsace grapes. The ubiquitous Pinot Blanc provides a steady income and a solid foundation upon which Lorentz, like the majority of Alsace growers, is building his empire. As one would expect, Riesling, Tokay Pinot Gris, and Gewürztraminer constitute the pinnacle of this properties achievement, as they do throughout Alsace. In addition, Lorentz's wines are featured in many of the Michelin-starred restaurants in Alsace and some of the finest restaurants around the world. From simple vintage cuvees to Reserve and Grand Cru bottlings as well as the rare late harvest wines known as Vendanges Tardives, Lorentz is dedicated to the fashioning of the highest quality Alsace wines. Vive la différence!
Alsace Alsace is quite possibly the most picturesque wine region in all France. It is an enchanted land of beautifully restored half-timbered houses, flower bedecked balconies and window boxes, and of course vineyards. It is bounded by the Vosges Mountains to the west, which block out the dreary maritime weather that plagues so much of the rest of northern France, and the Rhine River and Germany to the east. On account of its favored position and corresponding climate, Alsace is the sunniest province in northern France. This extra sunshine makes Alsace an ideal spot for the cultivation of the vine and the production of premium wines. In Alsace, white wine reigns supreme. This is a matter of local preference and tradition, in spite of the province's production of some very noteworthy Pinot Noir wines and the contemporary clamor for red wine. Pinot Blanc is the stable of Alsace, where it makes a fresh, sprightly wine of considerable merit. Nonetheless, the greatness of Alsace lies more typically in the crafting of some of the world's finest wines from Riesling, Gewürztraminer, and Pinot Gris – the vast majority of which are made dry rather than sweet. The relative dryness of most Alsatian wines may come as a surprise to many, especially those for whom German sounding names and tall thin green bottles are synonymous with sweetness. However, Alsatian wines are unique unto themselves and rarely do they resemble their German counterparts in style, flavor, or level of residual sugar. Robert Parker Jr. has called the wines of Alsace "some of the greatest white wines produced on the planet," and some of the most pleasurable and hedonistic, too, we might add.
For the Love of Cheese and Chocolate, Too: Several cheeses and an extraordinary chocolate we sampled recently are not to be missed with the 2003 Dona Dominga Carmenère Reserva. If you are up for treat, try Tetilla, a super creamy Spanish cheese from Galicia that absolutely melts in your mouth. From a little closer to home, a two-year aged Vermont Grafton Cheddar offers another sensory delight. This is a cheese with extraordinary flavor but not the bitter bite of so many other lesser cheddars. And if by the time you get to dessert there is even a drop of Dona Dominga left, wash it down with one of the other worldly dark Belgian chocolates from Jean Galler. You may go to bed fat, numb, and happy but you won't regret it. For more information on fantastic cheese and chocolate pairings, visit us at www.cheesemonthclub.com and www.chocolatemonthclub.com respectively.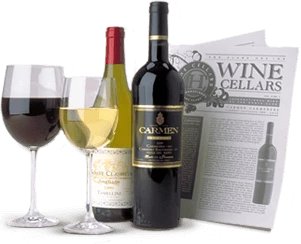 Enjoy Limited Production Estate
Bottled Wines
Discover limited production estate bottled wines such as Vergenoegd's internationally
acclaimed 2005 Cabernet Sauvignon, imported exclusively for our members.
DISCOVER OUR FOUR CLUBS