The recently released 2019 Gust Petaluma Gap Sonoma County Chardonnay goes a long way towards fulfilling Megan and Hilary Cline's goal of fashioning the Holy Grail of Chardonnays – Montrachet-style wines with full flavors, moderate alcohol levels, finesse, and complexity to complement food. Aromatically, the 2019 Gust Petaluma Gap Chardonnay offers a refined, intoxicating bouquet resplendent with the savory scents of freshly cut pineapple, coconut, and sandalwood. In the mouth, the wine's beautifully fresh ripe fruit and subtle spicy cachet blossom in the mouth with a delicacy and finesse reminiscent of the finest French Chardonnays from Burgundy's renowned Montrachet vineyards. A delightful vein of fresh acidity courses through the wine, too, providing laser-like precision and a delightfully delicious finish. Serve between 40°-45° F. Anticipated maturity: 2022-2026. Enjoy!
Made for the finest of fare, the 2019 Gust Petaluma Gap Sonoma County Chardonnay truly shines at table. Fresh seafood, pasta, poultry, pork, and salads all offer ideal accompaniments to Gust's 2019 Petaluma Gap Chardonnay. Bronzed Wild Caught Salmon served over creamy risotto and haricots verts; Chicken Piccata bathed in white wine, capers, and butter; Fettucine Alfredo; and Stuffed Pork Tenderloins with pecans in a creamy mushroom sauce provide wonderful companions to Gust's delightful 2019 Petaluma Gap Chardonnay. Vegetarian specialties such as a Wild Mushroom Risotto and Grand Salads offer additional expert pairings. Double and triple cream cow's milk cheeses also provide tasty partners. Bon Appétit!
Gust is the brainchild of Megan and Hilary Cline, scions of one of Sonoma's oldest and most renowned wine families. Gust pays tribute to the wind that defines the quality and distinctive terroir of Sonoma County's Petaluma Gap, California's newest and most exciting wine appellation (AVA).
Although the Cline family have historically been purveyors of superb California Zinfandel and Rhône varietals, Megan and Hilary's dad Fred had the foresight to plant vineyards in what is now the Petaluma Gap AVA in the 1990s at time when most Sonoma County wine growers were fixated on planting in warmer locales throughout the county. Fred's decision has proven to be a boon for Petaluma Gap, especially in light of a warming climate. With a passion for cooler climate wines such as Chardonnay, Pinot Noir, and Syrah, Megan and Hilary have lavished great care on their Petaluma Gap sites, and they are now fashioning wines to considerable critical acclaim. In fact, the Clines admit to being "a little obsessive-compulsive" about their latest venture, adding that Gust has been "a blast – and a breath of fresh air," and in the same breath acknowledging the privilege of their family's long time experience in viticulture.
The Petaluma Gap is California's newest appellation or American Viticultural Area (AVA), coming of age on December 7, 2017. It forms a long, narrow strip centered around the Sonoma town of Petaluma, running from the Pacific coast all the way southeast to San Pablo Bay just 25 miles north of the Golden Gate Bridge. The AVA takes its name from a low-lying gap or vent in the coastal hills near Bodega Bay, which is renowned for its wind and fog. It is this 15-mile gap in the coastal mountain range that defines the AVA. This vent funnels cold air from the Pacific eastward over the land as far south as San Pablo Bay. The wind and early morning fog that form during the growing season temper the area's high mid-day temperatures until fog creeps back in the late afternoon, causing day and night time temperatures to vary as much as 50° F.
The Petaluma Gap AVA creates a challenging yet rewarding growing environment for cool weather grape varieties (especially Chardonnay, Pinot Noir, and Syrah) and those with the patience and persistence to exploit the area's unique terroir. Grapes ripen slowly and yields are much lower in Petaluma Gap than in warmer locales. However, the rewards are highly aromatic, richly textured wines that offer balance, precision, and complexity, thanks to the ideal combination of sun to ripen the grapes and wind to provide much needed air conditioning. Petaluma Gap's growing list of renowned producers include Kosta Browne, Ramey, Patz & Hall, Walt, and most recently Gust.
Chardonnay is the most widely cultivated white varietal on the planet. Twice each year at harvest time in its native France and countless locales on six continents north and south of the equator, Chardonnay grapes command premium prices. In tribute, Chardonnay produces the finest, most flavorful dry white wines in the world to which writers and connoisseurs devote countless columns and untold hours exalting its virtues and dissecting its flavors. Whether it be from Chablis or Champagne, Napa or Sonoma, or from the most illustrious of vineyards perched atop the slopes of Corton and Montrachet, Chardonnay is the yardstick by which all other dry white wines have come to be measured.
With food, Chardonnay is a peerless match. Chablis and other Chardonnays that see little or no oak provide superb complements to seafood. Fuller, fleshier, and barrel aged Chardonnays, typified by the best Californian versions from Sonoma County shine in the company of more complex fare, such as rich cream sauces, poultry, and white meats. Moreover, the finest Chardonnays, such as Gust's Petaluma Gap Sonoma County Chardonnay, shine on their own, and they require nothing but a clean glass and a reflective moment to please the palate.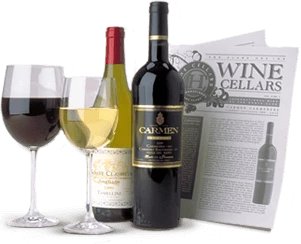 Enjoy Limited Production Estate
Bottled Wines
Discover limited production estate bottled wines such as Vergenoegd's internationally
acclaimed 2005 Cabernet Sauvignon, imported exclusively for our members.
DISCOVER OUR FOUR CLUBS