The 2000 Guigal Crozes-Hermitage Blanc is indeed a poster child for white wine from the sprawling Crozes-Hermitage appellation. Deep in color and packed with charm and flavor, Guigal's 'Crozes' is already accessible and beautifully wrought. Scents of spring and exotic wildflowers haunt the nose, while the savor of this heady white is replete with the essential oils of flowers, herbs, and citrus fruits. Long and refreshing on the finish, this racy Crozes-Hermitage is nothing short of a tour de force in white wine making for the appellation as well as the little known Marsanne grape variety from which it is made. Serve the 2000 Crozes-Hermitage Blanc moderately chilled, but allow it to breathe ten to twenty minutes like a red wine before consuming it.
Forget the cucumber and watercress sandwiches, and you may as well add California rolls to the list, too. And for that matter, you can ex out just about all of the dainty, tea party fare you can list or imagine as ideal accompaniments to the 2000 Guigal Crozes-Hermitage Blanc. Yet, make no mistake about it, light elegant fare will go just fine with a bottle of Guigal's 'Crozes,' but it is not likely to provide the ultimate experience. The real glory of fine white Rhone wines, and Guigal's Crozes-Hermitage is no exception, is just how well they complement and even accentuate the flavors of very rich, full flavored foods. Consequently, we suggest you throw out the tried and true and do a little experimentation here. For the record, some of our favorites are a Cuban sandwich or better still Cuban pork with black beans, an herb laden ratatouille, mussels marinara and Cioppino, the tomato based Italian equivalent to Bouillabaisse. Shrimp Fra Diovolo, fried dumplings and Hunan chicken or pork are other winning items with this flavorful white wine. Even asparagus, many Middle Eastern dishes and some red meats, especially lamb, won't confound Guigal's fine Crozes-Hermitage either. Enjoy!
Marcel Guigal has been called everything from 'the man with the Midas touch' to 'the planet's greatest living winemaker.' Unquestionably, Guigal has earned the reputation for fashioning some of southern France's greatest wines, as the plethora of favorable reviews and critical acclaims of his wines will attest but, perhaps, even more impressive is Guigal's knack for consistency. Without fail, Guigal wines, red, white and even rose, are at the top of the charts in both good years and bad. Moreover, each of Guigal's many fine wine offerings has become the yardstick by which all others are judged in their respective appellations. From the antique village of Ampuis, the birthplace of the great Cote-Rotie appellation, the burgeoning wine empire of Guigal has spread to every significant appellation in the Rhone Valley. Led by Marcel and his adept son and protégé, Philippe, the Guigals have sown success and quality far and wide, forcing less quality minded producers to improve their wines or perish. Most notable of Guigal's wines are the firm's several Cote-Rotie offerings, which are universally acknowledged to be the supreme examples from this ancient 2, 400 year old vineyard that dates back to early Roman times. On qualitative par with this estate's Cote-Rotie are several Condrieu wines made from the finicky but other worldly white grape variety Viognier. There is also an excellent red Hermitage from this estate, a wine that is certainly one of the deepest and longest-lived expressions of the Syrah grape. In a similar full-bodied, personality filled style are Guigal's newest stars: a Crozes-Hermitage Rouge and a Crozes-Hermitage Blanc, both of which are already the standard by which all other Crozes-Hermitage wines are measured, and Guigal has only produced Crozes- Hermitage since 1999. Last but not least are the firm's delicious Cotes du Rhone offerings ' red, white, and rose. The red Cotes du Rhone contains a high percentage of old vine Syrah, while the white sports a similar amount of Viognier, a practice few other producers would even think to emulate, but it is just such practices that set Guigal apart. The key to Guigal's success has always been quite simple. He cultivates his own vineyards organically with no chemical fertilizers or treatments and picks his grapes late when they are just about ready to explode with their own maturity. This late harvest, coupled with low yields and minimal intervention (including no filtration) gives birth to fragrant, round, ripe natural wines that are immensely pleasurable to drink. When purchasing juice from other producers, a practice that has helped Guigal augment his own estate holdings and hone his extraordinary winemaking skills, Guigal holds those growers to the same exacting standards he sets in his own vineyard. He buys only from producers he knows well who subscribe to his philosophy that old vines, low yields, and a late harvest are prerequisites for producing excellent wine. And, if these exacting requirements are not enough to insure quality, Guigal adds traditional wine ageing in new oak for extended periods of time. In short, Guigal leaves nothing to chance and is willing go the limit, both in the vineyard and in the winery. Bravo!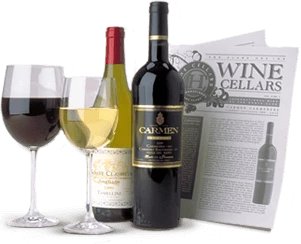 Enjoy Limited Production Estate
Bottled Wines
Discover limited production estate bottled wines such as Vergenoegd's internationally
acclaimed 2005 Cabernet Sauvignon, imported exclusively for our members.
DISCOVER OUR FOUR CLUBS