Classic Cotes du Rhone is one way to describe the 2000 Guigal Cotes du Rhone Rouge. Simply delicious is another and, perhaps, more apt description of this especially deep colored, well endowed Cotes du Rhone. With approximately 50% Syrah as the wine's base, it should come as no surprise that black fruits and rich creme de cassis scents and flavors emerge from this hedonistic potion. What is even more impressive is the hint of Asian spices and the presence of a juicy center, which adds to the wine's overall appeal and bodes well for the wine's continuing development. The 2000 may be Guigal's finest red Cotes du Rhone to date. Drink it now and over the next couple of years. We suggest drinking this lovely Provencal delight at cool room temperature during temperate weather and just slightly chilled (55? F) in hot weather as the locals do.
Given the innate versatility of the 2000 Guigal Cotes du Rhone Rouge and the Provencal penchant for pairing a wide variety of foods with their local reds, the list of gastronomic accompaniments to this wine is nearly endless. Nonetheless, some of our favorite every day pairings include burgers and steaks, tomato or cream based pasta dishes, and pizza, any way you can envision it. The Provencal claim to having invented pizza, and they very well may have; the myriad of delicious vegetable, cheese (cow, goat or sheep) and meat laden pizzas in Provence certainly underscore the wonder of this dish with the Guigal Cotes du Rhone. More elaborate fare like Rack of Lamb or game won't disappoint either. Enjoy!
Marcel Guigal has been called everything from the man with the Midas touch to the planet's greatest living winemaker. Unquestionably, Guigal has earned the reputation for fashioning some of southern France's greatest wines, as the plethora of favorable reviews and critical acclaims of his wines will attest but, perhaps, even more impressive is Guigal's knack for consistency. Without fail, Guigal wines, red, white and even rose, are at the top of the charts in both good years and bad. Moreover, each of Guigal's many fine wine offerings has become the yardstick by which all others are judged in their respective appellations. From the antique village of Ampuis, the birthplace of the great Cote-Rotie appellation, the burgeoning wine empire of Guigal has spread to every significant appellation in the Rhone Valley. Led by Marcel and his adept son and protégé, Philippe, the Guigals have sown success and quality far and wide, forcing less quality minded producers to improve their wines or perish. Although most notable of Guigal's wines are the firm's several Cote-Rotie offerings, which are universally acknowledged to be the supreme examples from this ancient 2, 400 year old vineyard that dates back to early Roman times, the Guigals excel equally with all of their Rhone offerings. The firm's delicious Cotes du Rhone offerings red, white, and rose provide ample testimony to that fact. Guigal's red Cotes du Rhone contains a high percentage of old vine Syrah, while the white sports a similar amount of Viognier, a practice few other producers would even think to emulate, but it is just such practices, along with a consummate dedication to low yields and minimal intervention, that set Guigal apart.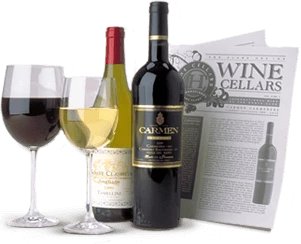 Enjoy Limited Production Estate
Bottled Wines
Discover limited production estate bottled wines such as Vergenoegd's internationally
acclaimed 2005 Cabernet Sauvignon, imported exclusively for our members.
DISCOVER OUR FOUR CLUBS