A blend of 93% Sauvignon Blanc and 7% Semillon, Groot Constantia's 2020 Sauvignon Blanc is another superlative Sauvignon Blanc from this producer, a wine that comes on the heels of the estate's 2019 Sauvignon Blanc which garnered the International Sauvignon Blanc Trophy at the 2020 International Wine Challenge (IWC). Bright, sun-splashed in color, and fragrant with the scents of lemon zest, passion fruit, gooseberry, and guava, the 2020 Groot Constantia Sauvignon Blanc had us at the first glimpse. Happily, the wine's intoxicating aroma follows through in the mouth, offering a complex mélange of guava, gooseberry, citrus, and passion fruit along with a zesty minerality. Boldly flavored but impeccably balanced, the fresh, youthful 2020 Groot Constantia Sauvignon Blanc tantalizes the taste buds with its snappy fruit flavors and crisp minerality. Drink this delicious Sauvignon Blanc moderately chilled (40°-45° F) now and for as long as you can get your hands on it. Anticipated maturity: 2022-2026. Enjoy!
When imbibing the 2020 Groot Constantia Sauvignon Blanc, one needs nothing but a large clean glass to be satisfied. Yet, a plate or better still a bowl of New Zealand Green Tip Mussels steamed in a tasty broth provides ideal companionship to Groot Constantia's Sauvignon Blanc, and the two will be the better for the pairing. More adventuresome palates may want to serve the mussels in a spicy tomato sauce with Chorizo sausage along with a side of garlic bread. Clams and oysters on the half shell provide great foils, too. For those who prefer fish to shellfish, filets of flounder, grouper, and halibut poached in white wine, garlic, herbs, and mustard offer equally palate-pleasing accompaniments to this wine. Light tempuras and herb encrusted shrimp or prawns provide tasty treats, too. For those who eschew seafood, Groot Constantia's 2020 Sauvignon Blanc pairs nicely with stir fries, too, including Grao Prao, Thai Spring Rolls, and lightly curried vegetarian Indian specialties, which are highly popular in South Africa and elsewhere. But as you like it! Bon Appétit!
"One of the most mythical vineyards in the world" – Institut International des Paysages et Architectures Viticoles
Groot Constantia is the first and oldest wine farm in South Africa. A visit to Constantia feels more like a pilgrimage, even though this iconic property lies just behind Table Mountain, a short distance from Cape Town. Few wineries can match Groot Constantia in sheer natural beauty, nor do they offer such a rich history or proffer wines of exceptional character and finesse the likes of Groot Constantia. And the Constantia story, likes its wines, is one to savor.
From vineyards planted in 1685 by Simon van der Stel, the first governor of the Cape, Constantia was regaled in the 18th and 19th centuries by those who would drink only the best, from Napoleon Bonaparte and Prussian emperor Frederick the Great to British monarchs King George IV and Queen Victoria. In 1802, then president and wine collector Thomas Jefferson planted "10 plants of wines from Cape of Good Hope" at Monticello, his home in Virginia. And perhaps even more remarkable is the fact that Constantia was enjoyed by Indonesia's foremost national hero, Prince Dipanagara, who led the great Java War of resistance against the Dutch (1825-1830) under the banner of Islam! According to Oxford historian Peter Carey, Dipanagara held that "it was not an offence against the Qu'ran to drink sweet wine in view of the fact that Europeans drank it as a form of 'medicine…" And so renowned was the wine of Constantia that Baudelaire, Charles Dickens, and Jane Austen, among others, make reference to it in their works.
From the start, Constantia made no effort to shelter behind the safety of a European name like Hock, Tokay or Cape Madeira to sell itself. Constantia's innate quality was apparent from the onset and Constantia very quickly became a universally well-known and (in today's parlance) an "aspirational" brand. Today, the historical sweet wine of Constantia is known as Grand Constance, which remains one of the world's finest elixirs in the realm of Château d'Yquem and Tokay. Yet, Groot Constantia fashions more than one compelling wine. Today, Groot Constantia produces not only one of the world's oldest and greatest sweet wines, but it also fashions one of the planet's finest dry Sauvignon Blancs, the 2020 Groot Constantia Sauvignon Blanc (this month's feature). Outstanding Chardonnay, Cabernet Sauvignon, Pinotage, Shiraz, and a host of other fine red, white, and sparkling wines also emanate from this Wine World Heritage estate. We invite you to taste and enjoy a part of history.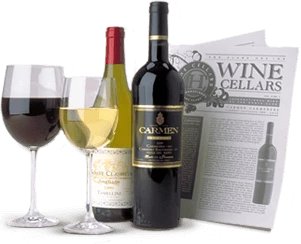 Enjoy Limited Production Estate
Bottled Wines
Discover limited production estate bottled wines such as Vergenoegd's internationally
acclaimed 2005 Cabernet Sauvignon, imported exclusively for our members.
DISCOVER OUR FOUR CLUBS