Cécile Grongnet's Blanc de Blancs is soft, gentle, aromatic Champagne, a wine that emanates elegance and style – the very hallmarks of the finest sparkling wines of Champagne. Sporting a bright, cheerful champagne-colored robe and exhibiting a very tiny, delicate perle or bubble, the Grongnet Blanc de Blancs radiates charm and sophistication. The wine's cachet is light and lovely, an infusion of white fruits and freshly baked bread that is hard to resist. However, it is on the palate that this blithe Blanc de Blancs truly works its magic. It offers a wealth of delicate flavors, a creamy texture, and a supple, long finish that lingers in the mouth and begs the taster for more. Never biting or acidic the Grongnet Blanc de Blancs finishes with a sensual wave. Enjoy this premium Champagne moderately chilled (40º-50º F).
In Champagne, there is a wine for nearly every dish and morsel one can imagine, and the Champenois are not shy about pairing their still or sparkling wines with all kinds of foods to well deserved acclaim. However, no single Champagne provides the perfect match for all dishes. That having been said, the Grongnet Blanc de Blancs provides extraordinary pleasure with or without food, and it certainly will not disappoint those looking for the perfect aperitif. Cécile Grongnet's Blanc de Blancs does indeed sparkle as the entrée to a special evening or festivity. Nevertheless, it would be a shame to relegate this charming lady's bubbly to a single role. Consequently, we suggest you serve the convivial Grongnet Blanc de Blancs with salmon mousse; smoked salmon, with a thin layer of cream cheese, capers and shaved onion; or sautéed scallops, prepared with a light cream sauce. Delicate fish or poultry dishes provide other favorite accompaniments. One tried and true classic with Blanc de Blancs Champagne is Suprême de Volailles aux Champignons (Chicken Breasts with Mushrooms and Cream). Bon Appétit!
Editor's Note: Champagne is a wine that is under pressure. It should always be well chilled before opening. Always exercise caution when opening a bottle of sparkling wine. Never use a corkscrew. Point the bottle away from people and objects. Use a clean towel or cloth to firmly grip the bottle. Gently remove the wire stopper while firmly holding the cork in place. Then with thumb and forefinger, remove the cork slowly from the bottle. Do not let the cork fly. Enjoy! Cécile Grongnet is a modest woman with high ideals. Her name is not a household word, nor does she ever expect to be famous. Rather than seek celebrity status, Cécile Grongnet aspires only to produce the finest wines of Champagne from her family's diminutive, but superlative domain. Grongnet is a fifth generation grower and producer of authentic Champagnes. She works a mere 3 hectares or roughly 8 acres of Champagne vineyards in the regions' fabled Valley of the Marne from which she fashions several exceptional offerings: among them an outstanding Blanc de Blancs, an equally impressive Rosé, and one of only a hand full of vintage dated Special Club Champagnes. Grongnet grows all three of the legal Champagne grape varieties: Chardonnay, Pinot Meunier, and Pinot Noir. However, it is Grongnet's Blanc de Blancs, made exclusively from Chardonnay vines, that shines brightest at this tiny estate and garners accolades from the most demanding of wine critics. Blanc de Blancs A French wine labeled Blanc de Blancs signifies that the white wine in the bottle has been made exclusively from white grapes. However, Blanc de Blancs on a bottle of Champagne guarantees more than the basic assumption that only white grapes have found their way into the cuvee or blend: it guarantees that only Chardonnay grapes from Champagne were used to produce this unique sparkling Champagne. As Champagne is typically a blend of two or more grape varieties, at least one of which is red or black, Blanc de Blancs Champagne remains relatively rare. In addition, Champagne Blanc de Blancs is by nature delicate, creamy, and downright sensual. Yet, the finest vintage examples of Blanc de Blancs can be deep, rich, flavorful wines that are capable of aging quite well in bottle for up to a decade or longer.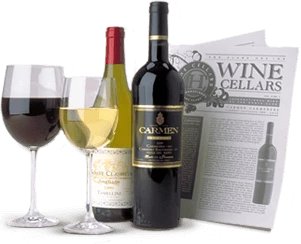 Enjoy Limited Production Estate
Bottled Wines
Discover limited production estate bottled wines such as Vergenoegd's internationally
acclaimed 2005 Cabernet Sauvignon, imported exclusively for our members.
DISCOVER OUR FOUR CLUBS