"Simply delicious," is how our tasting panel describes the 2013 Grayson Cellars Chardonnay. Exhibiting a richly colored robe, a pleasing bouquet of tropical fruits and pleasant touches of butter and vanilla, the 2013 Grayson Cellars Chardonnay presents itself as an extremely tasty, quaffable Chardonnay. No smoke and mirrors or pretense here. Medium-bodied and without a preponderance of oak to obscure the wine's varietal character, the 2013 Grayson Chardonnay offers satisfying aromas and flavors reminiscent of apple and spring flowers which blend harmoniously with the wine's subtle minerality and light patina of oak. Balanced and easy to drink, the 2013 Grayson Cellars Chardonnay is a wine to enjoy now and over the next year. It goes down easily and pleases with each and every sip from the moment it is poured. No wonder Robert Parker and The Wine Advocate named the 2013 Grayson Cellars Chardonnay #1 Chardonnay from California under $14.00 – the tenth year in row the wine has made The Wine Advocate's list of Ten Best Buys. For optimal enjoyment, we suggest only moderate chilling (40° F).
While many California Chardonnays require food to prevent the shock and awe from the preponderance of toasted oak that easily overwhelms the taste buds, the 2013 Grayson Cellars Chardonnay needs no accompaniments to shine or bolster its appeal. It is a Chardonnay to share with friends or simply to sit and sip throughout the evening. That's not to say that a few morsels won't enhance the experience. Chicken salads made with raisins, walnuts and wild herbs as well as assorted soft cow's milk cheeses and thinly sliced Fuji apples provide ideal accompaniments to Grayson's easy to drink Chardonnay. Grilled fish served with a vegetable medley; a summer Panini made with thinly sliced ham, summer vegetables and fresh mozzarella cheese; and light creamy pastas provide more tasty accompaniments to Grayson Cellars' ingratiating 2013 Chardonnay. Enjoy!
Mike O'Connell and his family are the folks behind Grayson Cellars. With internationally acclaimed winemaker Larry Levin, Grayson Cellars creates some of California's highest quality wines at a price most people can afford. In a world where $50.00 Chardonnays and $150.00 Cabernets proliferate, Grayson Cellars turns out wines the envy of many high priced California boutiques who think a price tag and a label always equate to quality and enjoyment.
Grayson Cellars' enviable portfolio of quality, value-oriented wines include California Chardonnay, California Pinot Noir, California Zinfandel, California Merlot and California Cabernet Sauvignon, all of which are made at the Grayson's facility in Napa. Not only are each of the offerings fruit forward, well balanced, and enjoyable to drink, they outshine more expensive varietals at twice the price and more. All of Grayson Cellars' wines are carefully crafted by Larry Levin, who is among the most experienced winemakers in the Napa Valley. After completing his Enology degree at UC Davis, Larry spent seventeen years at Dry Creek Vineyard before making wine in New Zealand, Chile, and Australia. More recently, Larry was head winemaker at Icon Estates where he oversaw the Franciscan, Mt. Veeder, Robert Mondavi, Estancia, Ravenswood, Quintessa and Ruffino brands. Larry also consults for wineries in the Stag's Leap and Oakville districts in Napa and Sonoma.
Grayson Cellars' wines have garnered tremendous accolades over the past 10 years from The Wine Advocate, Wine X Magazine and San Francisco Chronicle Wine Competition, but don't take their word for it or ours. Taste and enjoy!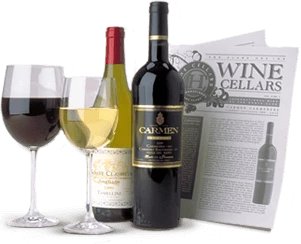 Enjoy Limited Production Estate
Bottled Wines
Discover limited production estate bottled wines such as Vergenoegd's internationally
acclaimed 2005 Cabernet Sauvignon, imported exclusively for our members.
DISCOVER OUR FOUR CLUBS