Deep, effusive, and beautifully rendered, Jimena Lopez's 2017 Graffito Cabernet Franc exhibits rich, complex flavors in a supremely balanced format. Awarded 93 points by James Suckling, it captures the finest attributes of both New and Old World Cabernet Franc with heady aromatics and luscious raspberry, cherry, and sweet pepper flavors, all endowed with tremendous energy and vivacity as well as a delightful herbal component reminiscent of the finest Right Bank Bordeaux. Although deeper in color and fuller in flavor than many of its Old World counterparts, Graffito's 2017 Cabernet France retains the seductive floral and wild berry aromas and flavors for which Bordeaux and the very best Loire Valley Cabernet Franc are renowned. Once in the mouth, the 2017 Graffito Cabernet Franc expands, revealing layers of flavor emanating from a core of rich fruit, imbued with deft touches of chocolate, coffee, and spices. Long and lasting on the finish, the wine's ripe, well-integrated tannins add lift but never sear like those of many young Cabernets. For optimal enjoyment, we suggest opening Jimena Lopez's superb 2017 Cabernet Franc 15-20 minutes before serving at cool room temperature (58°-62° F). Enjoy!
Jimena Lopez's rich, complex 2017 Graffito Cabernet Franc pairs beautifully with all kinds of meats and grilled vegetables. Rare juicy steaks, game birds, barbeque, and tomato-rich Italian favorites such as Pasta Bolognese provide tasty accompaniments to Jimena Lopez's extroverted Cabernet Franc. Veal and lamb dishes make splendid accompaniments, too. Veal Medallions wrapped with prosciutto ham get a serious nod as does Roast Colorado Rack of Lamb, served with potato gnocchi, pearl onions, and mushrooms. Duck Breast served with a berry sauce over wild rice or faro, as well as Roast Turkey stuffed with an onion and sage dressing also make splendid companions. Lentil and Chicken Sausage Chili provides another tasty pairing with Jimena Lopez's flavor-filled 2017 Graffito Cabernet Franc. And if the truth be told, with a few morsels of a flavorful cheese such as Gouda, Havarti, Irish Cheddar, and Port Salut, the 2017 Graffito Cabernet Franc will over-deliver from any clean glass. Enjoy!
Winemaker Jimena Lopez owns and operates Graffito, overseeing everything from tending the estate's more than century old vines to making each of her award winning wines – all of which exhibit beautiful expression, structure, and texture. Jimena's concentrated and deeply colored wines are named after the dark mineral graphite. Jimena left her corporate wine job and two decades of making wine in seven countries, including France, Germany and California, to pursue her dream of making her own wine, so that she could handle all aspects of Graffito from vine selection to the final blend. She believes so deeply in her wine and is so committed to quality from vineyard to table that she puts her fingerprint stamp of approval right on the label.
Graffito sprang to life when Jimena came across an old-vine Malbec vineyard planted in 1908 in Mendoza's Alto Agrelo region that had been farmed by Don Pepe and his family. The balance and structure that these old vines yielded quickly became the pillars upon which Graffito rests. Since then, Jimena has further spread her wings by fashioning exceptional Cabernet Franc; her beautiful, exceptionally pure 2015 Graffito Cabernet Franc made its debut with The International Wine of the Month Club. This month's feature, the 2017 Graffito Cabernet Franc is even more compelling. Jimena utilizes only estate fruit and grapes from old, family-owned vineyards in Los Arboles and Vistaflores in the Uco Valley that allow her to create in her wines the perfect blend of fruit flavors, floral notes, spices, and tannins. Jimena is truly a passionate, dedicated winemaker with tenacious drive and an unparalleled attention to detail. Her winemaking principles reflect her passion and personality. "In my eyes, good winemaking is simple winemaking," she states unabashedly. "It needs to start in the vineyard. The good quality and purity of the grapes is essential. We can have the best technology in the winery, but what you don't have in the vineyards you can't have in the cellar. I believe there are three things that make the difference in great winemaking: Know-how, obsession for details, and above all passion." No wonder that Graffito consistently receives high ratings from top wine critics and its wines have become some of Argentina's most sought after wines.
Although reluctant to rely on gender stereotyping of grape varietals or their particular characteristics, a compelling case can be made for describing Cabernet Franc as the feminine side of Cabernet Sauvignon. Cabernet Franc, whose origin appears to be the Pyrenees Mountains in southwest France, is one of Bordeaux's oldest and most prestigious grape varietals. It predates Cabernet Sauvignon by many centuries and recent DNA testing has determined that Cabernet Franc and Sauvignon Blanc constitute the actual forebears of Cabernet Sauvignon and not the other way around as was once thought.
In its spiritual home of Bordeaux, Cabernet Franc figures prominently in both Left and Right Bank wines, with the most esteemed Right Bank appellations of Pomerol and St. Émilion relying more heavily on Cabernet Franc's propensity to ripen earlier than its more famous offspring, Cabernet Sauvignon. Add Cabernet Franc's hauntingly beautiful fragrance, enticing berry, currant and leafy flavors, along with rounder, more accessible tannins than its progeny, Cabernet Sauvignon, and it is easy to see why Cabernet Franc is uniformly esteemed in Bordeaux and increasingly sought after by New World wineries.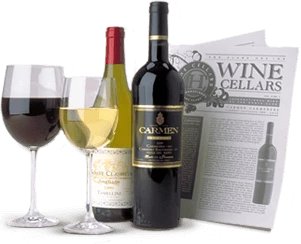 Enjoy Limited Production Estate
Bottled Wines
Discover limited production estate bottled wines such as Vergenoegd's internationally
acclaimed 2005 Cabernet Sauvignon, imported exclusively for our members.
DISCOVER OUR FOUR CLUBS