Gini's 2009 La Frosca is not your grandmother's Soave. La Frosca's cheerful, golden-hued robe is the first indication that an aromatic, luscious, downright irresistible wine awaits. In short, there is Soave and then there is La Frosca. La Frosca is clearly in a class all by itself. It performs a magical dance. It tastes as pure as the mountain waters that flow down from the nearby Alps, yet it maintains a luscious quality in its beguiling bouquet and flavor. Cherry blossom, dried honey, and freshly picked orchard fruits are but a few of the scents and savors one may discover in the 2009 Gini La Frosca. With such soft generous fruit one might expect sweetness to follow, but the 2009 La Frosca keeps its composure and never loses focus. It remains forever elegant, harmonious and supremely balanced, as it exits with the perfect amount of gentle acidity to frame the wine's elegant fruit. Add in a delightful citrus twist and a dash of almond to the wine's long lingering finish and you will surely beg for more. We suggest serving this extraordinary Soave between 40º-45º F.
As a flavorful, medium-bodied wine of supreme depth, elegance, and purity, the 2009 Gini La Frosca Soave Classico clamors for an audience. So, whether it is a plate of tasty hors d'oeuvres or some delicacy from the depths of the sea, Gini's La Frosca Soave Classico is ready and willing to please. Caviar, smoked salmon with capers, and mushroom caps stuffed with cheese and herbs provide several of our favorite accompaniments to the 2009 La Frosca Soave Classico. If more than appetizers are on the menu, why not pair the 2009 La Frosca with creamy pasta, chicken or seafood dishes? Sautéed grouper in a light coconut curry sauce or a classic rendition of Charleston Shrimp are two other tasty choices. A myriad of soft cow, sheep, and goat's milk cheeses offer superb accompaniments to this wine, too. Gouda and lightly smoked cheeses also pair especially well with Gini's exceptional, single vineyard Soave. Enjoy!
The Gini estate is one of those rare gems that turn up in what seems, at least at first glance, to be the most unlikely of places. In Gini's case, Soave is the locale in question. Yet, Soave fashions some of Italy's most tantalizing white wines, and it is only on account of the size and repute of some of the industrially made Soaves from the flat lands that consumers are sometimes surprised and delighted when confronted with authentic Soave the likes of Gini. In the hands of brothers Sandro and Claudio Gini, Gini currently reigns as Soave's iconic producer.
All of Gini's Soaves come from supreme hillside vineyards in Soave's Classico zone and are produced organically using biodynamic methods of production. And although one does not hear talk on this side of the Atlantic about single vineyards and grand crus when speaking of Soave, the winegrowers and producers acknowledge in this picturesque corner of Italy's Veneto two such sites: La Frosca and Col Foscarin. Gini has had vineyards in both crus for centuries. Working a little more than 50 acres of prime hillside vineyards, Gini's herculean efforts have greatly aided in re-establishing the reputation of Soave as one of Italy's finest and most enjoyable white wines.
In addition to producing outstanding Soave Classico from 100% Garganega grapes (Soave's most illustrious varietal), Gini also fashions tiny quantities of barrel fermented La Frosca (this month's feature) from the cru of the same name. La Frosca is the rarest and most exciting wine produced in the sprawling Soave zone. The Gini brothers also turn out an outstanding sparkling wine called Gran Cuvée Brut Millesimato that they age for 48 months on the yeast. Small quantities of Pinot Noir, Chardonnay and other varietals are grown at the estate as well, but not for Soave.
When discussing Italy, it may be tempting to debate whether food or wine is more important to an Italian. The answer is of course a resounding "yes" simply because in Italy food and wine are inseparable. And since Italian food and Italian wine hold exalted status around the globe, isn't the question moot? Shouldn't we simply enjoy them together as we are meant to do? And since Italian vintners traditionally create wines that are intended to be consumed with food, we can revel in the twofold pleasure of selecting great bottles of wine and marrying them to fabulous, succulent meals. For example, consider an elegant, flavorful Soave such as La Frosca to pair with delicate white fish from nearby Lake Garda. Or how about an earthy, powerful Barolo or Barbaresco from the Piedmont paired with a juicy pot roast, flavorful risotto, or satisfying polenta? What about a Brunello di Montalcino, a Vino Nobile di Montepulciano, or a Chianti Classico from Tuscany served with bistecca al firoentina?
In Italy, the possible food and wine combinations boggle the mind. In fact, it would take a multi-volume encyclopedia to catalogue the scope of Italian wine production. As the country that produces more wine than any other country on earth, it's safe to say that such an accounting would be lengthy. Throw in a thousand or more grape varietals (the most of any country), slightly fewer than a million vineyards, and a landscape that moves from the slopes of the Alps across inland hills to the Mediterranean shores of Sicily, and the myriad possibilities presented in a full accounting of Italian wine production sends tremors through the limbs of even the most ardent chronicler. And we're not even mentioning the centuries of tradition that led the ancient Greeks to call Italy Oenotria, the land of wine.
Happily, the variety and abundance of Italian wine we know today still deserves a special place in our cellar because Italy continues to produce striking deals on high quality wine. In addition, the next generation of wine makers in Italy brings a new level of excitement to the market. Willing to experiment with non-traditional varietals, blends, and the latest innovations in technique, a number of producers continue to stretch our understanding of Italian wine. So, combine this new wave with centuries of established tradition, mix in a dash of the magic that is Italy, and you will find that each bottle – and its story – takes you one step closer to understanding the soul of a great country.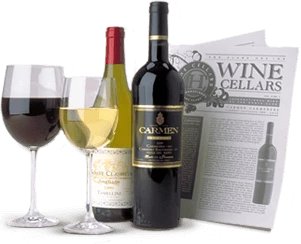 Enjoy Limited Production Estate
Bottled Wines
Discover limited production estate bottled wines such as Vergenoegd's internationally
acclaimed 2005 Cabernet Sauvignon, imported exclusively for our members.
DISCOVER OUR FOUR CLUBS