Wow! If more Chiantis tasted like the 2003 Giacomo Mori, Chianti would be the hottest wine in town. The product of true commitment, superb winemaking, and the outstanding 2003 vintage, this latest release from Giacomo Mori exudes the quintessence of authentic Chianti: a deep ruby robe, a beguiling nose, and oodles of pure ripe Sangiovese and Canaiolo fruit that just won't quit. Layer upon layer of fruit along with subtle earth tones unfold with each sip. This beautiful wine marries depth and power to true elegance in a way that few Chiantis ever do. Moreover, it contains real hedonistic pleasure in its haunting nose of spring flowers and violets and its deep well of cherry fruit that persists even into the wine's long gracious finish. Only from low yielding, biodynamically farmed vines can one obtain such purity and grace. Unquestionably, Giacomo Mori has achieved his long awaited dream of producing the finest expression of Chianti. Indeed, the 2003 Giacomo Mori Chianti is as good as DOCG Chianti gets. From the moment the cork leaves the bottle, this Chianti is ready to go. Yet, the longer it stays open the more complex and fine it becomes, so as you like …. or as long as you can keep this splendid wine out of your mouth. Salud!
Stir the pot and fire up the grill. Simple grilled meats, homemade sausages and traditional bean and lentil-based dishes are some of our favorite fare to accompany the decadent 2003 Giacomo Mori Chianti. Homemade pastas with fresh tomato sauce and brick oven pizzas make other fine choices to serve with the Giacomo Mori. Indeed, a three-cheese spinach pizza with roasted garlic and the classic 'Margharita' pizza with tomato and cheese provide simple but delicious complements to this wine. A whole rotisserie roasted chicken with Mediterranean herbs proffers another complement to the Mori Chianti. However, lest you think this Chianti fit only for country fare, ponder some more. As flavorful and charming as the 2003 Giacomo Mori is, it remains an elegant wine with considerable finesse, so most meat or vegetable dishes that rely on complex flavors will provide it excellent companionship. Authentic homemade lasagna fits that bill as does braised rabbit and stuffed veal chops. However, the 2003 Giacomo Mori is the rare Chianti that can be enjoyed on its own as it carries its welcome, wherever it goes. Enjoy!
A meticulous engineer and skillful sailor, Giacomo Mori is the driving force behind the resurrection of this ancestral property. For years Giacomo dreamed of revitalizing his grandfather's vineyard and making fine wine. With vision and painstaking pride, he embarked in the early 1990's upon replanting this vineyard, which lies very close to the neighboring appellation of Vino Nobile di Montepulciano. To his credit, Giacomo chose only low yielding rootstock and the finest clones of Chianti's indigenous Sangiovese and Canaiolo to resurrect his family's ten-hectare vineyard. He has spaced the vines tight, so as to force their roots to dig deep into the earth and yield maximum complexity. He prunes very short and employs only organic fertilization. Furthermore, no chemical sprays are used at Giacomo Mori. In short, this is the kind of vineyard most winemaker's can only fantasize about. Moreover, in order to augment the great revival in the vineyard, the ever-diligent Giacomo Mori has refurbished the family's spectacular cellar and re-equipped the ancient winery and cave. The cellar is dug into live tufo rock and is built on three different levels, in order to ensure that all the wine can be racked and transferred entirely by gravity feed, so as to negate pumping the wine until it is ready for bottling. Only two wines are ever produced at Giacomo Mori. They are the estate's traditional Chianti, which is made in the time honored manner and then aged in large Tuscan casks and Chianti Castelrotto, a single vineyard offering that sees extended aging in small French oak barriques. Both wines speak of the quintessence of Chianti and give testimony to the greatness of Tuscany's two great red varietals: Sangiovese and Canaiolo. In these wines, Giacomo Mori's life long dream of creating the finest expression of Chianti has been fulfilled, two times over. Not surprisingly, many of his neighbors in the illustrious appellation of Vino Nobile di Montepulciano have been looking over their shoulders as well as their fences. Perhaps, we should invite them over for a glass of real Tuscan wine?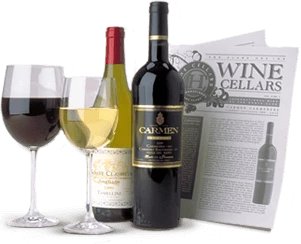 Enjoy Limited Production Estate
Bottled Wines
Discover limited production estate bottled wines such as Vergenoegd's internationally
acclaimed 2005 Cabernet Sauvignon, imported exclusively for our members.
DISCOVER OUR FOUR CLUBS