Garofoli's Podium Verdicchio dei Castelli di Jesi has earned many 90+ ratings from Wine Advocate, Wine Spectator, Wine Enthusiast, and other major publications in the last several vintages, but the 2016 Garofoli Podium appears to be the most compelling to date and has garnered 92 points from Wine Enthusiast. Aromatic, racy, and bursting with youthful exuberance, the 2016 Garofoli Podium offers a sunshiny color and fresh aromatics redolent with scents of apricot, honeysuckle, nectarine, and quince. In the mouth, Podium's fresh citrus and floral flavors mingle with touches of almond and ginger, all of which are held together with sleek acidity. Elegant, yet compelling in both flavor and style, Garofoli's 2016 Podium makes a strong case as the Marches' most exciting Verdicchio. Although wonderfully delightful now with haunting aromatics, delicacy, palate pleasing flavors, and pinpoint minerality, the 2016 Garofoli Podium has many more years of fine drinking ahead of it. From past experience, including recent bottles of the 2014 Podium, the 2016 Podium should hit its apogee in another year or two and hold for several more. However, make no mistake, Verdicchio is a delicate grape whose charm is born of elegance, minerality, and laser-like precision. Long and lovely on the finish, we are hard pressed to find a better example of Verdicchio than the Garofoli's Podium. Enjoy chilled to 40°-45° F. Cheers!
Verdicchio has earned the reputation as "the quintessential fish wine of the Marches," and the 2016 Garofoli Podium Verdicchio dei Castelli di Jesi truly is up to that task and more. Like the finest dry white wines of Italy, Garofoli's 2016 Podium is a distinctive wine that is meant to be consumed at table in the company of food. Although it makes a splendid aperitif, as our tasting panel members will attest, the 2016 Garofoli Podium truly shines with seafood, poultry, cured meats, and the fresh ingredients that sprout from the garden. Consequently, we enjoy pairing the Garofoli Podium with calamari, grilled octopus, salmon, and nearly any fish served in a savory herb broth. Clams, mussels, oysters, stuffed mushrooms, Caprese Salad (ripe red and yellow tomatoes with fresh basil and warm, thinly sliced mozzarella), and finely cured salami, sopressata, and mortadella also provide tasty accompaniments to Garofoli's flavorful 2016 Podium. Fresh fruit and soft cow's milk cheeses provide gratifying accompaniments as well. Buon Appetito!
The Garofoli family has been involved in winemaking for five generations, specializing in fashioning traditional red and white wines from Italy's picturesque Marches. With modern equipment and a profound respect for the Marches' traditional grape varieties and historic winemaking methods, Garofoli produces an entire line of classic Marchegian wines.
Verdicchio, the Marches' most renowned grape variety and most sought after wine, dominates Garofoli's production. Garofoli produces two very distinct Verdicchio wines, a light, racy quaff labeled Garofoli Verdicchio dei Castelli di Jesi, and the elegant, round Garofoli Podium Classico Superiore also from the Castelli di Jesi DOC. Podium is recognized as one of the finest of all Verdicchio wines and lauded for its ability to mature in bottle for up to five years or more. It is Garofoli's flagship offering.
Garofoli also turns out several delicious red wines, most notably Rosso Conero, as well as a host of additional still and sparkling wines. In order to maintain quality and freshness, Garofoli makes their white and red wines in separate wineries in the Marches.
Verdicchio is a white grape variety indigenous to the Marches region of Italy as well as the name of the Marches' most popular white wine. Verdicchio is derived from the word verde, which means green, due no doubt to the grape's greenish yellow hue. Verdicchio is a commonplace name among wine consumers, and so is the striking but hopelessly impractical fish-shaped bottle that encapsulates the most commercial and usually least exciting of Verdicchio's wines from the Castelli di Jesi DOC. However, few experts and consumers alike know that there are actually two appellations for Verdicchio in the Marches, Castelli di Jesi and Matelica, and both appellations turn out some of Italy's most pleasing white wines, mostly from estates such as Garofoli whose wines contain only 100% Verdicchio grapes.
The Marches, or Marche in Italian, is the green, picturesque region of central Italy that lies wedged between the Apennine spine of the Italian peninsula and the cliff-studded coast of the gleaming Adriatic Sea. Aside from the two month onslaught (in July and August) of Italian and Teutonic tourists that descend upon the coastal regions of the province, the Marches remains an oasis of calm, rural charm, art, religious shrines, fine food, and of course excellent wines – the very glories of Italy.
The most important wines of this rural oasis, which sits just due east of Florence, are Rosso Piceno, the most authentic and traditional of the region's red wines; Rosso Conero, an even more robust version of Rosso Piceno in that its cépage is the same as Rosso Piceno except with Montepulciano playing the main character and Sangiovese the supporting role, whereas the opposite is the case with Rosso Piceno; and finally Verdicchio, the quintessential fish wine that hails from two distinct DOC's, Castelli di Jesi and Matelica. Verdicchio can range from a light, pleasant quaff to one of the world's quintessential white wines. Both Verdicchio DOCs are capable of fashioning compelling white wines that serve as ideal accompaniments to seafood for which the Marches is justifiably renowned.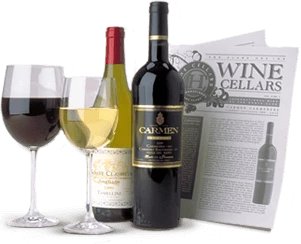 Enjoy Limited Production Estate
Bottled Wines
Discover limited production estate bottled wines such as Vergenoegd's internationally
acclaimed 2005 Cabernet Sauvignon, imported exclusively for our members.
DISCOVER OUR FOUR CLUBS