You don't have to play tennis or have ever longed for that coveted seat at Centre Court at Wimbledon to enjoy the 2011 Game Set Match Grenache Syrah Mourvedre. A bright ruby red color with savory aromatics the 2011 Game Set Match offers up delightful scents of summer raspberries and strawberries along with hints of dark chocolate. On the palate, the wine's ripe red fruits fill the mouth and overlay smooth spicy flavors offset by gentle tannins. Medium-bodied and immediately ingratiating one could think that Game Set Match is a simple quaff, but let it breathe awhile and enjoy what happens. We were positively delighted to taste this wine again and again after considerable aeration. Not only did it improve with air, it began to take on weight and reveal a variety of complex tones. Game Set Match! Enjoy this appealing GSM at cool room temperature (about 65°F).
The 2011 Game Set Match makes the ideal red to drink throughout the evening or during a protracted tennis match. Although savory and easy to drink by itself, it also pairs beautifully with plenty of different kinds of foods, great and small. Better still, its easy charm and 14.5% alcohol serve to drown out the ubiquitous grunts and groans emitted by today's professional tennis players. Multigrain chips with hummus, eggplant or meatball subs, deep dish pizza and Sheppard's Pie are just a few of the many offerings you might want to pair with the 2011 Game Set Match. Burgers and slow roasted pork barbecue make tasty accompaniments, too. So whether you're simply noshing or sitting down for a meal, we trust you'll find the 2011 Game Set Match to be an able companion. Enjoy!
To say that we were skeptical about considering a wine called Game Set Match that first came recommended to our tasting panel by an avid tennis player would be more than an understatement. "Another cute gimmick," we said. "That's just not what we're about."
"But you haven't tasted the wine."
"You're right. Give us a reason other than that you like tennis and spend every morning on the court, before coming home and gluing yourself in front of the television set all night to watch one tennis tournament or another until the wee hours of the morning." We wondered how many nights a person could listen to Maria Sharapova grunt for hours on end and still have enough wits to recommend a wine.
"The wine tastes great. It's the kind of wine you'd call a crowd pleaser. I can't get enough of it, especially now that my friends want to drink it when they come over."
"Do all of your friends play tennis?"
"Some, but not all." Why not keep an open mind?"
She had us there. We pride ourselves on not judging a wine until we've tried it, but a little investigation does tend to limit the disappointments. More importantly, it helps us find the highest quality and the greatest variety of wines for our members. Our motto "You can't drink a wine label, a price tag or anybody else's palate" has served us and our wine club members well for two decades.
"You're right. We'll be glad to try it." And we did . . . four or five times at least before we gave it the thumbs up. We put it through numerous panels just to be sure we weren't getting soft on the tennis motif or feeling guilty about our initial skepticism. Guess what, the tennis fanatic was right. The wine is good, very good in fact. Game Set Match!
Game Set Match is a blend of 74% Grenache, 21% Shiraz and 5% Mourvedre from McLaren Vale, South Australia. Grenache, Syrah and Mourvedre, better known as GSM around the world, is the traditional red blend in Australia and increasingly elsewhere, too. To tennis players worldwide, GSM refers to the referee's call "Game, set, match," after the final shot that wins a tennis match. Produced by American Estates Wines in McLaren Vale, we trust you will enjoy this delightful blend as much as we do.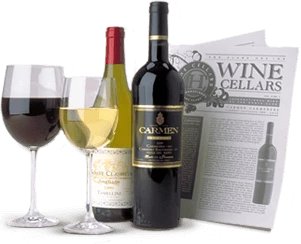 Enjoy Limited Production Estate
Bottled Wines
Discover limited production estate bottled wines such as Vergenoegd's internationally
acclaimed 2005 Cabernet Sauvignon, imported exclusively for our members.
DISCOVER OUR FOUR CLUBS