A unique blend from prized lots of Sonoma County Zinfandel; the 2001 Friends Zinfandel is one huggable wine. Rich in color and pleasantly aromatic, this medium bodied Zinfandel displays a good deal of berry fruit, both in the nose and the flavor. All that is good in Zinfandel: blueberry, raspberry, and a hint of bramble, which has come to serve as Zinfandel's calling card, all come happily together in the 2001 Friend's Zinfandel. Meanwhile, traces of coffee, chocolate, and mocha poke through the berry fruit on the palate to add further to this Zin's charm. But what is best of all, this "Friend" leaves without a bark or a bite. It makes you wish you had a bottle of Friends Zin for every night of the week… then just think of how many new friends you would make. Enjoy the Friends Zinfandel at cellar temperature (55-60 degrees Fahrenheit) as you would any fine red Zinfandel.
Aged and not released until it was ready to be drunk, the 2001 Friends Sonoma County Zinfandel is presently the perfect party wine. It is enjoyable with a host of foods from Carolina pork barbecue or strips of rare beef tenderloin to grilled Eggplant Parmigiana or Middle Eastern tabouli. However, we believe Zinfandel has a real affinity for Italian specialties. A particular favorite is ravioli, stuffed with ricotta, spinach, zucchini, and Parmesan cheese along with chopped fresh tomatoes, mushrooms, garlic, and capers. A hearty Pasta Primavera or Spaghetti Bolognese makes another fine accompaniment. In fact, we have enjoyed the Friend's Zinfandel with almost everything we have tried and we have enjoyed it equally well without food. It's a good old-fashioned drinking wine. Enjoy!
Friends is more than a wine or even a winery: it is the collaboration of friends from two Sonoma County wineries, and that's just for starters. Friends grew out of the friendship of the Pedroncelli brothers, Jim and John, Tim Murphy and Dale Goode of Murphy-Goode, and the outstanding Winery Associates team, headed by Dave Ready, that purveys several of Sonoma County's most consistently fine Zinfandels and Cabernets. This venture includes not only the owners and working partners in each of the wineries but also growers, salespeople, and various clients. Initially, Friends was conceived as a special wine for charity auctions. It includes a Zinfandel and a Cabernet Sauvignon, which are released only when the wines are ready to be consumed. The 2001vintage is the first and only release to date of these special Friends offerings, but others we hope will surely follow. The Friends label features a friendship bracelet as a symbol of peace and good will. Native Americans often used handcrafted artifacts like the friendship bracelet as a sign of their friendship and fidelity to others. Today, a friendship bracelet is often exchanged between best friends as a reminder to each that their friendship is meant to endure forever. Not surprisingly, the friendship between the Pedroncelli, Murphy, Goode, and Ready families dates back many years, and their decades long commitment to marketing their wines mutually in a unique highly successful venture such as Winery Associates is testament to their good faith.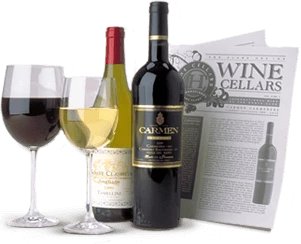 Enjoy Limited Production Estate
Bottled Wines
Discover limited production estate bottled wines such as Vergenoegd's internationally
acclaimed 2005 Cabernet Sauvignon, imported exclusively for our members.
DISCOVER OUR FOUR CLUBS