Once again, Ken and Akiko Freeman have fashioned a superb Pinot Noir in their 2019 Freeman Russian River Pinot Noir (92 Points – Wine Advocate). Rich, concentrated and highly aromatic, this Pinot Noir is suffused with delicious blackberry, cherry and plum fruit, hints of lavender and exotic spice flavors, and a fine patina of oak. Rich, almost robust in flavor, this youthful Pinot Noir sings from the glass just moments after it has been poured. It blossoms in the glass to provide a sensuous interlude and keeps on giving. The wine's wealth of fruit, firm structure, and bright acidity promise a long window of drinking pleasure. For optimal enjoyment, we suggest affording Freeman's outstanding 2019 Russian River Valley Pinot Noir at least 20-30 minutes of aeration before serving at cool room temperature (58°-62° F) now and often. Anticipated maturity: 2022-2030.
Great Pinot Noir complements food like no other wine. Yet, no one would blame you for drinking the hedonistic full-bodied 2019 Freeman Russian River Valley Pinot Noir on its own, but why not double the pleasure? This Pinot Noir provides a superb companion to Sous Vide Duck Breasts prepared with a blackberry gastrique or a Bing cherry glaze. Sautéed Veal Medallions in a mushroom cream sauce provides another superb complement. Pork cutlets bathed in a light cream sauce also make fine companions to Freeman's savory 2019 Russian River Pinot Noir, as do skillet seared pork tenderloins wrapped in apple wood smoked bacon before being finished in the oven and topped with a Pinot Noir demi-glace. Filet Mignon with Shitake and Chanterelle mushrooms makes a splendid accompaniment, too. But then, Freeman's elegant, complex, food friendly 2019 Russian River Valley Pinot Noir will provide good companionship to nearly any carefully prepared dish. Enjoy!
The search for a truly exceptional Pinot Noir at a price one can afford, at least on occasion, has often been likened to the quest for the Holy Grail. Well, search no more! At their Russian River winery, Ken and Akiko Freeman fashion a bevy of superb Pinot Noirs, including the 2019 Freemen Russian River Pinot Noir (this month's feature).
Since 2001, the Freemans have been truly exceptional pioneers of cool-climate Pinot Noir and Chardonnay, charting a course to the western edges of California winegrowing, where the influence of the Pacific Ocean shapes the character of the wines. In doing so, they have helped to define a more balanced, sophisticated and thoughtful style of winemaking—a style that has been embraced by connoisseurs and collectors around the world as well as many of our panel members.
Ken and Akiko Freeman founded Freeman Vineyard & Winery in 2001. Yet, the seed for their elegant wines was planted more than 15 years earlier, when Akiko and Ken discovered they shared a passion for a more elegant and refined style of Pinot Noir and Chardonnay. Although their style embodied elements of what they loved about Burgundy, Ken and Akiko believed California was capable of producing wines every bit as complex and compelling, which led them to explore more than 300 vineyards and vineyard sites, both in their search for grower partners, and in their quest to establish a world-class estate program of their own. Espousing a more eloquent, cool-climate style of winemaking, Ken and Akiko's quest has led them to cooler hillside sites on the edges of modern California viticulture. This means vineyards that are often swathed in fog and cooled by coastal breezes early and late in the day, where the yields are low and the fruit ripens slowly, producing wines of great purity and depth of flavor.
From the very first vintage, Freeman's style has been both exceptional and contrary to the crowd. While others were pushing the limits of ripeness, Akiko and celebrated consulting winemaker Ed Kurtzman (often called the Dean of California Pinot Noir) sought balance and refinement. This approach has garnered Freeman international praise and a place on more than a few of the world's most discriminating wine lists. It has also earned Freeman a cult following and recognition as one of California's most visionary and acclaimed small wineries.
Today, Freeman continues to be celebrated and defined by the very same beliefs that inspired its inaugural vintage. Whether Ken and Akiko are working with legendary vineyards like Keefer and Heintz, or Freeman's own estate vineyards in the Russian River Valley and on the extreme edges of the Sonoma Coast, they strive for a virtuous and authentic relationship with nature. As a result, their wines express an intimacy and true sense of terroir. In order to maintain the integrity of each bottling, the Freemans hold production to under 5,000 cases so they can focus on the little details and personal touches that make good wines great, with Akiko overseeing every step of the process. In the years since the winery was founded, other wineries have come to embrace Freeman's cool-climate vision. As for Ken and Akiko Freeman, they are staying the course, perfecting a style they helped to pioneer.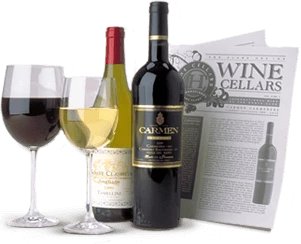 Enjoy Limited Production Estate
Bottled Wines
Discover limited production estate bottled wines such as Vergenoegd's internationally
acclaimed 2005 Cabernet Sauvignon, imported exclusively for our members.
DISCOVER OUR FOUR CLUBS