Grapes for the 2013 Franklin Tate Estates Alexanders Vineyard Margaret River Cabernet Sauvignon were sourced from a single block of low yielding Cabernet Sauvignon, crushed in a small open fermenter, hand plunged and, when fermentation was nearly complete, basket pressed. It was then placed in a combination of new, one year old, and two year old French oak barriques. The wine was allowed to mature in oak for 18 months with frequent racking. In short, no time or expense was spared by Franklin Tate in fashioning the 2013 Alexanders Vineyard Cabernet Sauvignon. Enchanting to behold with its purple robe and emitting aromas of ripe blackberries, cassis, cinnamon, dark chocolate, eucalyptus, and mint, it takes extraordinary patience not to quaff this wine and make short order of this ingratiating Cabernet. Thanks to basket pressing, the 2013 Alexanders Vineyard Cabernet Sauvignon offers a soft, rich mouth-feel of delicious fruit and fine-grained tannins, which add body and complexity. Enjoy this enchanting Cabernet Sauvignon now and over the next 5-6 years at cool room temperature (60°-64° F).
The smooth, charming nature of the 2013 Franklin Tate Estates Alexanders Vineyard Cabernet Sauvignon renders it an ideal accompaniment to lamb, beef, duck, and more. Rack of Lamb or Braised Lamb Shanks, served with lentils; Rotisserie or Spit Roasted Chicken, brushed with butter, olive oil, and Provençal herbs; and Filet Mignon with Portabella mushrooms provide just a few mouth-watering companions to this juicy, round Cabernet Sauvignon. In Australia, ostrich and kangaroo steaks provide more tried and true pairings with this wine. And for those subscribing to the philosophy that less is more when it comes to accompaniments, why not consider serving a plate of soft, ripe cheeses with the 2013 Franklin Tate Estates Alexanders Vineyard Cabernet Sauvignon? Camembert, Fontina, and Saint Aubray are just a few of the many cheeses that will draw compliments with this gracious Cabernet Sauvignon. Enjoy!
John Tate and his son Franklin Tate created their estate to become Margaret River's most well-known winery. Franklin Tate Estates is all about a passion for winemaking – from vineyard to bottle – an aspiration that has driven the family since 1969 when family patriarch John Tate founded Evans & Tate. The Tate family has earned considerable acclaim for award winning wines. John and Franklin Tate have twice been awarded "Most Outstanding Red Wine in the World" at the Wine Magazine International Wine Challenge.
The Tate vineyards are located in the heart of the Margaret River of Western Australia, the viticultural area of Australia whose wines have garnered more medals at competitions than any other despite Margaret River being one of the smallest wine appellations in "The Land Down Under." Hand-crafted wines are the calling cards of Franklin Tate Estates, with the Alexanders Vineyard wines serving as the winery's finest reserves.
The Margaret River is a green temperate corner of Western Australia that sits beside the sea. Here the Margaret River makes its way through wooded hills and steep ridges carpeted with wild flowers, before sighing almost inaudibly into the gleaming Indian Ocean. Crystalline waters and high rolling surf offer Australia's finest surfing as well as its most compelling seascapes. These very same waters, along with steady ocean breezes, a unique soil, and a Mediterranean climate also make Margaret River one of the finest natural wine producing areas on earth and a great place to peacefully whittle away the time.
In the early1960s, a scholar named John Gladstone was the first to recognize and publicize Margaret River's special climate, soil, and conditions known as terroir. In a detailed account, Gladstone wrote glowingly of the similarities between the finest wine producing regions of Bordeaux and Margaret River. Moreover, he extolled the perfect weather of Margaret River for the cultivation of the vine, especially for the traditional Bordeaux varietals. And, indeed, Gladstone's proclamation has proven to be more than just wishful thinking, surpassing even his own expectations: In the past three decades the Margaret River has established itself as a world-class wine producing region for Chardonnay, Shiraz, Cabernet Sauvignon, and other traditional Bordeaux varietals.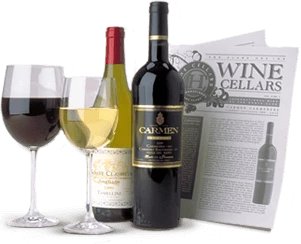 Enjoy Limited Production Estate
Bottled Wines
Discover limited production estate bottled wines such as Vergenoegd's internationally
acclaimed 2005 Cabernet Sauvignon, imported exclusively for our members.
DISCOVER OUR FOUR CLUBS