The 2007 Francois Lurton Malbec Reserva deftly blends the inherent attributes of old vine Malbec in Argentina with Bordeaux sophistication. Lurton's Malbec Reserva sports a deep purple robe that is nearly opaque, but the real fun begins when you stick your nose into the glass. A rich, flamboyant aroma, redolent with the scents of black fruits, rose petal, and dark chocolate, seduces the olfactory. From the first sniff of this comely wine, it becomes apparent why the Malbec varietal in the hands of an adept winemaker such as Francois Lurton reigns supreme in Argentina. Moreover, with just a bit of aeration, the wine's lusty aromatics carry through on the palate, bearing additional traces of vanilla bean and coffee to meld with the seductive flavor of new oak. Although captivating now, we are sure this wine will continue to improve in bottle for at least several more years. For the ultimate in drinking pleasure, we recommend you afford the 2007 Francois Lurton Malbec Reserva at least twenty to thirty minutes of aeration before serving it at cool room temperature (60º-65º F).
Beef is the national dish of Argentina, as any one who has ever visited that country will attest. And what better accompaniment is there to a country's national dish than its national wine? So, given the high flavor profile of the 2007 Francois Lurton Malbec Reserva, we suggest serving it with a serious steak. Some of our favorite cuts of beef with Malbec include sirloin, t-bone, rib eye, and porterhouse. And to complement the woodsy, flamboyant side of this wine, we suggest a side dish of sautéed Cremini, Portabella, or Shitake mushrooms, prepared in a red wine reduction with shallots and a dash of rosemary and spicy mustard, to accompany the steak of your choice. However, lest you think that Francois Lurton's 2007 Malbec Reserva is a mere one dimensional offering, we can also suggest pairing it with some tried and true alternatives to "Beef Almighty." Lusty red pasta sauces, three mushroom pizzas, and grilled ostrich provide other splendid parings with this full-flavored but sophisticated Malbec. And let's not forget lamb or even the best burger money can buy; they all provide splendid complements to Francois Lurton's work of viticultural art. Enjoy!
Francois Lurton and his brother Jacques began making wine in Argentina nearly two decades ago. Scions of André Lurton of Bordeaux legend and lore, the brothers Lurton quickly built a formidable portfolio of world class wines in Mendoza, Argentina from old vines. They also re-planted vineyards with the finest clones from around the world. However, after helping to build and re-shape the wine industry in Argentina from a bulk business into a quality affair, the brothers have decided to go their separate ways. Francois has stayed on in Argentina at Bodega Lurton's state of the art facility, where he continues to fashion some of the world's greatest wine values as well as a number of South America's most compelling wines at any price. Bodega Lurton's vineyards surround the beautiful Mendoza winery that Francois and his brother opened in 1996. Lurton augments his production with several neighboring terroirs, many from old vines as much as 100 years of age. These hand selected vineyards reflect Lurton's philosophy of producing natural, high quality wines. Moreover, these special terroirs have been selected for the quality of their soil and climate as well as their proximity to pure Andean water. All of Bodega Lurton's Mendoza vineyards are planted on virgin territory, land that has never had any input of chemicals. Francois Lurton continues to safeguard his vineyards by refusing to employ herbicides and by practicing natural methods of production. Although best known for his outstanding reserve offerings of Cabernet Sauvignon and Malbec, including the complex and age worthy Malbec Piedra Negra, Francois Lurton has time and again demonstrated that he is equally adept at fashioning distinctive white wines. In addition to turning out several of Argentina's best Malbec wines Lurton also crafts excellent Pinot Gris, Torrontes, and Chardonnay.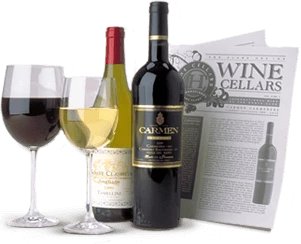 Enjoy Limited Production Estate
Bottled Wines
Discover limited production estate bottled wines such as Vergenoegd's internationally
acclaimed 2005 Cabernet Sauvignon, imported exclusively for our members.
DISCOVER OUR FOUR CLUBS