Fournier's 2018 Grande Cuvée Sancerre hails from the village of Verdigny in the heart of Sancerre where Domaine Fournier is located. This Grande Cuvée, also known as La Chaudouillonné, comes from selected vineyards grown on the village's famous Caillottes terroir, which is unique to Verdigny. This special terroir imparts a beautiful golden hue, intense aromatics, and a ripe, full mouthfeel of candied citrus and explosive minerality to the 2018 Fournier Grande Cuvée Sancerre. In the mouth, complex fruit tones meld with the wine's distinct minerality and unique round texture before finishing with a flourish of bracing acidity. Lovers of full throttle Sancerre will delight in the 2018 Fournier Grande Cuvée now as it reaches toward maturity, while others may prefer to cellar this rare Sancerre for another year or more as Fournier's flagship Sancerre has the propensity to age gracefully, far longer than other Sancerres. We suggest serving this complex stylish Sancerre moderately chilled (40°-45° F) and often. Anticipated maturity: 2021-2024. Santé!
For decades Sancerre has been the rage in Paris bistros and upscale American seafood restaurants, with the prevailing sentiment that "Sancerre is made for seafood." It's hard to argue with the sentiment, as there is not a better wine to pair with seafood than Sancerre. A plate of oysters on the half shell and a dish brimming with fresh mussels steamed in a heady broth make superb accompaniments to Fournier's 2018 Grande Cuvée Sancerre. Another perennial favorite is Pan Roasted Sea Scallops, served with an artfully prepared saffron risotto, baby carrots, and sautéed spinach. Steamed New Zealand Green Lipped Oysters, prepared with tomato, fennel, and crème fraîche; or just plain old-fashioned smoked salmon, served with capers, red onion, and cream cheese also pair beautifully with the 2018 Fournier Grande Cuvée. In fact, calamari, octopus, and just about any creature that once swam in the sea should provide superb companionship to Fournier's 2018 Grande Cuvée Sancerre. Another splendid accompaniment is a plate of Alaskan king crab legs accompanied by a dish of drawn butter. In the presence of such wine and seafood, one could be tempted to re-think their definition of paradise. Yet, why not ask for more? Fournier's 2018 Grande Cuvée is a wine for more than seafood. It pairs beautifully with delicate appetizers, sweetbreads, country pâtés and most cheeses; and it can easily stand on its own as an aperitif. For optimal enjoyment, we suggest saving a glass of Fournier's 2018 Grande Cuvée to sip with Sancerre's regional cheese: Crottin de Chavignol – the combo is not to be missed. Bon Appétit!
« Le vin réjouit le coeur de l'homme. » ("Wine makes glad the heart of man".)
The Fournier family were long-time growers and producers of Sancerre, France's iconic Sauvignon Blanc from the Loire Valley appellation that imparts its name to the wine. And like many of the best growers in Sancerre, the Fourniers expanded their holdings in Sancerre over the past half century to include vineyard parcels with the most outstanding terroir. In 2015 Joost de Willebois acquired the vineyards and began working alongside Claude Fournier and winemaker and Sancerre native Frédéric Jacquet to continue the Fournier legacy. From Sancerre's treasured parcels, Fournier Père et Fils continues to craft truly exceptional Sancerre wines, including the estate's flagship offering and this month's feature, the 2017 Fournier Grande Cuvée Sancerre.
In addition to producing the estate's unique Grande Cuvée, considered by critics to be one of Sancerre's greatest wines, Fournier fashions several other superb Sancerre wines, including Cuvée Silex, an exceptionally age-worthy Sancerre that hails from a small vineyard of stony mineral-rich soil known as silex, as well as the simple but delicious Les Belles Vignes Sancerre, which made the Wine Spectator Top 100 List. Fournier has also acquired prime properties in nearby Pouilly-Fumé and Menetou-Salon, two other prime Loire Valley appellations renowned for excellent Sauvignon Blanc. Begun in 1950 with just over 10 acres in Sancerre, the Fournier Père et Fils Sancerre estate has grown to nearly 70 acres, with additional prime vineyards scattered throughout the Loire Valley. From each of Fournier's great Sauvignon Blanc appellations, the emphasis is always on quality and producing France's finest Sauvignon Blanc.
Sancerre is an Appellation d'Origine Contrôlée (AOC) for wines produced in fourteen villages near the town of Sancerre. This appellation lies to the southeast of Orléans, along the upper reaches of the Loire River. Sancerre is considered by many to be the spiritual home of Sauvignon Blanc, as the appellation's greatest claim to fame lies in the production of crisp, elegant, eminently drinkable white wines made exclusively from Sauvignon Blanc grapes. The chalky, limestone-rich soil of Sancerre is ideal for the cultivation of Sauvignon Blanc. Consequently, white Sancerre was one of the first wines to be awarded appellation status by the French government in 1936.
As if the crafting of some of the world's purest, most enjoyable white wine is not sufficient acclaim, Sancerre also fashions very fine dry rosé from Pinot Noir, and a light aromatic red Pinot Noir that rivals the village wines of Burgundy. Sauvignon Blanc and Pinot Noir constitute the only two legal grape varieties permitted in Sancerre.
Crottin de Chavignol, the Loire Valley's finest goat cheese, is also made in Sancerre and was awarded its own appellation status in 1976. It ranks among the finest cheeses of France and it pairs beautifully with Sancerre's incomparable Sauvignon Blanc.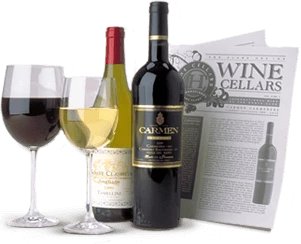 Enjoy Limited Production Estate
Bottled Wines
Discover limited production estate bottled wines such as Vergenoegd's internationally
acclaimed 2005 Cabernet Sauvignon, imported exclusively for our members.
DISCOVER OUR FOUR CLUBS