Formby & Adams' 2010 Leading Horse Langhorne Creek Cabernet Sauvignon is a tribute to the "leading horses," which have propelled Formby & Adams and Brothers in Arms to the forefront of boutique Australian producers of Cabernet Sauvignon and Shiraz. The 2010 Leading Horse Cabernet Sauvignon displays an enticing bouquet of berries, mint, and hints of anise and nutmeg. In the mouth, the wine offers soft, succulent flavors that expand with aeration. Blackberry fruit, mint, dark chocolate and coffee tones emerge and begin to linger on the palate. Dusty tannins make a nice frame around the wine's well-integrated fruit, herb and spice flavors and allow for a graceful, pleasant aftertaste. The 2010 Formby & Adams Leading Horse Langhorne Creek Cabernet Sauvignon is a wine made for graceful ageing, and aged well it has. Afford this delightful, mature Cabernet 15-20 minutes of aeration and enjoy its graceful evolution as it delights your nose and palate.
The complex flavors and supreme balance of the 2010 Formby & Adams Leading Horse Langhorne Creek Cabernet Sauvignon pair beautifully with most cheeses, meats and grilled vegetables. Filet mignon, game birds, roast chicken, and pastas stuffed with meat or cheese all make fine companions to Guy Adams' tasty Leading Horse Cabernet Sauvignon. Veal Medallions wrapped with prosciutto ham get a serious nod with this mature Cabernet, as does a good Shepherd's Pie. Roast duck with a berry sauce, chicken, and many types of soft cow's milk cheeses complement this Cabernet Sauvignon, too. The 2010 Formby & Adams Leading Horse Langhorne Creek Cabernet Sauvignon also makes a good sipping wine, with or without a morsel, as it is capable of shining on its own with a few minutes of aeration. Just don't invite too many friends over, or you'll need another bottle… or two. Enjoy!
Australia continues to be an ever-increasing source of beautiful, stylish Cabernet Sauvignons, and Guy Adams of Formby & Adams and Brothers in Arms in South Australia's award-winning Langhorne Creek appellation is one of the continent's most accomplished winemakers.
Guy Adams is a fifth generation winemaker. His great-great-grandfather, William Formby, planted the first vines on what is now the Adams' Metala property in 1891. Twelve acres of the Metala property are still producing premium grapes. Formby used horse and bullocks and cutting edge technology of the day to create hand-crafted wines. In those days, the teams of heavy working horses consisted of 11 horses: five pairs and one leading horse. The lead horse was the strongest and most intelligent; his job was to lead the team forward. In every generation of Guy Adam's family, one person has propelled the estate into the future with a keen sense of tradition and innovation for handcrafting sustainable high quality wines. Guy Adams is Formby & Adams' current "leading horse."
Guy Adams fashions excellent Cabernet Sauvignon and Shiraz under both the Formby & Adams and Brothers in Arms labels. The estate's Langhorne Creek property enjoys a unique microclimate and terroir for the production of these two grape varieties. The region's hot mid-day temperatures give way to cool breezes in the late afternoon from nearby Lake Alexandrina and the Southern Ocean, causing temperatures to drop 30 degrees Fahrenheit or more within an hour. As the vines routinely have time to recover from the day's heat, the grapes experience longer hang times on the vine before harvest and attain true physiological ripeness. The result is wines of great balance and complexity. For this reason, Formby & Adams' Langhorne Creek wines tend to be approachable young, yet capable of extended ageing. Langhorne Creek's alluvial, nutrient rich soil from periodic flooding adds to the complexity and suavity of the region's wines.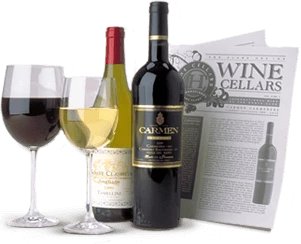 Enjoy Limited Production Estate
Bottled Wines
Discover limited production estate bottled wines such as Vergenoegd's internationally
acclaimed 2005 Cabernet Sauvignon, imported exclusively for our members.
DISCOVER OUR FOUR CLUBS