The 2009 Villa del Borgo Refosco opens up with an eye catching ruby robe. It follows up with a beautiful fruit driven nose. Scents of cherry and woodland strawberries waft from the glass, followed by the clean, haunting fragrance of forest floor swept by a spring rain. Light fruit and spicy woodland flavors continue in the mouth and linger on the palate as they hug the tongue, before exiting with just the right amount of panache. Bright, round, and relatively soft for Refosco, the 2009 Villa del Borgo finishes with a slight twist of bitter almond, just to let you know that it is indeed Refosco after all. Enjoy this easy to drink red wine at cool room temperature (60º- 66º F). Enjoy!
Ideal with all kinds of meats, cheeses, and traditional Italian-American specialties, the 2009 Forchir Villa del Borgo Refosco will liven up many a meal. For starters, lentil soup with spicy Italian sausage provides a tasty treat in the company of Villa del Borgo's Refosco. Although light and cheerful, the wine more than holds its own with this dish. In fact, it appears to gain flavor and take on weight in the company of full-flavored foods. Chicken Marsala and Veal Parmigiana pair nicely with this charming Refosco, too. More traditional Friulian accompaniments include game, red meats, poultry and of course sausage and cured meats. And of course, Italy's endless array of hard cheeses won't suffer in the company of this bright energetic wine, either. Buon Appetito!
More than a century old, Forchir is one of the oldest wine estates in Friuli. It bears the name of Antonio Forchir whose family founded the estate. Since 1984, current owners Gianfranco Bianchini and Enzo Deana have invested heavily in bringing Forchir to its present size and stature. Bianchini and Deana grow all the traditional grapes of Friuli at their estate vineyards, including Cabernet, Merlot, Refosco, Pinot Grigio, Riesling, Sauvignon Blanc, Tocai Friulano, and Traminer. In total Forchir comprises 487 acres of vine, which makes it a large holding by European standards. The estate vines are cultivated with minimal environmental impact and the resulting wines are vinified at controlled temperatures in the absence of sulfur dioxide. What results are a bevy of bright, fresh, flavor-filled wines that reflect the character and unique terroirs of Friuli.
Refosco is an autochthonous northern Italian red grape varietal that thrives on the plains and hillsides of Friuli and Trentino north of Venice. It is a very old grape variety whose origins remain somewhat obscure. Friuli's sub variety of Refosco is known as Refosco dal Peduncolo Rosso, which refers to the Friulian vine's unique red stem or stalk. Refosco is sometimes called Terlano, Terlan, and Terrano as well, especially around the Italian city of Terlano and in nearby Slovenia and Croatia. It produces a bright ruby red wine, often with streaks of violet. It displays a fragrant, vinous aroma that continues to improve with time in bottle. Although typically made in light to medium-bodied styles that reflect the cooler climates of northern Italy, Refosco retains a tannic structure and a pleasant hint of bitter almond that allows it to age well for several years in the bottle.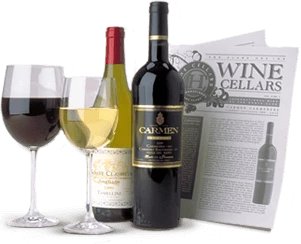 Enjoy Limited Production Estate
Bottled Wines
Discover limited production estate bottled wines such as Vergenoegd's internationally
acclaimed 2005 Cabernet Sauvignon, imported exclusively for our members.
DISCOVER OUR FOUR CLUBS