In the same realm as Hanzell, Kistler, Kongsgaard, and Lewis, the 2015 Fisher Mountain Estate Chardonnay is nothing short of a tour de force in winemaking. Fisher's 2015 Mountain Estate Chardonnay is a wine for the most discriminating Chardonnay drinker. Bright yellow in color with a glint of the sun, it offers stunning aromatics in the form of daffodil, forsythia, and a whole host of spring flowers infused with gentle spice and vanilla tones from the finest of oak barrels. Soft, silky, and beautifully textured in the mouth, this Chardonnay has it all, offering a seamless stream of pure fruit, subtle spice tones, and a long nuanced finish that left us begging for more. Sophisticated and crowd-pleasing, it would be hard to top Fisher's 2015 Mountain Estate Chardonnay. For optimal enjoyment, we suggest opening Fisher's Mountain Estate Chardonnay a few minutes before serving it moderately chilled (40°-45° F). Already profound, this classic California Sonoma County Chardonnay will continue to mature gracefully for several more years. Anticipated Maturity: Now-2021.
The complex and nuanced 2015 Fisher Mountain Estate Chardonnay is capable of elevating the grandest cuisine to new heights as well as making the simplest of meals a sumptuous delight. Consider serving this sophisticated, flavor-packed Chardonnay with steamed blue crabs, Alaskan king crab legs or lobster in the company of drawn butter. Scallops in puffed pastry, poached salmon, or nearly any grilled white fish that is served with an herbed mayonnaise will offer superb companionship to Fisher's Mountain Estate Chardonnay. Crab Imperial, Prince Edward Island mussels in a creamy broth, stuffed Alaskan halibut or cod, and most hearty seafood dishes that rely upon butter or cream in their sauces will complement this wine, as well as provide ample reason to pour a second or third glass. For tasty parings that don't emanate from the sea, consider a cheese and pear risotto, Chicken Cordon Bleu or Chicken Fricassee, as they, too, will provide excellent companionship to Fisher's flavorful Mountain Estate Chardonnay. And if by chance a dram of the 2015 Fisher Chardonnay should still remain in your glass at the end of the evening, savor it with a piece of fine cheese. Why enjoy only one of life's great pleasures when you can have more? Enjoy!
"We are small in size but great in scope with both mountain and valley estate vineyards. Our wines reflect the great care we have given these vineyards; those who drink the wines and those who write about the wines, sing their praise, and we are grateful." - Fred J. Fisher, Proprietor
Founded in 1973 by Fred and Juelle Fisher, Fisher Vineyards has been for decades quietly fashioning an incredible array of highly allocated Mountain Estate Chardonnays and Cabernet Sauvignons from its Napa Valley Estate and Spring Mountain Estate in Sonoma County, albeit in miniscule quantities. Fisher, like many of California's top producers, is truly a family affair. Fred and Juelle's three children, Whitney, Robert and Cameron, have come on board to assure the flow of world-class wines from Fisher Vineyards. We are pleased to offer to our club members a taste of one of California's finest and most sought after Chardonnays.
The Fishers take a two-pronged approach in crafting their award-winning wines: one highlights the truly unique characteristics of single vineyard sites, while the other emphasizes the art of blending small complementary lots of various estate vineyards and varietals in order to create the most balanced, harmonious, and complex wines, as Fisher's 2015 Mountain Estate Sonoma County Chardonnay (this month's feature) will attest.
In addition to fashioning outstanding Chardonnay, Fisher Vineyards produces limited quantities of truly exceptional Cabernet Sauvignon, Syrah, and Bordeaux blends in very limited quantities. We trust you will enjoy Fisher's hand-crafted Mountain Estate Chardonnay as much as we do.
Chardonnay is not only the most widely cultivated white varietal on the planet; it is also the most treasured. Twice each year at harvest time (because the seasons are reversed in the northern and southern hemispheres) in its native France and in countless locales on six continents, Chardonnay grapes command premium prices. In tribute, Chardonnay produces the finest, most flavorful dry white wines in the world to which writers and connoisseurs devote countless columns and untold hours exalting its virtues and dissecting its flavors. Whether it be from Chablis or Champagne, Sonoma or the Western Cape of South Africa, or from the most illustrious of vineyards perched atop the slopes of Corton and Montrachet in Burgundy, Chardonnay is the yardstick by which all other dry white wines have come to be measured.
With food, Chardonnay is a peerless match. Chablis and other Chardonnays that see little or no oak provide superb complements to seafood. Fuller, richer, and more heavily oaked renditions of Chardonnay, typified by the finest examples from California, France, and South Africa, pair beautifully with more complex fare, such as rich cream sauces, poultry and white meats. Moreover, the finest Chardonnay wines shine on their own, requiring nothing but a clean glass to please the palate.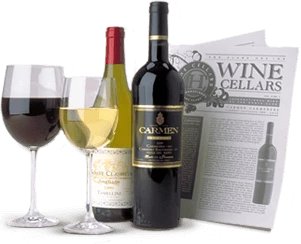 Enjoy Limited Production Estate
Bottled Wines
Discover limited production estate bottled wines such as Vergenoegd's internationally
acclaimed 2005 Cabernet Sauvignon, imported exclusively for our members.
DISCOVER OUR FOUR CLUBS