The 1999 Faunus Salice Salentino Riserva is a delightful, full-bodied wine. Made from a traditional blend of 60% Negro Amaro and 40% Malvasia Nero that was grown in a red calcareous rock and iron rich soil, the Faunus exhibits the complex deep purple color, tinged with brick, that characterizes the finest Salice Salentino wines. Fragrant aromas of ripe plums, cherries and wild berries along with the bouquet of violets and truffles evoke the scents of an enchanted wood. On the palate the Faunus comes across as hardy and rich with a pleasant hint of rusticity; an 18 month hiatus in Slavonian oak and extensive bottle ageing has rounded any edges this well- structured wine must have possessed in its infancy. We have always enjoyed the Faunus at cool room temperature (about 66° F) with only a few minutes of aeration, and we suggest you do the same.
The folks at Poggio Le Volpi have a number of favorite dishes they like to serve with the 1999 Faunus Salice Salentino, and each bears emulating. For a simple mid week meal, they suggest pairing the Faunus with Bucatini al Sugo, a thin tube shaped pasta that is served with a hearty tomato sauce. Orecchiette con Porcine e Fiorelli, ear shaped noodles with porcini mushrooms and zucchini flowers, is one of our personal favorites, but the ultimate accompaniment to Faunus may be artichokes, typically one of the most difficult foods to pair with wine. Carciofi Ripieni, artichokes stuffed with breadcrumbs, herbs and ground pork, may indeed create an enchanted state of being. The 1999 Faunus Salice Salentino Riserva also provides a little rapture to typical beef, lamb, and pork dishes. Enjoy!
Faunus is the name of the ancient Roman woodland deity, the counterpart of ancient Greece's Pan of Shakespeare's A Midsummer Night's Dream fame. This mystical name was chosen by the owners of Poggio Le Volpi to evoke the winery's bucolic setting near Monteporzio Catone, among the enchanted hills of the Castelli Romani. Situated south of Rome, among rolling hills with south facing slopes and enchanted woodlands; formidable castles that are actually ancient hilltop towns; vast vineyards; magnificent palaces and villas that were built by the old aristocracy; this part of the Castelli Romani recalls all of the wistful enchantment of Shakespeare's most beloved romantic comedy. And happily, the wines of this dreamy country are as enchanting as the land itself. Poggio Le Volpi was established in 1986 on a 40 acre vineyard. A vast limestone cave was excavated beneath the property's old farmhouse along with a modern winery, to provide the utmost in tradition and as well as modern technology. Since its inception Poggio le Volpi has won rave reviews in Italy and abroad, especially from Luca Maroni, Italy's leading wine guru, who has also been referred to as that nation's Robert Parker. Over the last decade, Poggio Le Volpi has acquired holdings in both Apulia and Sicily, hence Faunus, the estate's Salice Salentino. Salice Salentino is one of southern Italy's most charming wines. It is born on the plains and low hills of the Salento Peninsula in the region of Puglia on the heel of the Italian boot. The climate is Mediterranean, quite hot and dry in summer with very cool nights, which gives the grapes a very long hang time, allowing them to ripen late and impart substantial aromatic profile to the resulting wines.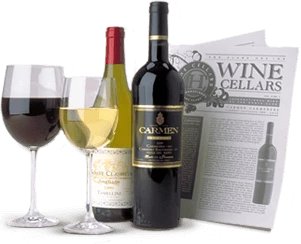 Enjoy Limited Production Estate
Bottled Wines
Discover limited production estate bottled wines such as Vergenoegd's internationally
acclaimed 2005 Cabernet Sauvignon, imported exclusively for our members.
DISCOVER OUR FOUR CLUBS