Regardless of the vintage, Fattoria Le Terrazze seems to shine, due in no small part to the Ternis' strict crop selection and low yields, so it should come as no surprise that the 2001 Le Terrazze Rosso Conero is delicious. It reveals an elegant soft perfume, redolent with the scents of cherry, rose and violet. Wedded to the wine's seductive floral components is a sensual, earthy aroma that exudes the essence of spring and captures the fecundity of the awakening land. Furthermore, the 2001 Le Terrazze is rich, warm and velvety in the mouth, and it offers up copious quantities of ripe black cherry and cola that mingle with subtle complex tones. Medium to full-bodied, Le Terrazze's ripe sweet tannins provide structure as well as an appropriate framework to highlight the wine's plush elegance. We suggest that you allow this lovely Rosso Conero at least 15-30 minutes to breathe before serving it at cool room temperature (about 66° F). Due to the Terni's natural methods of production and the nature of the Montepulciano varietal, the Le Terrazze may precipitate a harmless, tasteless sediment.
All the classic Italian American specialties (Eggplant Parmigiana, Lasagne, Veal Scallopine, etc.) provide excellent accompaniments to the 2001 Fattoria Le Terrazze. However, if you are looking for something more, you need not look any further than the traditional cuisine of the Marches. Although simple in comparison to the heavy rich fare of Piemonte, Marchesan cooking is always quite flavorful, rich, and varied. Brodetto, the highly charged local rendition of bouillabaisse, smoked meats, such as salami, or just about any type of game all provide fine complements to the Terni's Rosso Conero. Yet, it is Porchetta, the Marches' version of a whole, roasted suckling pig, which is stuffed with onion, herbs, garlic and wild fennel that constitutes our favorite accompaniment to the 2001 Le Terrazze Rosso Conero
Rosso Conero is the Adriatic's most illustrious wine and Fattoria Le Terrazze is the region's leading producer, so when the crowds leave the area's pretty beach resorts and the tourists take leave of the countless seafood restaurants that anchor the breathtaking Marchesan coastline, rife with cliffs that plummet hundreds of feet straight into the gleaming Adriatic Sea, the local cognescenti put aside the region's Verdicchio and break out the Marches' most serious and compelling red wine - Fattoria Le Terrazze Rosso Conero. A robust, hearty red that possesses both flavor and charm, Rosso Conero is a delicious wine, equally fit for a cold winter night as well as the seductive fecundity of a warm spring evening. It draws its strength and vigor from the flavorful Montepulciano grape, and when blended with up to 15% Sangiovese (the great Tuscan varietal) Rosso Conero combines strength and finesse, resulting in a plush wine of subtle complexity. Antonio and Georgina Terni are the dedicated proprietors of Le Terrazze, where they produce a meager 2000 cases of wine each year from a small, well-situated 15 acre vineyard. Their sole aim is produce the Marches' finest Rosso Conero, a goal many critics and consumers alike believe Antonio and Georgina have already achieved. In order to produce their beautifully wrought wine, they must drop a sizeable portion of each vintage's purple grape clusters onto the meticulously tended vineyard, thereby radically reducing their yield but heightening the flavor and intensity of the resulting wine. Once one of Italy's best-kept secrets, the word is now out; Fattoria Le Terrazze produces compelling Rosso Conero and its wines are becoming increasingly difficult to find. Consider yourself forewarned.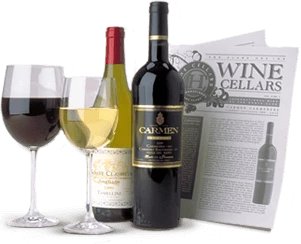 Enjoy Limited Production Estate
Bottled Wines
Discover limited production estate bottled wines such as Vergenoegd's internationally
acclaimed 2005 Cabernet Sauvignon, imported exclusively for our members.
DISCOVER OUR FOUR CLUBS