The 1999 Fattoria Le Terrazze Rosso Conero reveals an elegant, soft perfume of cherry, rose and wild violet. The scent of this Rosso Conero recalls one of those glorious May mornings when roses first bloom in the yard and the earth seems to exude in a single moment all of the freshness and sensuality of Spring and, perhaps, life itself. Yet, in the mouth, Le Terrazze is rich, warm and velvety with copious quantities of black cherry, cola and subtle complexity to render it a near perfect companion to a long winter's night. Medium to full-bodied, the wine's sweet tannin provides structure, along with plush elegance. Serve this huggable wine at about 65°F, after airing for at least 20-30 minutes. Due to minimal processing and the nature of the Montepulciano grape, this wine may throw some harmless natural sediment.
The cuisine of the Marches is, perhaps, simple in comparison to that of Piemonte or Emilian-Romagna but it is quite varied, and always fresh. The Marches is home to brodetto, the local version of bouillabaisse, as well as a long list of fresh and smoked meats, poultry and game specialties, all of which make outstanding complements to the 1999 Fattoria Le Terrazze Rosso Conero. Porchetta or roasted pig, stuffed with onion, herbs, garlic and wild fennel is one of our favorite complements to the Terni's beautiful wine. Lasagna, plump, marinated or fried green olives and rich pasta sauces with garlic, olive oil, rosemary and fresh tomato also provide wonderful accompaniments to Le Terrazze's Rosso Conero, so enjoy!
When the crowds leave the pretty beach resorts and the tourists take leave of the many fine seafood restaurants that anchor the breathtakingly beautiful Adriatic Coast, the local cognoscenti put aside the region's Verdicchio and break out the Marches' most serious and compelling wine – Rosso Conero. A robust, sturdy, warm wine fit for a cold winter's night, Rosso Conero is a delicious red that draws its strength from the flavorful Montepulciano grape. And when blended with up to 15% Sangiovese, Rosso Conero combines vigor with finesse resulting in subtle complexity in the Marches finest wine. The on going aim of Antonio and Georgina Terni, proprietors of Fattoria Le Terrazze, is simply to make the very best Rosso Conero in the appellation, a goal many critics believe the honest, hardworking Terni's have already achieved. Working a mere 15 acre vineyard, Antonio and Georgina Terni produce only 2000 acres of Rosso Conero in an average year, preferring to drop clusters of purple grapes to the meticulously tended vineyard floor in order to produce consummate quality rather than mere quantity. By all accounts, Fattoria Le Terrazze turns out compelling Rosso Conero, a wine that deserves to be better known internationally.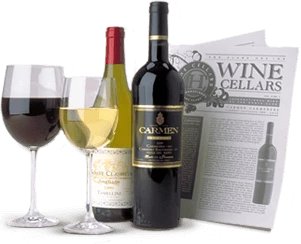 Enjoy Limited Production Estate
Bottled Wines
Discover limited production estate bottled wines such as Vergenoegd's internationally
acclaimed 2005 Cabernet Sauvignon, imported exclusively for our members.
DISCOVER OUR FOUR CLUBS