In the 2004 Tuttosole, Marco Razzauti has captured the warmth and power of the previous release of Tuttosole (from the torridly hot 2003 vintage) and imbued it with added complexity, depth, and finesse. Deep, brooding, and massive in body as well as flavor, the 2004 Tuttosole Syrah lingers in the mind and haunts the senses, even long after it has been consumed. As one taster so eloquently stated, "Tuttosole embodies the very essence of Syrah. It offers up a boatload of blackberry and cassis fruit, a bazaar full of spice, and enough refined leather tones to befit the finest glove shop – all of which are woven together majestically in the finest liquor ever brewed." In short, this wine has to be tasted to be believed. After three days open, it is still delicious and continues to evolve in the glass. So much for the critics who complain that Italian Syrah doesn't quite reach the same level as its finest French counterparts. Indeed, they are right. Sometimes, it's better, and the 2004 Tuttosole is a fine case in point. For optimum enjoyment we suggest opening the 2004 Tuttosole Syrah at least a couple hours ahead of serving. Better still, lay this monumental wine down for a few years and enjoy the aromatic and gustatory fireworks of a mature 2004 Tuttosole. Anticipated maturity: 2009-2018.
Given the size and stature of the 2004 Tuttosole Syrah, we suggest serving this monolithic wine with full-flavored, artfully crafted dishes. We have particularly enjoyed beef and pork entrées with this wine. Horseradish Crusted Beef Tenderloin, served over twice fried pommes frites; and Grilled Marinated Pork Tenderloin, prepared with sautéed vegetables and Havarti laced Arborio rice, are two of our favorite accompaniments to the Tuttosole. A Buttermilk Crusted Chicken Breast, served with fresh ricotta cheese stuffed shells and a sublime ratatouille, provides another memorable culinary complement. Hard full-flavored Italian cheeses such as authentic provolone also offer expert pairings with the Tuttosole. Va bene!
Le Caselle is a small wine estate in the Tuscan hills around San Miniato, a town renowned nearly as much for its truffles and fine leather as its exquisite wines. The property consists of a large olive orchard and just 18 acres of prime vineyard, all owned by Alessandro Nieri of Fattoria Montellori. The grapes cultivated at Le Caselle are primarily Sangiovese, with small amounts of Malvasia Nero and Syrah. The Syrah is harvested from a special plot that was planted decades ago by Alessandro's father; it is used to produce the estate's cru Tuttosole. Several years ago, we discovered Le Caselle and Montellori and met the estates' enthusiastic, serious-minded proprietor Alessandro Nieri. Shortly afterwards, we had the pleasure of meeting Dr. Marco Razzauti, Le Caselle's exuberant 30-year-old viticulturist and oenologist, and it quickly became clear to us just how serious these two gentlemen are about making world class Chianti and Super Tuscan reds. What is happening at Le Caselle and Montellori is nothing short of enthralling. And instead of smoke and mirrors leading the way, as is sometimes the case in the world of wine, it is a solemn revitalization of each estate's vineyards and a complete dedication to natural, sustainable agronomy that has pushed the quality quotient at these two properties to ever higher levels. Each estate's total makeover is due to the vast improvements in viticultural practices that Dr. Razzauti instituted several years ago, along with Nieri's decision to limit production. Needless to say, the results speak for themselves. Le Caselle is located off the beaten track, away from the glitz and glamour of the well-worn wine road that winds its way from Florence to Siena. Like Montellori it is tucked away in the Montalbano zone of Chianti to the west of Florence, near the stately Tuscan town of San Miniato. San Miniato is renowned for its wealth of beautifully preserved Romanesque and Renaissance churches, which thrust their many spires skyward. This pretty town is also revered for its savory truffles as well as its heavenly wines. The latter treasures constitute some of Tuscany's most hedonistic pleasures.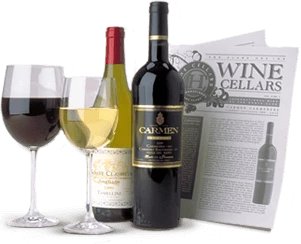 Enjoy Limited Production Estate
Bottled Wines
Discover limited production estate bottled wines such as Vergenoegd's internationally
acclaimed 2005 Cabernet Sauvignon, imported exclusively for our members.
DISCOVER OUR FOUR CLUBS