What a darn good quaff, and then some,' commented one taster. And that exclamation pretty well sums up the tasting panel's reaction to the 2001 Fattori & Graney Soave Classico Superiore. This wine is everything you could ask for in a Soave: it is light, lovely, and thoroughly captivating. Moreover, the Fattori & Graney Soave Classico possesses a light pretty color and a haunting nose of spring flowers, which afford it real sensuality and a beguiling seductive quality. On the palate, the wine beams with a light, luscious burst of fruit that is never sweet, but is utterly satisfying. In addition, floral tones, infused with fresh citrus, meld with a hint of almond to round out the flavor profile. The rest is history; this Veronese classic goes down so easily you will hardly notice a finish or where your last sip ended and the next one began. Before you know it, you'll be reaching for another bottle. Serve the Fattori & Graney moderately chilled, and enjoy.
Party! Party! Party!' The Fattori & Graney is one mighty fine party wine, but you had better make sure you have plenty on hand. Running out of this little crowd pleaser could cause bodily harm to the host. Yet, if food figures into your party plans, we suggest light, uncomplicated fare. Soft cheeses, fruit, and vegetable crudités make splendid accompaniments to the 200l Fattori & Graney Soave Classico Superiore. For a more formal gathering, we will also vouch for mushroom caps infused with blue crab, seafood canapés, and shrimp and scallops in a light cream sauce over angel hair pasta. A well-prepared filet of flounder or sole (poached or baked) provides another classic complement to Fattori & Graney's lovely Soave. Have fun at the party!
Fattori & Graney is a prime example of why The International Wine of the Month Club features the wines of small growers and producers more often than the products of large commercial ventures. Occasionally, the big guys do indeed turn out some pretty fine wines, even in Italy, and we are not opposed to offering these wines to our club members, but by and large the wines from huge concerns in Italy (no names will be mentioned to protect the guilty and prevent a lawsuit) lack charm and individual character. Moreover, the cost of mass produced wines too often reflects the price of advertising and marketing, more than the cost of making the wines. At Fattori & Graney, there is no such smoke or mirrors, nor is there a marketing guru, just good old-fashioned hard work. This makes Fattori & Graney one of those rare little jewels from one of the least likely of locales: Soave. Nestled in the hills to the northeast of Verona in the Soave area, Antonio Fattori and his British-born wife, Sarah Graney, produce two dazzling, award-winning wines: Pinot Grigio and Soave. From the volcanic soils of Soave, this formidable team produces a Pinot Grigio that rivals the best of the Fruili/Alto Adige and an excellent estate bottled Soave that manages to impart real personality and expressiveness, rare commodities not normally associated with the vast majority of more commercial offerings from the Soave DOC. Fattori & Graney is one of only two dozen Soave producers to actually estate bottle its Soave: the others sell off their wines in bulk to the 'big guys'. Then again, those 'big guys' haven't won the 'Due Bicchieri' (Two Glasses) Award from the internationally acclaimed wine review 'Gamberro Rosso' like Fattori & Graney.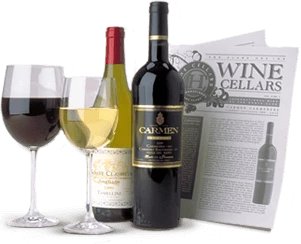 Enjoy Limited Production Estate
Bottled Wines
Discover limited production estate bottled wines such as Vergenoegd's internationally
acclaimed 2005 Cabernet Sauvignon, imported exclusively for our members.
DISCOVER OUR FOUR CLUBS