"Wine is sunlight held together by water," Galileo once stated. "Oh, but what water this is," exalted one member of the tasting panel. Whether it is the clear limpid appearance of the 2000 Fattori & Graney Pinot Grigio or simply its outstanding quaffability, one thing is certain: this wine possesses the eminent ability to please. As fresh as the alpine breezes that temper the Veneto, this Fattori & Graney combines summer sun with a bracing headiness. And, exhibiting all the telltale flavors of true Pinot Grigio: sprightly apple, quince, liquid stones and a dry citrus twist of a finish, Fattori & Graney has captured all the essential charm of this varietal. No wonder there is rarely a bottle left at the cellar door. Serve this lovely Pinot Grigio moderately chilled, and enjoy!
The 2000 Fattori & Graney is one of the few wines that is equally comfortable with food as it is "home alone". It makes for a splendid aperitif, cleansing the palate at the same time it awakens the senses. Traditionally, the Veronese have enjoyed it either as an aperitif or with the fresh trout that once abounded in the region's swift moving rivers. Indeed, Trout Amandine brings out all the latent goodness in this wine, as does perch and most other fresh water fish. Light sauces with clean fruit or nut flavors lend themselves to preserving the delicate flavors of this Pinot Grigio, while allowing the wine to capture the freshness of the fish and orchestrate in the dish, all the inherent chords of flavor. Lightly smoked fish, turkey and ham in an artfully prepared salad are also fine combinations to serve with the Fattori & Graney Pinot Grigio. Steamed Little Neck clams in drawn butter and just about any rice dish with wild mushrooms provide other great companions to Fattori & Graney's dream. Buon Apetito!
Fattori & Graney is one of those rare little jewels, a precious find tucked away in one of the least likely of locales: such is the inchoate pattern of viticulture which makes Italy so maddening and marvelous, all at the same time. Nestled in the hills to the northeast of Verona in the Soave area, Antonio Fattori and his British-born wife, Sarah Graney, produce two dazzling, award-winning wines: Pinot Grigio and Soave. From the volcanic soils of Soave, this formidable team produces a Pinot Grigio that rivals the best of the Fruili/Alto Adige and a Soave that manages to impart real personality and expressiveness, rare commodities not normally associated with the vast majority of more commercial offerings from the Soave DOC. Antonio and Sarah are an intelligent, hard working couple with a vision. Historically, Antonio's family has produced wine in the Soave area for a very long time, wine that was inevitably sold in bulk to neighboring estates to be bottled under someone else's name or blended into another estate's wine. The neighboring estates enjoyed great success, garnering numerous awards for their wine. Then, the light went on! Fattori and Graney realized that if their wine was good enough to win awards for other estates, it was certainly worthy of its own label. Subsequently, Sarah and Antonio reconstructed their cellar and began devoting their time, talent and treasure to their own estate-bottled wines. Today, the production of the couple's 25-acre vineyard is bottled under the Fattori and Graney name. Moreover, Fattori is now vinifying wine for other Veronese producers in his new cellar. Plans are also under way for the production of a Recioto and perhaps, other Veronese classics as well. Well deserved recognition has come immediately to Fattori & Graney, most notably from the internationally acclaimed wine review "Gamberro Rosso", which awarded the couple's wine the much coveted "Due Bicchieri" (Two Glasses) award. Sarah and Antonio have proven once again that a dream, coupled with a little hard work, goes a long way. We suspect that we will be seeing and hearing a lot more from Fattori & Graney in the years to come, and you can say that you were there at the rising of this estate's star. Salute!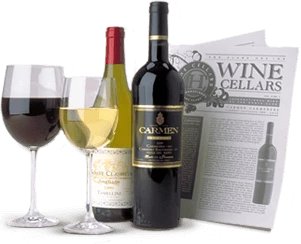 Enjoy Limited Production Estate
Bottled Wines
Discover limited production estate bottled wines such as Vergenoegd's internationally
acclaimed 2005 Cabernet Sauvignon, imported exclusively for our members.
DISCOVER OUR FOUR CLUBS