The 2017 Esterházy Leithaberg Burgenland Chardonnay (92 Points – Wine Enthusiast) is an aristocratic Burgundian style of Chardonnay that demonstrates Esterházy's preeminence with the world's most treasured white grape. Blessed with a brilliant sun-struck color, intriguing aromatics, and excellent concentration, there is a lot to like in this wine. An aroma replete with apple, pear, and beeswax emerges from the glass and continues to evolve as the wine opens and gradually sheds its initial chill. In the mouth, the wine's concentration makes its appearance with a complex mélange of apple, apricot beeswax, citrus and a defined minerality born of Leithaberg's limestone soil. Add just a touch of butter and a long, crisp, mineral-driven finish and the 2017 Esterházy Leithaberg Burgenland Chardonnay is one superb Chardonnay that could easily be mistaken for an exceptional white Burgundy from France's Côte d'Or. For optimal enjoyment, we suggest moderate chilling (40°-45° F) and allowing Esterházy's splendid Leithaberg Chardonnay a few minutes of aeration before consuming. Anticipated maturity: 2021-2025. Enjoy!
A mature Chardonnay as fine as the 2017 Esterházy Leithaberg Burgenland Chardonnay deserves a place at the best of tables in the company of well-prepared seafood, poultry, white meats, and creamy pasta and risotto dishes. An authentic Weiner Schnitzel makes a splendid companion as will a tender veal, pork, or chicken cutlet topped with a wild mushroom sauce. Sautéed scallops, steamed crab legs, and lobster ravioli pair nicely, too. Fettucine Alfredo and seafood risottos also make splendid companions. Nonetheless, many Chardonnay lovers will want to muse over Esterházy's 2017 Leithaberg Chardonnay with only a piece of cheese, a few slices of apple or pear, or all by itself. Guten appetit.
The noble House of Esterházy dates back to the 13th century, and since 1687 it has enjoyed a princely line when it was granted by the Habsburg Emperor Leopold I. The family's ancestral baroque home in Eisenstadt, Austria is one of Austria's most beautiful palaces and a much visited tourist site. Equally impressive is Esterházy's state of the art modern winery, which opened in 2006 in Austria's Burgenland, but fashioning world-class wine is nothing new to the Esterházy family. They have been making some of Austria's greatest wines for more than 250 years. In 1789 the world-famous and much heralded music composer Joseph Haydn asked to have part of his salary as the Esterházy court musician paid in wine – a full 5 liters per day for his household, including his servants. Joseph Haydn was a man who knew and appreciated the finest in life, including Esterházy wines. Happily, Esterházy wines are now available to a wider public.
Esterházy fashions a wide range of wines today from traditional Austrian and international varietals, including highly rated world-class Chardonnay and Blaüfrankisch. The winery's Leithaberg line of wines (Leithaberg means limestone) are produced at the Esterházy estate in Burgenland, which lies east of Vienna. We are proud to be able to feature the award winning and highly allocated 2017 Esterházy Leithaberg Burgenland Chardonnay this month to a limited number of our members. Enjoy!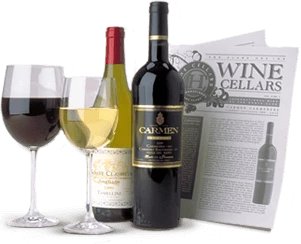 Enjoy Limited Production Estate
Bottled Wines
Discover limited production estate bottled wines such as Vergenoegd's internationally
acclaimed 2005 Cabernet Sauvignon, imported exclusively for our members.
DISCOVER OUR FOUR CLUBS