Esterházy's 2021 Estoras Burgenland Grüner Veltiner exhibits a green flash and glows with a glint of the sun. Moreover, it offers a light but enticing aroma of freshly picked green apples, pears, freshly squeezed citrus, and liquid minerals. In the mouth, the 2021 Esterházy Estoras Grüner Veltliner offers crystalline freshness with a precise balance of fruit and crisp acidity, which not only portents the wine's racy lip-smacking finish, it also left us refreshed and literally begging for more. While many will enjoy this wine as it reaches a more ambient temperature, others will prefer this quintessential Austrian beauty moderately chilled (35º-40º F) and in the full bloom of its youth. Anticipated maturity: 2022-2025. Prost!
The 2021 Esterházy Estoras Burgenland Grüner Veltiner provides not only the ideal accompaniment to traditional Austrian cuisine, it also pairs beautifully with seafood, poultry, Asian Fusion specialties, and a wide variety of cheeses. Authentic Wiener Schnitzel and Grüner Veltliner make a classic match. A delicious Pork Schnitzel is equally gratifying as is Pork Wellington in a puff pastry with Shitake mushrooms and braised shallots topped with a cherry demi-glace. Fried Calamari; Crab Spring Rolls; and Pecan Crusted Crab Cakes, served with a key lime chipotle and a corn and bean relish provide tasty accompaniments, too. Fried clams, sautéed oysters, and pan-seared scallops also offer superb companionship. Sushi and stir fries pair beautifully with this wine as well, which is one reason Grüner Veltliner has become so popular around the world. And what may be Grüner Veltiner's best kept secret is how well it pairs with goat cheese Feta, Brie and even fresh Mozzarella. Guten appetit!
The noble House of Esterházy dates back to the 13th century, and since 1687 it has enjoyed a princely line when it was granted by the Habsburg Emperor Leopold I. The family's ancestral baroque home in Eisenstadt, Austria is one of Austria's most beautiful palaces and a much visited tourist site. Equally impressive is Esterházy's state of the art modern winery, which opened in 2006 in Austria's Burgenland. However, fashioning world-class wine is nothing new to the Esterházy family. They have been making some of Austria's greatest wines for more than 250 years. In 1789 the world-famous and much heralded music composer Joseph Haydn asked to have part of his salary as the Esterházy court musician paid in wine – a full 5 liters per day for his household, including his servants. Joseph Haydn was a man who knew and appreciated the finest in life, including Esterházy wines. Happily, Esterházy wines are now available to a wider public in the United States.
Esterházy fashions a wide range of wines today from traditional Austrian and international varietals, including highly rated world-class Blaufränkisch, Chardonnay, and Grüner Veltiner (this month's feature and Austria's emblematic white grape variety and eponymous white wine). Esterhazy's estate wines are grown and produced organically within the Leithaberg DAC (Leithaberg means limestone) in Burgenland, which lies to the east of Vienna. Leithaberg is the region's premier appellation thanks to its limestone-rich soil. Enjoy!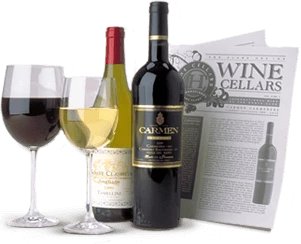 Enjoy Limited Production Estate
Bottled Wines
Discover limited production estate bottled wines such as Vergenoegd's internationally
acclaimed 2005 Cabernet Sauvignon, imported exclusively for our members.
DISCOVER OUR FOUR CLUBS