Riesling is one of the world's most esteemed grape varieties, well-deserving of the rich praise and lofty position it enjoys among discerning wine drinkers around the world. Yet, Riesling remains underappreciated by many Americans, due at least in part to the predominance of inexpensive, low alcohol, sweet Rieslings from Germany that pervaded the American market for decades and the perception that Riesling must be sweet. Not all Rieslings are created equal, nor are all Rieslings destined to be sweet. Alsace Rieslings bear little resemblance to the inexpensive German Rieslings of yesteryear and most are fermented dry. Emile Beyer's 2016 Grand Cru Eichberg Alsace Riesling is truly exceptional, delightfully dry and meant to be enjoyed at table with a splendid meal. Our tasting panels can attest to the food friendliness of Beyer's Eichberg Riesling, having enjoyed it with food on numerous occasions.
Emile Beyer's 2016 Grand Cru Eichberg Riesling offers a beautiful aroma and a wealth of complex flavors, beginning with an enthralling potpourri of spring flowers, honeysuckle, orchard fruits, hauntingly delectable spice tones, and an engaging minerality, all bolstered by bright acidity. Balanced acidity with the mouthwatering freshness of lemon zest adds crispness and lift to the wine's long, explosive finish. With a glass of Emile Beyer's Eichberg Grand Cru Riesling, put aside all preconceived notions of the noble Riesling varietal and discover the grape's true beauty, without the residual sugar. We suggest only moderate chilling (40º-45º F) of the 2016 Eichberg Grand Cru Riesling. À Votre Santé!
Emile Beyer's 2016 Grand Cru Eichberg Riesling provides the ideal accompaniment to seafood, poultry, veal, smoked meats, and a host of Asian cuisines and artfully crafted Fusion dishes. Traditional Alsatian favorites such as Choucroute Garnie (ham, pork ribs, and sausage cooked in sauerkraut and served with spicy mustards), Quiche Lorraine, leek tarts, country pâtés, and pork roasts offer traditional tried and true accompaniments to Christian Beyer's Grand Cru Riesling. Although seemingly delicate at first, Beyer's Grand Cru Eichberg Riesling rises to the spice and heat in foods and pairs well with asparagus, artichokes, and other vegetables that often clash with other wines. Grilled Halibut served with a mango chutney, Grao Prao (Thai Chicken with Basil), Curried Chicken, and Jamaican Coconut Shrimp also provide tasty accompaniments to Emile Beyer's exceptional Eichberg offering. However, the 2016 Emile Beyer Grand Cru Eichberg Riesling needs little to shine; a clean glass and a plate of sliced apples, pears and thinly sliced creamy cow's milk cheeses make great companions to this wine. Enjoy!
Domaine Emile Beyer and nearly five centuries of history in Alsace remain intertwined. Since the year 1580, at least 14 generations of the Beyer family have cultivated vines in the picturesque village of Eguisheim, unquestionably one of the greatest wine communes in Alsace and arguably the prettiest village in all France. So beautiful is Eguisheim that Disney chose it as the setting for Sleeping Beauty.
Each successive generation of Beyers, who still occupy the impeccably kept home their ancestors constructed in 1580, are profoundly rooted in the vineyard and land. Moreover, they continue to pass on their passion for wine to succeeding generations. And generations of wine lovers are the beneficiaries. Moreover, since the coming of age of Christian Beyer, the domain's present guardian, Beyer's wines have ascended to an even higher level of quality.
Under the present leadership of youthful Christian Beyer, the venerable domaine of Emile Beyer cultivates 17 hectares (37.5 acres) of prime vineyards in Eguisheim, including two Grand Cru sites, Eichberg and Pfersigberg, from which Beyer fashions exceptional wines. This month's feature is Beyer's splendid 2016 Eichberg Grand Cru Riesling. From estate vineyards, which are certified organic, Beyer produces an enviable portfolio of wines, which include outstanding Pinot Blanc, Pinot Gris, Riesling, and Gewürztraminer. Muscat, Sylvaner and Pinot Noir also figure highly in the mix. In short, there is no dearth of fine wine from Domaine Emile Beyer. "Giving happiness, with elegant wines: this is what I take pride in doing," is Christian Beyer's mantra, and he succeeds admirably in doing just that.
Alsace is quite possibly the most picturesque wine region in all France. It is an enchanted land of beautifully restored half-timbered houses, flower bedecked balconies and window boxes, and of course vineyards. Alsace is bounded by the Vosges Mountains to the west, which block out the dreary maritime weather that plagues so much of the rest of northern France, and the Rhine River and Germany to the east. On account of its favored position and corresponding climate, Alsace is the sunniest province in northern France. This extra sunshine makes Alsace an ideal spot for the cultivation of the vine and the production of premium wines.
In Alsace, white wine reigns supreme. This is a matter of local preference and tradition, in spite of the province's production of some very noteworthy Pinot Noir wines and the contemporary clamor for red wine. Pinot Blanc is the staple of Alsace, where it makes a fresh, flavorful wine of considerable merit. Alsace also crafts some of the world's most compelling white wines from Riesling, Gewürztraminer, and Pinot Gris – the vast majority of which are made dry rather than sweet. The relative dryness of most Alsatian wines may come as a surprise to many, especially to those for whom German sounding names and tall, thin green bottles are synonymous with sweetness. However, Alsatian wines are unique unto themselves and rarely do they resemble their German counterparts in style, flavor, or level of residual sugar. Robert Parker Jr. has called the wines of Alsace "some of the greatest white wines produced on the planet," and some of the most pleasurable and hedonistic, too, we are pleased to add.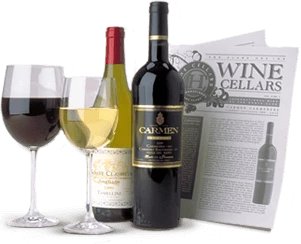 Enjoy Limited Production Estate
Bottled Wines
Discover limited production estate bottled wines such as Vergenoegd's internationally
acclaimed 2005 Cabernet Sauvignon, imported exclusively for our members.
DISCOVER OUR FOUR CLUBS