Certified organic since 2014, Emile Beyer's Eguisheim Pinot Noir is the scion of 40-50-year-old estate vines. Aromatic and hauntingly beautiful, the deep ruby red 2020 Eguisheim Pinot Noir offers up savory scents of red and black cherry fruit, cranberry, and rose petal. Fresh and vibrant in the mouth, Beyer's 2020 Eguisheim Pinot Noir graces the palate with pure red and black cherry, cranberry, and currant flavors along with touches of sandalwood, wood smoke, and crushed stones. Vibrant and layered with racy acidity, which adds lift and longevity, the 2020 Emile Beyer Eguisheim Pinot Noir pleases from start to finish. Although beautiful to drink from the moment it is poured, this pure and natural-tasting Pinot Noir will evolve further with bottle age and positively sing from the glass now if afforded at least 30 minutes of aeration before consuming at cool room temperature (58°-64° F). Anticipated maturity: 2023-2029. Santé!
The pure, organically produced 2020 Emile Beyer Eguisheim Pinot Noir provides the ideal companion to many classic French dishes, each of which makes a wonderful tableau upon which to craft a successful dinner party. Coq au Vin immediately springs to mind. Yet, almost any poultry dish prepared with mushrooms, stuffing, or wild rice pairs nicely. The savory aspects inherent in the wine and the food play beautifully off one another, which will no doubt cause the evening's guests to move effortlessly from dish to glass and back again. An equally satisfying entrée is Herb Crusted Pork Tenderloin with a dried cherry sauce, the latter softly complementing the wine's center. The succulent tenderness of the pork also wonderfully complements the savory components in the wine. Consider serving the pork tenderloin with roasted shallot mashed potatoes and haricot verts. Traditional Alsatian specialties such as Choucroute Garnie (ham, pork ribs, and sausage cooked in sauerkraut and served with spicy mustards), Quiche Lorraine, leek tarts, country pâtés, and duck breast provide additional tasty accompaniments to Christian Beyer's pure, racy 2020 Emile Beyer Eguisheim Pinot Noir. Bon Appétit!
The venerable Domaine Emile Beyer is a must-stop on any visit to Alsace as the Domaine and nearly five centuries of Alsatian history and wine remain intertwined. Since the year 1580 at least 14 generations of the Beyer family have continuously lived in their ancestral home and cultivated vines in the picturesque medieval village of Eguisheim, unquestionably one of the greatest and prettiest wine communes in France, which not surprisingly has served as a fairy tale setting in films and television programs. Each successive generation of Beyers, profoundly rooted in the vineyard and land, have in turn passed on their passion for wine to the next generation, and we the consumers are the beneficiaries. Moreover, since the coming of age of Christian Beyer, the domain's present guardian, Beyer's wines have ascended to the very highest level of quality.
Under the present leadership of the affable, hardworking Christian Beyer, the venerable domain of Emile Beyer cultivates 17 hectares (37.5 acres) of prime vineyards in Eguisheim, including two grand cru sites, from which Beyer fashions exceptional wines. "Giving happiness, with elegant wines: this is what I take pride in doing," is Christian Beyer's mantra, and by all accounts Beyer succeeds in doing just that, year in and year out, almost in defiance of the vagaries of each vintage. From estate vineyards Beyer produces an enviable portfolio of wines, all certified organic, which include the domain's outstanding village designated 2020 Eguisheim Pinot Noir (this month's feature), Pinot Gris, Riesling, and Gewürztraminer. Muscat and Sylvaner have also made their appearance to round out this domain's formidable wine portfolio. In short, there is no dearth of fine wine from Domaine Emile Beyer. Moreover, Christian Beyer's Pinot Noir puts to shame many Burgundian Pinot Noirs.
Alsace is quite possibly the most picturesque wine region in all France. It is an enchanted land of beautifully restored half-timbered houses, flower bedecked balconies and window boxes, and of course vineyards. Alsace is bounded by the Vosges Mountains to the west, which block out the dreary maritime weather that plagues so much of the rest of northern France, and the Rhine River and Germany to the east. On account of its favored position and corresponding climate, Alsace is the sunniest province in northern France. This extra sunshine makes Alsace an ideal spot for the cultivation of the vine and the production of premium white wines from Auxerrois, Pinot Blanc, Pinot Gris, Riesling, and Gewürztraminer – the vast majority of which are made dry – and increasingly fine red wine from Pinot Noir. The wines of Alsace are some of the greatest wines produced on the planet and its vineyards increasingly cultivated organically and biodynamically.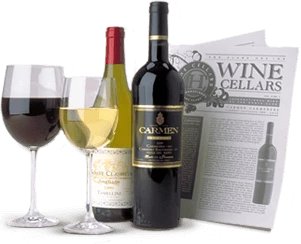 Enjoy Limited Production Estate
Bottled Wines
Discover limited production estate bottled wines such as Vergenoegd's internationally
acclaimed 2005 Cabernet Sauvignon, imported exclusively for our members.
DISCOVER OUR FOUR CLUBS