Losada Vinos de Finca has hit another homerun with the winery's deeply colored 2013 El Pájaro Rojo Mencia, a pure, sophisticated 100% Mencia wine from old vines that manages to captivate all of the senses. The wine's deep ruby and indigo tinged robe sets the stage for the pure savory scents and flavors that follow. Born of organic viticulture, the 2013 is redolent in bouquet with the scents of ripe woodland berries dusted with subtle touches of exotic spices. So alluring is the wine's aroma that one could almost be satisfied with just sniffing this wine, but we all know that won't do. In typical Amancio Fernández fashion, pure seductive fruit flavors and delicate spice tones, all wrapped in supple tannins, lend supreme elegance and a polished sophisticated texture to El Pájaro's 2013 Mencia, which make it glide ever so easily down the throat. It is hard to believe that such a young red wine can by so elegant, and yet so flavorful. Once again winemaker Amancio Fernández has crafted an award winning wine in the 2013 El Pájaro, a wine even more enticing than its predecessor, the 2011 El Pájaro Rojo that was one of Wine and Spirits'Best, Best Buy, and 100 Best Values of the Year . Taste and see why! For optimal enjoyment, we suggest affording the 2013 El Pájaro Rojo at least 20 minutes of aeration before serving at cool room temperature (60°- 65° F).
Our tasting panels were hard pressed to save enough of the 2013 El Pájaro Rojo to serve with food. Lucky for them we procured a couple of extra bottles in anticipation, as our previous experience with this Mencia prepared us for the groups' inability to delay gratification. Consequently, pork tenderloins encrusted with black olive tapenade in the company of a savory orzo salad prepared with garbanzo beans, olive oil, red onion and fresh herbs provided the perfect complement to the 2013 El Pájaro Rojo. Pork with green chilies simmered with beans and herbs makes another delectable accompaniment. Spicy lamb kebobs and slow roasted chickens basted with garlic and herbs offer added inducements to open more bottles of the 2013 El Pájaro Rojo. Spain's wonderful sheep's milk cheeses such as Manchego and Mahon work magic in the company of this wine as well, but then again so will most artisan cheeses. Buen Provecho!
Several years ago we discovered the elegant, pure wines of El Pájaro Rojo. This young estate is the handicraft of Losada Vinos de Finca Winery, whose winemaker is the renowned Amancio Fernández. Amancio is one of the great practitioners of Mencia, and he has over the last decade fashioned many of Bierzo's greatest wines.
Losada Vinos de Finca came to life in 2004 in the heart of Bierzo with Amancio and his partners bent on crafting Mencia for the most discerning of palates. The estate's ultra-modern winery is surrounded by ancient Mencia vines that Losada Vinos de Finca cultivates organically, keeping yields to a minimum to assure the utmost elegance, balance and purity in the estate's wines. All of Losada Vinos de Finca's wines undergo malolactic fermentation in French oak and are barrel aged to perfection using natural yeasts. If you have never tasted an Amancio Fernández Mencia, you are in for a real treat in El Pájaro Rojo's 2013 Bierzo offering.
Mencia is a red Spanish grape varietal found primarily in the Bierzo, Ribeira Sacra and Valdeorras appellations of northern Spain. Although the Mencia varietal was once considered by enologists to be the direct ancestor and precursor of Cabernet Franc, recent DNA testing has shown that this is not the case. Mencia and Cabernet Franc share some common characteristics, but not the same ancestry. It is now widely believed that Mencia and Portugal's Jaen de Dão (Jaen for short) grape variety are indeed one and the same. However, not everyone agrees. What we do know about Mencia is that it has been around for quite some time. Bierzo's original plantings of Mencia likely date to the earliest Roman settlers in Bierzo, who cultivated the varietal two thousand years ago in what remains one of Europe's most isolated wine regions.
Bierzo is a remote area of Galicia, Spain's cool, windswept province astride the Atlantic. Certainly, it is the very isolation of the Bierzo that has allowed Mencia to survive and even thrive. Moreover, the average age of the hillside vines in Bierzo is quite old, which lends itself to the production of high quality wines. Consequently, the wonderfully fruity, spicy, and wholly intriguing Mencia varietal has recently been discovered or rather re-discovered by modern legions of wine drinkers. They are no doubt intrigued by this unique viticultural entity we call Mencia, whose many attributes are accentuated by organic farming, low vineyard yields, and modern winemaking techniques practiced by Losada Vinos de Finca and other like minded wineries whose emphasis is on producing quality rather than quantity. Since the 1990s Mencia has steadily grown in popularity and there are now more than 20,000 acres of Mencia being cultivated in Spain.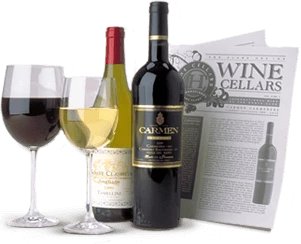 Enjoy Limited Production Estate
Bottled Wines
Discover limited production estate bottled wines such as Vergenoegd's internationally
acclaimed 2005 Cabernet Sauvignon, imported exclusively for our members.
DISCOVER OUR FOUR CLUBS