A scented, savory, luscious white wine, the 2012 Edgebaston Honey Pot (Semillon, Sauvignon Blanc, and Viognier) resembles hedonism in a glass and is nothing but a pure pleasure to sip and savor. Although somewhat misnamed with a moniker that implies syrupy sweetness, this South African beauty contains good crisp acidity to match its delicious fruit. Steeped with an enticing aroma of tropical fruits, kiwi, papaya and more, this sexy blend caresses the nose and satiates the senses. Plush and smooth on the mid palate with a multitude of flavors to match its heady bouquet, the 2012 Honey Pot invites the tongue to beg for more. And as the 2012 Honey Pot embodies as much crisp acidity as it does ripe fecund fruit, it becomes simply hard to resist. For optimal enjoyment, we suggest giving Honey Pot a moderate chill (about 40º F) before allowing it to slip down the throat. As it warms slightly, the 2012 Honey Pot will blossom in the glass and make you beg for more. Enjoy!
Semillon, Sauvignon Blanc, and Viognier provide tried and true companionship to seafood. Consequently, salads with salmon, capers, and organic greens; sea bass with asparagus; and oysters or shrimp with a medium chili sauce are just a few tasty treats the Finlayson family likes to recommend with the 2012 Edgebaston Honey Pot, and we second their suggestions. However, we can attest to several more award winning accompaniments to pair with the gregarious 2012 Honey Pot. Homemade crab cakes topped with avocado, bacon, lettuce, tomato, and a touch of Cajun remoulade or grilled fish tacos with shredded cabbage and cilantro cream sauce offer spicy, mouth filling accompaniments for the more adventuresome. For those who prefer fowl to fish, curried chicken salads and grilled chicken pitas with lettuce, tomato, onion, and cucumber sauce provide appetizing alternatives to serve with Edgebaston's Honey Pot. Warm goat cheeses with walnuts, dried cranberries, and freshly cut Bosc pears offers yet another way to enjoy Edgebaston's cutting edge blend.
Edgebaston is synonymous with modern winemaking on South Africa's Western Cape. Originally from Scotland, the Finlayson family has for three generations made outstanding wines in Stellenbosch and has in recent years been instrumental in transforming the Cape wine industry from a dwindling domestic business to a thriving international venture receiving worldwide acclaim.
The father and son team of David and Walter Finlayson present impressive credentials. Walter made wine at South Africa's Blaauwklippen winery for more than 15 years where he twice coveted "Diner's Club Winemaker of the Year" awards in addition to a host of other prestigious awards. While still at Blaauwklippen, Walter purchased the now renowned Glen Carlou farm in Paarl, which he and son David transformed into one of South Africa's leading wineries. Subsequently, Walter has become best known for producing South Africa's wine of the year in 2005.
In addition to his award winning work at Glen Carlou, David Finlayson has honed his winemaking skills at a number of prestigious addresses. David performed winemaking stints at Peter Lehmann, one of Australia's iconic wineries, and world renowned Château Margaux before starting Edgebaston. In 2003 Walter and David sold their shares in Glen Carlou (although Walter still serves as Glen Carlou's Managing Director) and purchased what is now Edgebaston, a beautiful estate on the hills overlooking Stellenbosch, South Africa's premier appellation and wine town. From the beginning, critics have lauded Edgebaston for its quality, value and innovation, and we count the Finlaysons' budding Edgebaston winery among our best finds in recent years.
Located on the Western Cape less than an hour north of Cape Town, the picture post card town of Stellenbosch and the surrounding mountains form a dramatic backdrop for what has been heralded as the most beautiful wine country in the world. Although one may debate that claim and the various picturesque merits of other world renowned wine regions, what is not in question is the integral role Stellenbosch has played for more than three centuries in the formation of South African wine. Stellenbosch is unquestionably South Africa's oldest and most important wine producing region. It is South Africa's Napa, Sonoma, and Santa Barbara counties all in one. It contains a myriad of microclimates and is responsible for high quality red and white wines from a host of varietals, including Cabernet Sauvignon, Shiraz, Chardonnay, Chenin Blanc, Sauvignon Blanc, Semillon, Viognier, and South Africa's unique varietal Pinotage, a cross between Pinot Noir and Cinsault. From wineries in Stellenbosch old and new flow an enormous variety of wines that are world-class and wholly unique in character.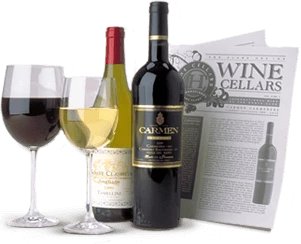 Enjoy Limited Production Estate
Bottled Wines
Discover limited production estate bottled wines such as Vergenoegd's internationally
acclaimed 2005 Cabernet Sauvignon, imported exclusively for our members.
DISCOVER OUR FOUR CLUBS