"Classic Cabernet Sauvignon" and "a stunning value" are just a couple of the terms used by critics to describe the 2014 Edgebaston Stellenbosch Cabernet Sauvignon. Edgebaston, renowned for its luxurious long-lived GS Cabernet Sauvignon, has turned out a remarkably similar wine in the estate's 2014 Stellenbosch Cabernet Sauvignon, with one exception: the 2014 Stellenbosch offering is approachable now and downright supple in comparison. Deep in color and almost as forbidding in appearance as Edgebaston's GS, the 2014 Stellenbosch Cabernet Sauvignon emanates from three outstanding clones of Cabernet that yield intense flavors of immense purity. The wine's savory scents and flavors of ripe berries and blackcurrant mingled with mint, herbs, dark chocolate, coffee and a Bordeaux-like herbaceousness recall the exceptional Cabernet-based wines of France's Médoc and David Finlayson's successful stint at Château Margaux. Garnering copious accolades and 90 points from Vinous, it is hard to imagine anyone in Napa Valley fashioning a Cabernet this complex and delicious for under $40.00. For ultimate enjoyment, we suggest decanting the 2014 Edgebaston Cabernet Sauvignon one hour or more before serving at cool room temperature (60°-64° F).
What does one serve with the finest Cabernet Sauvignon? How about the finest meal one can muster? In South Africa, lamb, beef, ostrich, and all manner of antelope (kudu, springbok, etc.) constitute the preferred accompaniments to fine Cabernets such as Edgebaston's 2014 Stellenbosch Cabernet Sauvignon. Having enjoyed lamb all over the world, we have found that none can beat the finest South African lamb for flavor, tenderness and texture, so our number one pairing with this wine goes to lamb, grilled or roasted, rubbed with fresh garlic and basted with olive oil, fresh rosemary and thyme. If South African lamb is not available, good domestic or New Zealand spring lamb provides a reasonable substitute. Consequently, Ossobuco certainly gets a nod as well. Braised venison served with caramelized onions offers another tasty companion. And yes, dry aged beef, preferably a Rib-Eye or Porterhouse, topped with Portabella mushrooms in a rich, herb-infused sauce works wonders, too, in the presence of David Finlayson's knockout 2014 Edgebaston Cabernet. Enjoy!
"A man's wine lives after him, bottled, corked and sealed in other men's memories." C. de Bosdari Wines of the Cape, 3rd edition
Edgebaston is synonymous with modern winemaking on South Africa's Western Cape. Originally from Scotland, the Finlayson family has for three generations made outstanding wines in Stellenbosch and has in recent years been instrumental in transforming the Cape wine industry from a dwindling domestic business to a thriving international venture receiving worldwide acclaim.
The father and son team of Walter and David Finlayson present impressive credentials. Walter made wine at South Africa's Blaauwklippen winery for more than 15 years where he twice coveted "Diner's Club Winemaker of the Year" awards in addition to a host of other prestigious awards. While still at Blaauwklippen, Walter purchased the now renowned Glen Carlou farm in Paarl, which he and son David transformed into one of South Africa's leading wineries. Subsequently, Walter has become best known for producing South Africa's wine of the year in 2005.
In addition to his award-winning work at Glen Carlou, David Finlayson has honed his winemaking skills at a number of prestigious addresses. David performed winemaking stints at Peter Lehmann, one of Australia's iconic wineries, and world-renowned Château Margaux before starting Edgebaston. In 2003 Walter and David sold their shares in Glen Carlou (although Walter still served as Glen Carlou's Managing Director) and purchased what is now Edgebaston, a beautiful estate on the hills overlooking Stellenbosch, South Africa's premier appellation and wine town. From the beginning, critics have lauded Edgebaston for its quality, value and innovation, and we count the Finlaysons' budding Edgebaston winery among our best finds. Apparently, we are not alone as critics have latched on to David Finlayson's expertise and continue to laud Edgebaston's superb Cabernet Sauvignons.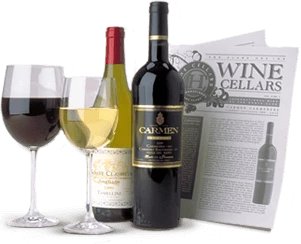 Enjoy Limited Production Estate
Bottled Wines
Discover limited production estate bottled wines such as Vergenoegd's internationally
acclaimed 2005 Cabernet Sauvignon, imported exclusively for our members.
DISCOVER OUR FOUR CLUBS