Edgebaston's GS Cabernet Sauvignon is dedicated to the late George Spies, former winemaker at Monis of Paarl and Stellenbosch Farmers Winery. Spies' 1966 and 1968 GS Cabernets have been heralded as two of the most extraordinary Cabernets ever made in South Africa and they have been compared to the legendary California Cabernets of André Tchelistcheff from that same era. Having tasted numerous Cabernets made in the 1960s by André Tchelistcheff and a string of Edgebaston's GS Cabernet Sauvignons over the past 7-8 years, it is clear that Edgebaston's GS Cabernets do indeed bear more than a passing resemblance to Tchelistcheff's legendary wines. Both wines are deep, dark, and tannic in their youth, not unlike First Growth Bordeaux such as Château Margaux, Lafite or Latour, which is why the highly allocated 2012 Edgebaston GS Cabernet Sauvignon remains the current release. Although still extraordinarily deep and powerful and far from its ultimate maturity, the 2012 Edgebaston GS Cabernet Sauvignon already displays beautiful aromatics and a core of fruit, earth, and spice in the form of a wellspring of voluptuous blackberry and blackcurrant fruit imbued with cedar, spice and plenty of ripe tannins, all wrapped in a satiny patina. David Finlayson's GS Cabernet comes across as an artful blend of Classified Bordeaux and super premium Napa Valley Cabernet Sauvignon, blessed with a touch of the fabulous terroir of Stellenbosch. This should come as no surprise given David's experience with great Cabernet Sauvignon while at Château Margaux and now at his own estate. The 2012 Edgebaston GS extends master winemaker Dave Finlayson's string of outstanding GS Stellenbosch Cabernets. For ultimate enjoyment, we suggest decanting the 2012 Edgebaston GS Cabernet Sauvignon one hour or more before serving at cool room temperature (60°-64° F).
What does one serve with the finest Cabernet Sauvignon? How about the finest meal one can muster? In South Africa, lamb, beef, ostrich, and all manner of antelope (kudu, springbok, etc.) constitute the preferred accompaniments to the best Cabernets, and Edgebaston's 2012 GS Cabernet Sauvignon certainly belongs in the company of the best that South Africa has to offer. Having enjoyed lamb all over the world, we have found that none can beat the finest South African lamb for flavor, tenderness and texture, so our number one pairing with this wine goes to lamb, grilled or roasted, rubbed with fresh garlic and basted with olive oil, fresh rosemary and thyme. If South African lamb is not available, good domestic or New Zealand spring lamb provides a reasonable substitute. Consequently, Ossobuco certainly gets a nod as well. Braised venison served with caramelized onions offers another tasty companion. And yes, dry aged beef, preferably a Rib-Eye or Porterhouse, topped with Portabella mushrooms in a rich, herb-infused sauce works wonders, too, in the presence of David Finlayson's knockout 2012 Edgebaston GS Cabernet. Enjoy!
"A man's wine lives after him, bottled, corked and sealed in other men's memories."- C. de Bosdari Wines of the Cape, 3rd edition
Edgebaston is synonymous with modern winemaking on South Africa's Western Cape. Originally from Scotland, the Finlayson family has for three generations made outstanding wines in Stellenbosch and has in recent years been instrumental in transforming the Cape wine industry from a dwindling domestic business to a thriving international venture receiving worldwide acclaim.
The father and son team of Walter and David Finlayson present impressive credentials. Walter made wine at South Africa's Blaauwklippen winery for more than 15 years where he was twice awarded "Diner's Club Winemaker of the Year" awards in addition to a host of other prestigious awards. While still at Blaauwklippen, Walter purchased the now renowned Glen Carlou farm in Paarl, which he and son David transformed into one of South Africa's leading wineries. Subsequently, Walter has become best known for producing South Africa's wine of the year in 2005.
In addition to his award-winning work at Glen Carlou, David Finlayson has honed his winemaking skills at a number of prestigious addresses. David performed winemaking stints at Peter Lehmann, one of Australia's iconic wineries, and world-renowned Château Margaux before starting Edgebaston. In 2003 Walter and David sold their shares in Glen Carlou (although Walter still served as Glen Carlou's Managing Director) and purchased what is now Edgebaston, a beautiful estate on the hills overlooking Stellenbosch, South Africa's premier appellation and wine town. From the beginning, critics have lauded Edgebaston for its quality, value and innovation, and we count the Finlaysons' budding Edgebaston winery among our best finds in recent years.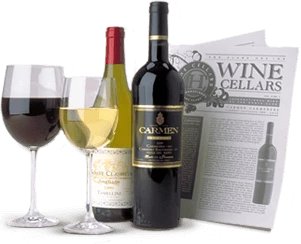 Enjoy Limited Production Estate
Bottled Wines
Discover limited production estate bottled wines such as Vergenoegd's internationally
acclaimed 2005 Cabernet Sauvignon, imported exclusively for our members.
DISCOVER OUR FOUR CLUBS