A classic cepage of Cabernet Sauvignon, Merlot, Cabernet Franc, Malbec, and Petit Verdot, the deeply colored 2003 Dry Creek Vineyards Meritage comes across the palate as one seamless garment. It blends all the traditional Bordeaux varietals into one juicy, up front, good drinking red wine, which succinctly states David Stare's case for more meritage style wines in California, as opposed to the more common, parochial approach of strict varietal bottling. With red wine as fine as Dry Creek Vineyards' 2003 Meritage, it makes us wonder why so many Cabernet and Merlot producers continue to embrace single variety bottling, as they turn out one mediocre varietal after another. Enjoy this balanced wine's rich berry flavors, subtle earth tones, and moderate tannins, after only a few minutes of aeration. For optimal enjoyment, we suggest serving this delicious meritage wine at no more than 68° F.
Although more than a cut above the competition, the 2003 Dry Creek Vineyards Meritage was made for every day drinking in mind. Yet, it presents itself equally well with what genteel women of a certain age refer to as "fancy fare". So bring on the flank steaks, the burgers, and the barbecued ribs, but don't forget the chateaubriand, the veal medallions, or the crown roast of pork. Furthermore, fried chicken or three cheese pizza never tasted better than when in the company of a bottle of Dry Creek Vineyards' 2003 Meritage either. Come to think of it, nearly every meat or cheese dish we can think of would be well served with a bottle of the 2003 Dry Creek Meritage to accompany it, so where did you say that corkscrew was that you were looking for? Enjoy!
When David Stare opened the doors of Dry Creek Vineyard in 1972, his foresight signaled a dramatic change for Sonoma County's Dry Creek Valley. Dry Creek Vineyards was the first new winery to open in Dry Creek Valley since Prohibition. Guided by a new vision for a long neglected grape growing region, Stare's initiative launched a new era in American viticulture. Furthermore, Stare's action and vision have subsequently transformed Sonoma County and much of the way we think about American wine. David Stare began his illustrious affair with wine in Dry Creek Valley in 1972 when he purchased a single parcel of land on Dry Creek Road, which was then nothing more than a run down prune orchard. There, he planted his first forty acres of grapes, mostly Sauvignon Blanc, Chenin Blanc, and Chardonnay. The locals ridiculed him and even the "farm experts" laughed at his folly, going so far as to exclaim, "Sauvignon Blanc will never grow successfully in Dry Creek Valley." Today, Fumé Blanc (dry Sauvignon Blanc) is Dry Creek Vineyards' flagship white wine and its original claim to fame. Moreover, Dry Creek Valleys' Chenin Blanc is the yardstick by which all other California Chenin Blancs are now measured. And then there is Dry Creek Vineyard's outstanding Meritage. We wonder who is laughing now . . . well, so much for the naysayers and so called experts. It takes courage, persistence, and vision to be a pioneer. Dry Creek Vineyards' leadership under Stare has inspired many important changes for Sonoma County. Not only was Sonoma County's first Fumé Blanc created at Dry Creek Vineyards, but new standards of quality in California have resulted from Stare's advocacy for Bordeaux style blending for red wines. Stare proposed meritage offerings, as opposed to strict varietal bottling of a single grape variety, long before almost anyone else. Yet, Stare's greatest contribution to American viticulture is, perhaps, his success in securing appellation status for the entire Dry Creek Valley, due almost entirely to Stare's own accomplishments and the success of his Dry Creek Vineyards. These are no mean feats for a young MIT graduate from Boston, who decided in 1971 to give up his secure but unfulfilling career in civil engineering to become a true California pioneer and a Dry Creek Valley legend.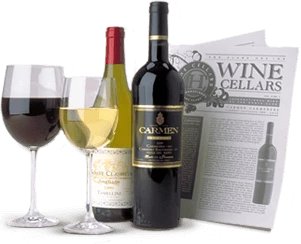 Enjoy Limited Production Estate
Bottled Wines
Discover limited production estate bottled wines such as Vergenoegd's internationally
acclaimed 2005 Cabernet Sauvignon, imported exclusively for our members.
DISCOVER OUR FOUR CLUBS