By combining fruit from the warm Dry Creek Valley and the cooler Russian River Valley appellation, Dry Creek Vineyard has created an aromatic, flavor packed 2007 Heritage Zinfandel that is simply delicious. Aromas of blueberry, bramble, chocolate and white pepper seep from the glass. On the palate, crushed berries, mint, and tobacco flavors mingle with suave oak tones and the wine's own refined tannins. Although ripe, redolent, and fully charged, the 2007 Dry Creek Vineyards Heritage Zinfandel weighs in at a modest 13.5% alcohol and comes across as both balanced and beautiful. To our collective palate it combines the best of California fruit with the classic distinction of fine European wine. For optimal enjoyment we suggest allowing the 2007 Dry Creek Zinfandel 20-30 minutes of aeration prior to serving. And like most red Zinfandels, this Heritage Zin is at its best when served cool (58º-66º F).
For nearly two centuries Zinfandel has been a staple at California winemakers' tables and in the homes of humble immigrants and connoisseurs alike. Consequently, Zinfandel has evolved into the classic American wine and the quintessential red wine for American fare as well as many traditional Mediterranean dishes. So let's open a bottle of the 2007 Dry Creek Heritage Zinfandel, fire up the grill, and light the oven. Grilled pork chops or braised ribs, marinated in a savory barbecue sauce; sweet or hot Italian sausage; calzones; lasagna; manicotti; pizza; and almost any southern Italian dish served with tomato sauce will complement this wine with aplomb. And let's not forget burgers, steaks, barbecued and fried chicken, meatloaf, and the repository of salads and pasta dishes we have created over the years. Zinfandel is truly a wine for all seasons and an American classic, and the 2007 Dry Creek Heritage Zinfandel is out to prove it, so enjoy!
When David Stare opened the doors of Dry Creek Vineyard in 1972, his foresight signaled a dramatic change for Sonoma County's Dry Creek Valley. Dry Creek Vineyards was the first new winery to open in Dry Creek Valley since Prohibition. Guided by a new vision for a long neglected grape growing region, Stare's initiative launched a new era in American viticulture. Furthermore, Stare's action and vision have subsequently transformed Sonoma County and shaped much of the way we think about American wine. David Stare began his illustrious affair with wine in Dry Creek Valley in 1972 when he purchased a single parcel of land on Dry Creek Road, which was then nothing more than a run down prune orchard. There, he planted his first forty acres of grapes, mostly Sauvignon Blanc, Chenin Blanc, and Chardonnay. The locals ridiculed him and even the "farm experts" laughed at his folly, going so far as to exclaim, "Sauvignon Blanc will never grow successfully in Dry Creek Valley." Today, Fumé Blanc (dry Sauvignon Blanc) is Dry Creek Vineyard's flagship white wine, while Heritage Zinfandel enjoys its rightful place as the estate's flagship red. We wonder who is laughing now . . . well, so much for the naysayers and so called experts. It takes courage, persistence, and vision to be a pioneer. Dry Creek Vineyard's leadership under Stare has inspired many important changes for Sonoma County. Not only was Sonoma County's first Fumé Blanc created at Dry Creek Vineyard, but new standards of quality in California have resulted from Stare's advocacy for Bordeaux style blending for red wines. Stare proposed meritage offerings, as opposed to strict varietal bottling of a single grape variety, long before almost anyone else. In addition, Dry Creek's much heralded Heritage Zinfandel contains up to 15% Petite Sirah, a departure from 100% varietal bottling that many of California's most expensive and sought after Zinfandel producers have emulated. Yet, Stare's greatest contribution to American viticulture is, perhaps, his success in securing appellation status for the entire Dry Creek Valley, due almost entirely to Stare's own accomplishments and the success of his Dry Creek Vineyard.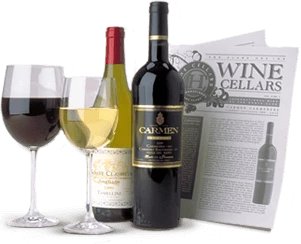 Enjoy Limited Production Estate
Bottled Wines
Discover limited production estate bottled wines such as Vergenoegd's internationally
acclaimed 2005 Cabernet Sauvignon, imported exclusively for our members.
DISCOVER OUR FOUR CLUBS