The 2005 Dr.Bürklin-Wolf Wachenheimer Rechbächel Riesling wears a lightly golden robe and appears as if it has been gently kissed by the first rays of the morning sun. Here the subtlety ends, at least for the moment, for this is young, serious, full-bodied Riesling from a great vintage. It offers a superb draught of nearly everything that is special about Rhine Riesling. A heady, spicy scent of ripe summer apples, pear, quince, and stony minerals mingle with the flavors of lemon zest and oriental spice. In scent and savor, the 2005 Dr.Bürklin-Wolf Wachenheimer Rechbächel Riesling seems to overflow the glass as it saturates the senses. And to add further to this wine's allure, one finds a firm underpinning of alcohol and acidity to gird the fruit of this bold, beautiful wine and provide the makings of a Riesling legend. However, as satisfying as the 2005 Wachenheimer Rechbächel is presently, it will only get better. All of this reaffirms the Bürklin-Wolf winery's goal of fashioning dry white wines for the long haul. Enjoy this glorious Riesling now and for next 10 years or more. We suggest serving this traditional Rhine Riesling moderately chilled at approximately 40° F. Anticipated maturity: 2008-2017.
As a rich, dry, complex white wine, the 2005 Dr.Bürklin-Wolf Wachenheimer Rechbächel Pfalz Riesling can compete favorably at table with any excellent Chardonnay, including the very best white wine that Burgundy can produce. Consequently, we suggest serving the well-endowed Dr.Bürklin-Wolf Wachenheimer Rechbächel with a wide variety of finely prepared dishes. For starters, scallops or lobster in a rich cream sauce complement the Wachenheimer Rechbächel with aplomb, as do salmon and most deep sea fish. Ham and pork dishes are natural accompaniments to this wine as well. In addition, this versatile Riesling can stand up to deftly prepared curries and other Indian specialties – something very few Chardonnays can claim. Thai and Vietnamese recipes that do not rely too heavily on fiery sauces are good bets, too. Moreover, as this splendid Riesling ages, it will take on added depth and weight and provide an excellent complement to poultry and cheeses. Aged Appenzeller, authentic Gouda, and other rich, cow's milk cheeses will offer superb accompaniments to a mature rendition of Dr.Bürklin-Wolf's Wachenheimer Rechbächel. However, this wine need not have a cohort of accompaniments to be enjoyable. Presently, it provides a very full rich experience as an aperitif and it will certainly continue to improve in bottle for years to come, so no need to rush to capture the magic. Enjoy!
Founded in Wachenheim in the 16th century by Bernhard Bürklin and expanded to its present size in the 19th century by Dr. Albert Bürklin, Weingut Dr.Bürklin-Wolf continues to shine in the 21st century as one of the premier wine estates in all Germany. Weingut Dr.Bürklin-Wolf also possesses the distinction of being the largest family-owned wine estate in Germany with a total of 275 acres (by California standards this would be a decidedly modest size property), all of it in the Mittelhardt – the quality core of the renowned Pfalz region, along the Rhine River just to the east of Germany's border with Alsace. Dr.Bürklin-Wolf includes most of the top sights in the Pfalz, including those in Wachenheim, Deidersheim, and Ruppertsberg. Moreover, two of the region's most famous vineyards, Gaisbohl and Rechbächel are owned entirely by Dr.Bürklin-Wolf. Hence, the term Monopol is attached to their name. Since 1990, Dr.Bürklin-Wolf has witnessed a true renaissance, beginning with the ascendancy of Bettina Bürklin and her husband Christian von Guradze to the helm. Under their direction, this historic property has re-discovered the Golden Age of Riesling and re-introduced this noble grape variety to the world. In the19th and early 20th centuries Riesling eclipsed all other white varietals. This was an era when Riesling was made to be richly textured, notoriously long-lived, and fermented dry in large oak barrels. Then, Riesling graced the noblest tables of the civilized world, and so it does again, thanks to Bettina Bürklin and Christian von Guradze at Dr.Bürklin-Wolf. Riesling, the other great white grape variety, reigns supreme at Dr.Bürklin-Wolf. Here, Riesling is fermented naturally dry, in the traditional manner; yet, it retains all the luscious golden goodness for which the finest Rieslings are world-renowned. In essence, the wines of Dr.Bürklin-Wolf are all about natural fruit, rather than residual sugar. Thanks to excellent winemaking skills and noble terroir authentic dry Riesling is once again on the ascendancy in Germany. Riesling: The Other Great White Grape Variety The Riesling grape is one of the oldest known white grape varieties. Its origins can be traced back to the Middle Ages. Its home is traditionally ascribed to Germany, particularly the areas along the Rhine and Mosel Rivers, but Riesling has been cultivated extensively in Alsace, Austria, and Northern Italy for centuries. With full, rich, flavorful fruit and a naturally high acidity, a well made Riesling can live for decades. In fact, Rieslings constitute some of the longest lived wines in the world; quite a few 17th and 18th examples still exist in excellent condition. Although Riesling is susceptible to Botrytis cinera ("noble rot") and is capable of making some of the planet's most glorious dessert wines, the greatness of Riesling as well as its legendary reputation in past centuries was based not upon sweet wines but dry wines similar to Dr.Bürklin-Wolf's Wachenheimer Rechbächel. Thanks to Bettina Bürklin, Christian von Guradze, and other like-minded winemakers, Germany and the international community have rediscovered the glorious tradition of dry Riesling – a wine that can come to table before dessert or be enjoyed as an aperitif, like the other great white grape variety – Chardonnay.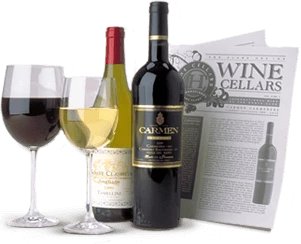 Enjoy Limited Production Estate
Bottled Wines
Discover limited production estate bottled wines such as Vergenoegd's internationally
acclaimed 2005 Cabernet Sauvignon, imported exclusively for our members.
DISCOVER OUR FOUR CLUBS