The 2017 Downes Family Vineyards Sanctuary Peak Sauvignon Blanc is Sauvignon Blanc the way we like it. Moreover, it is no ordinary Sauvignon Blanc. Along the lines of chateau-bottled white Bordeaux, it contains 10% Semillon, which is fermented with wild yeasts and aged three months in new French oak. It also emanates from no less than seven different blocks of Sauvignon Blanc planted on soils rich in mineral quartz crystals. The result is a brightly colored wine that offers a cornucopia of flavors to complement pungent fruit flavors and subtle herbal tones. Citrus and melon flavors make their appearance, too, along with a hint of capsicum and thyme. A fresh bit of acidity provides refreshment and adds to the wine's long, satisfying finish. Enjoy the 2017 Downes Family Sanctuary Peak Sauvignon Blanc moderately chilled (40°-45° F) now and often, with or without food: either way you are in for a treat. Enjoy!
While it may be true that the success of food and wine pairings ultimately depends upon many factors, not the least of which is one's personal palate preferences, it shouldn't be difficult to find more than a few superlative accompaniments to pair with the 2017 Downes Family Vineyards Sanctuary Peak Sauvignon Blanc. Fine Sauvignon Blanc such as the 2017 Sanctuary Peak pairs beautifully with shellfish and nearly anything else that once swam in the sea. A well prepared ceviche fills the bill, too. South African lobster tails or, better still, whole steamed lobsters served with drawn butter also merit our unabashed endorsement with this wine. Pâtés and terrines provide more tasty companions. Asian stir fries such as Pad Thai and vegetarian dishes with a touch of curry provide equally satisfying complements to the 2017 Downes Family Sanctuary Peak Sauvignon Blanc. For a simple, delicious accompaniment, consider an artfully prepared Mediterranean Flatbread with pear, apple, Brie, arugula, walnuts, olive oil, and balsamic reduction. And there is no better wine to accompany all kinds of cheeses, including Brie, Camembert, and other rind cheeses than Sauvignon Blanc/Semillon blends such as the 2017 Downes Family Vineyards Sanctuary Peak Sauvignon Blanc. Enjoy!
Finding exceptional wines that offer great flavor and incomparable value requires much more than just tasting more wines or even more of the same kind of wines. Actually, uncovering the oenological gems that lay hidden away in far flung places is akin to mining. Producers often make small quantities of wines they don't sell commercially, unless you ask, beg, and sometimes even cajole. Consequently, there is usually a whole lot of sweat and toil before anything that vaguely resembles a jewel can be extracted from the earth. Yet, every now and then a wine, like a rare diamond or emerald, mysteriously finds its way to the surface to cross our path at a most opportune moment. Eureka! The Downes Family Vineyards Sanctuary Peak Sauvignon Blanc is just such a find. In fact, Downes Family Vineyards and the lush Elgin Valley of South Africa constitute major discoveries.
Downes Family Vineyards is situated in the heart of the Elgin Valley, a verdant patch of South Africa's Western Cape that has long been known for its cool climate, beautiful flowers, and splendid produce. Ringed by mountains, the Elgin Valley remains a tapestry of orchards, olive groves, and vineyards among green rolling hills. For nearly a century Elgin Valley has produced some of Africa's most exceptional fruits, most notably apples and pears. These luxuriant green hills are also home to Downes Family Vineyards and a growing number of South Africa's most talented winemakers. As a member of the Green Mountain Eco Route and a leader in the Biodiversity Wine Initiative, which maintains wide corridors of virgin soil and native Cape flora between the vineyards to allow indigenous animals territorial access, Downes Family Vineyards is fervently committed to conservation, sustainability, and social uplift. The Kogelberg Biosphere, South Africa's first, borders Elgin Valley. It is a UNESCO protected region which contains hundreds of unique plant species found nowhere else on Earth, all of which adds to the quality and uniqueness of wines from Downes Family Vineyards and South Africa's luxuriant Elgin Valley.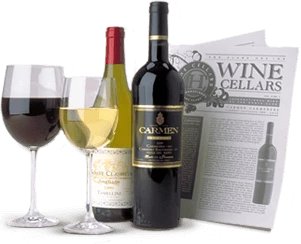 Enjoy Limited Production Estate
Bottled Wines
Discover limited production estate bottled wines such as Vergenoegd's internationally
acclaimed 2005 Cabernet Sauvignon, imported exclusively for our members.
DISCOVER OUR FOUR CLUBS