The very deep rich color and incredible viscosity of the 2003 Dona Dominga Carmenère Reserva underscore the superior quality of the 2003 vintage in Colchagua. Scents of ripe blackberries, chocolate, mocha, and spice fill the nose. On the palate, the taste of woodland fruits, lightly roasted coffee, and melted dark chocolate prevail – all of which are rounded out with a deft touch of oak. Nonetheless, in spite of an impressive array of olfactory and gustatory delights, the Dona Dominga Carmenère remains hard to describe simply because Carmenère is such a distinctive grape. It offers the taster a truly unique experience. Smooth, fleshy, but well structured, the 2003 Dona Dominga Carmenère Reserva combines the finest attributes of both Merlot and Cabernet Sauvignon, with a personality all its own. We suggest you allow this excellent Carmenère to breathe for at least 30 minutes prior to serving between 64°- 68° F.
In Chile, beef and more beef, usually in the form of what is referred to as lomo, constitute the traditional accompaniments to Carmenère and its cousin Cabernet Sauvignon. And after considerable experimentation, we certainly second the motion of beef, including filets, sirloins, and succulent stuffed veal chops with the 2003 Dona Dominga Carmenère Reserva. Chicken, duck, and most poultry dishes pair nicely, too. In fact, poultry and other light meats often showcase the distinctive qualities of Carmenère at least as well as red meat. Besides, Carmenère, with its spicy, slightly exotic flavors, aptly holds up to savory sauces and often complements complex dishes with even more panache than Cabernet based wines. Blackberry, orange, and many other fruit based sauces provide interesting pairings with Carmenère, so don't be afraid to experiment, and enjoy!
Dona Dominga is the latest venture of the Silva family, a leader in redefining the world's expectations of Chilean wine and a driving force behind the success of Chile's most important wine producing region: Colchagua. The Silva family has been pioneers in the breathtakingly beautiful Colchagua Valley since the 19th century. Historically, the Silvas were one of the first families to plant vines in this enchanted land that abuts the Cordillera of the Andes and, today, their beautifully restored colonial style winery remains the oldest in the valley. Casa Silva possesses a rich history as well as a string of world-class wines that have come to captivate international consumers and critics alike. Furthermore, Casa Silva persists in positioning itself as one of South America's most exciting and forward-looking wineries by establishing Dona Dominga, a truly exceptional line of Reserva wines from the family's vineyards in Colchagua. Through it all, Casa Silva remains a truly family affair. Today, the Silvas, father Mario and sons Mario Pablo, Gonzalo, and Francisco all take part in the daily operations of the winery and not surprisingly, they continue to be pioneers. The Silvas, along with their very capable oenologist Mario Geise, are considered Colchagua's foremost experts on Carmenère, Chile's emblematic red grape variety. Moreover, they are at the vanguard of their nation's success with Cabernet Sauvignon as well as the production of premium white wines, especially traditional French varietals: Chardonnay, Sauvignon Blanc, Semillon and Viognier. A family passion, a love for the land and its wine, and a commitment to future generations has catapulted Casa Silva in just eight years from a bulk supplier and bottler of wine to one of the continent's superstars. Since its inception in 1997, Casa Silva has become the Chilean winery with the most recognition and awards at international wine competitions. For three consecutive years, 2000, 2001, and 2002, the Catad'Or Hyatt, Chile's most prestigious wine competition, has heralded Casa Silva as "the Best Chilean Producer." Furthermore, the International Wine & Spirit Competition in London named Casa Silva as "The best South American Producer", and with good cause. This estate's many wines are uniformly excellent and getting better with each successive vintage.
Carmenère Carmenère is a grape varietal that has virtually disappeared from its native Bordeaux, but quite literally this little known varietal has been resurrected or at the very least been born again. Like the mythical phoenix that rises from the ashes, Carmenère has a new lease on life. After more than a century of obscurity, this flavorful, difficult to grow red grape variety is alive and well in Chile. It grows especially well in the scenic Colchagua Valley, where it ripens fully and is considered by its adherents to be next to godliness. For a very long time, many in Chile believed or at least wanted to believe for commercial purposes that Carmenère was a clone of Merlot. And although there are some obvious differences in leaf appearance as well as the size and flavor of their fruit, both varieties had grown up alongside each other in Chilean vineyards for generations, with no distinction made between them. However, Carmenère is in fact a distinct varietal that carries its own set of attributes and characteristics. After years of speculation and extensive experimentation that culminated in1994 with DNA testing and a positive identification by French ampelographer (vine expert) Jean-Michel Boursiquot, the true identity of Carmenère was established or more accurately re-established Carmenère most assuredly traveled to Chile in the early 19th century, before the advent in Europe of phylloxera, the dreaded vine louse that decimated Bordeaux and most other European vineyards in the late 19th century. Although Carmenère remains one of only six legal red grape varietals in Bordeaux, it is de facto no longer part of the Bordeaux blend that is now dominated by Merlot, Cabernet Sauvignon, and to a lesser extent Cabernet Franc. Two of Carmenère's unique characteristics, the need for a very extended ripening time and low yields, probably led to its demise in Bordeaux, where the weather is hardly conducive to a late ripening, shy bearing varietal. On the contrary, Carmenère thrives in Colchagua where the long growing reason and lack of disease provide the ideal terroir for what is quickly becoming Chile's own grape variety.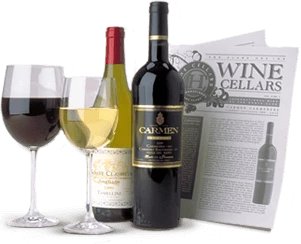 Enjoy Limited Production Estate
Bottled Wines
Discover limited production estate bottled wines such as Vergenoegd's internationally
acclaimed 2005 Cabernet Sauvignon, imported exclusively for our members.
DISCOVER OUR FOUR CLUBS