With the words "A glimpse of the divine" and "Awesome" two tasting panel members exclaimed their enthusiasm for the 2004 Dominio Dostares Cumal, while others simply shook their heads and grinned as another member proclaimed: "I figured this wine would be really good, but nothing quite prepared me for the Cumal experience. It's other worldly. Cumal is simply incredible. Where can I get a case of this wine? And what grape did you say this is made from"? These are just a few of the comments made during our tasting of the 2004 Cumal by our panel. Although comments such as these are subjective, they do mirror our collective experience and echo the tremendous acclaim that Cumal has received recently from every major critic and wine publication. We consider ourselves fortunate to have found Cumal first and secured some of this very limited production of the indigenous Prieto Picudo for our members. Without question, Cumal is the ultimate expression of the rare Prieto Picudo varietal and a staggering statement of a wine in its own right. It dazzles the nose with the lush scent of black fruits, chocolate, and wood smoke. And to the thirsty palate, it offers layer upon layer of deep down flavor, set to a seductive chord. In fact, it is not quite like any other wine we have ever tasted, in every positive sense. More importantly, this full-bodied, hedonistic red wine is thoroughly captivating now, even in its rambunctious youth. Although it is hard to believe that the 2004 Cumal could possibly taste any better than it does presently, it will almost certainly continue to improve in bottle for many years. The 2004 Dominio Dostares Cumal has everything great going for it, so it is sure to dazzle thirsty palates for years to come. Anticipated maturity: 2008-2015. Serve Cumal at cool room temperature (60°-65° F) and allow it plenty of time to breathe. Enjoy!
Like its Mencia cousin Pago 3 from Dominio de Tares in Bierzo, the 2004 Domino Dostares Cumal needs nothing to shine, except a clean, thin, well-made glass. This wine drinks beautifully, with or without food, but it is even more impressive when brought to table to accompany great home cooking or the finest haute cuisine. Lamb, beef, and pork all get our nod to accompany this magnificent red. An oak fired Angus Filet Mignon, served with a black peppercorn and onion sauce, provides wonderful companionship to this wine. A slow roasted Pork Shank with caramelized rosemary apples and polenta offers another great accompaniment. For a simple but no less wonderful accompaniment, we suggest the best Spanish cheese available. Tetilla is particular favorite. It is a creamy, sumptuous Spanish cheese that seems to have an affinity for Spain's luxury brands of indigenous varietals. In this case, the cheese and the wine complement one another and accentuate the other's many attributes.
Dominio Dostares (Doe-mean-yo Doe-star-ace) was founded in 2004 by the highly-respected Dominio de Tares (Doe-mean-yo Day-tar-ace) estate of Bierzo with the objective of reviving León's Prieto Picudo variety. Prieto Picudo (Pre-ate-o Pee-cue-doe) is a rare indigenous red variety that has been reduced to a few hundred acres of old vines, which in the hands of small local cooperatives were being used to make first-rate rosé, despite the vines' ancient age, high level of color, extract, and alcohol. Dominio de Tares acquired 75% of these great old Prieto Picudo vines, many in excess of 100 years of age, and launched Dominio Dostares by applying production methods they had perfected in the Bierzo DO with that region's indigenous Mencia variety. The results have been nothing short of spectacular as Dominio Dostares' Cumal already challenges Spain's greatest red wines at the highest level of quality, and the 2004 Cumal is only the first release of this wine. The 2004 Cumal débuted in the spring of 2007 to tremendous acclaim, including a gold medal from Decanter, Britain's most prestigious wine publication. Rare and special in every way, the 2004 Cumal has to be experienced to be believed. Indeed, it is a rare and unique wine in the best sense of the term. Moreover, Cumal signifies the re-birth and revitalization of yet another great Spanish wine variety.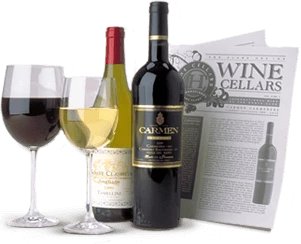 Enjoy Limited Production Estate
Bottled Wines
Discover limited production estate bottled wines such as Vergenoegd's internationally
acclaimed 2005 Cabernet Sauvignon, imported exclusively for our members.
DISCOVER OUR FOUR CLUBS