Regal in robe and still youthful in appearance, the 1998 Dominio de Conté Reserva exudes an enchanting powerful Pomerol like perfume, which befits the most elegant and stylish wines of Bordeaux as well as Rioja. Scents of cassis, plush hedonistic fruit, and oriental spice pervade the nose. Yet, when this wine graces the palate, it turns to all charm. The Dominio de Conté's flavors are pronounced but gentle and well integrated, an elegant melange of berry, oak, and vanilla spice. So, what makes this wine so beguiling? It's the haunting nose and strong feminine profile, which combine balance with subtlety and strength. An eminently satisfying wine, the 1998 Dominio de Conté Reserva is a top candidate for Best Dinner Party Wine of the Year. Moreover, the 1998 Dominio de Conté Reserva serves as a living reminder of the great depth and age worthiness of Rioja – attributes that first made this region and its wines legendary in the 19th century. Viva the 1998 Dominio de Conté! For optimum enjoyment, allow this elegant Reserva to breath for at least half an hour in a decanter, before savoring it at no more than 64º - 68° F.
Great wines shine in the face of good food, but food pairings need not be elaborate to accompany sophisticated wines such as the 1998 Dominio de Conté Reserva. In fact, the simpler the better, but only the highest quality ingredients need apply. Considering this wine's status on the dinner party circuit, we recommend you serve only the best free range chicken or the finest cuts of beef, lamb or pork to serve with this wine. Consequently, Chicken Marengo, a simple but flavorful dish that was created by Napoleon's chef after the battle of Marengo suitably fits the bill. It accentuates all the sophisticated flavors in the wine and in turn the dish is enhanced as well. Crown Roast of Lamb or Pork provides another excellent accompaniment to the 1998 Dominio de Conté Reserva as do Chateaubriand and a well-aged filet mignon. Mushroom Pie offers an excellent vegetarian option. Nevertheless, duck, goose, quail and game hens solicit other good bets to escort Breton's most heralded wine. Enjoy!
Dominio de Conté is the finest wine produced by Bodegas Breton, a small world-class estate in the Rioja Alta, from which the most beautiful and prestigious Rioja wines emanate. Founded in 1983, Bodegas Breton is a partnership that includes the legendary Dominio de Conté site, whose average vineyard age is the oldest in the Rioja. It also encompasses the famous 100-acre Viña Loriñon property, which lies at the heart of the Rioja along the south bank of the Ebro River. Bodegas Breton specializes in the cultivation of indigenous Rioja varietals: Tempranillo, Graciano, Mazuelo, and Garnacha for the estate's red Riojas and Viura and Malvasia for the estate's white wines. Here, winemaking is very much in the traditional Rioja style – only Spanish grape varieties are utilized and the emphasis is on Crianza and Reserva style wines (which means extended barrel aging in American oak and pronounced berry and wood flavors), a profile that has come to define not only Breton's own traditional style but Rioja's distinctive flavor as well. In spite of its recent origin, Breton takes a very time-honored approach to its wines. The philosophy and overriding objectives of this estate are twofold: to preserve the elegant, balanced historic "Rioja Alta" style and perpetuate the longevity for which traditional Rioja is legendary. Moreover, since its premier release, Bodegas Breton has consistently sought to increase extract in its wines in order to complement the racy, impressive structures that are naturally obtained from the estate's mature, low yielding vineyards. In the outstanding 1998 vintage, Breton has fashioned a Dominio de Conté Reserva that provides more than eloquent testimony to the greatness of this luxury brand and the old vines from which it springs. In addition, one sees in this single vineyard Reserva Breton's ability to craft wines that age gracefully and gain complexity with extended bottle age. In keeping with tradition, the Dominio de Conté Reserva is made only in the finest vintages.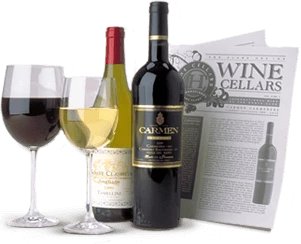 Enjoy Limited Production Estate
Bottled Wines
Discover limited production estate bottled wines such as Vergenoegd's internationally
acclaimed 2005 Cabernet Sauvignon, imported exclusively for our members.
DISCOVER OUR FOUR CLUBS