We have been impressed by every Dominio Basconcillos wine we have tasted, but Dominio Basconcillos' 2016 Seis Meses Ribera del Duero seriously raises the bar not only for this organic estate but for all of Ribera del Duero. This certified organic offering, which earned 94 points from the Decanter World Wine Awards, emanates from selected lots of grapes grown on a mixture of gravel and clay soils, which provide superb drainage and impart complexity as well as a diversity of flavors to this beautifully balanced, fruit and spice packed wine. This superbly wrought Ribera del Duero reflects the estate's pre-eminence in crafting traditional Ribera del Duero, as this wine offers a deep red color, superb concentration, and plenty of polish to complement its ample ripe tannins. Heady aromas of blackberry and dark cherry, sassafras, sage and violet flowers delight the nose. Happily, this youthful Ribera del Duero follows through in the mouth, too, with plenty of smooth robust fruit and spice flavors backed by just the right amount of healthy tannins to assure a long illustrious life and many more years of pleasurable drinking. For optimal enjoyment we suggest decanting the 2016 Dominio Basconcillos Seis Meses Ribera del Duero at least 30 minutes prior to serving at cool room temperature (58°-62° F). Enjoy!
The 2016 Dominio Basconcillos Seis Meses Ribera del Duero deserves a place at table in the company of hearty, robust dishes. Some of our favorite accompaniments to Dominio Basconcillos' award winning Ribera del Duero include a spicy country cassoulet and traditional paella made with chicken and pork. Duck confit and grilled quail, stuffed with wild rice and served with a spicy white bean dish prepared with fresh rosemary, also earn two thumbs up. Venison stew prepared with carrots and potatoes constitutes another winning partnership. Tomato based dishes with capers such as Chicken Cacciatore provides an excellent accompaniment, too. A bit of rare artisanal Farmhouse Cheshire or a slice of Spanish Mahón with some good crusty bread makes a fine companion, too, to the robust 2016 Dominio Basconcillos Seis Meses Ribera del Duero. Buen Provecho!
Domino Basconcillos are skilled artisans who practice the kind of traditional-style, high-altitude, organic viticulture that prevailed before the advent of phylloxera and the devastating effects of civil war and economic malaise that prevailed throughout Spain during much of the 20th century. In the late 1990s, Burgos native José Maria Basconcillos went in search of virgin land in Ribera del Duero on which he sought to establish one of Ribera del Duero's leading organic vineyards. He found precisely what he was looking for in a private hunting property of 125 contiguous acres near Gumiel de Izán where he established Dominio Basconcillos. The property lies at the northernmost extreme of the Ribera del Duero appellation at 3,300 feet of elevation, which makes it one of the highest vineyards in the entire region and in a sector where the first monastic vineyards were planted centuries ago.
Today, Dominio Basconcillos is comprised of a modern state of the art bodega and chateau situated among the estate's organically cultivated vines. All wines labeled Dominio Basconcillos are certified organic (Vino Ecológico, Agricultura Ecológica). In addition to the estate's strict organic practices, all grapes are harvested by hand, de-stemmed, and sorted three times before entering the gravity flow process as whole berries. Bordeaux-trained enologist Francisco Barona takes full advantage of the estate's high altitude vineyard and pure fresh fruit to practice natural winemaking and fashion wines with exceptional concentration, freshness and balance.
Located in the heart of Spain in the ancient realm of Castile and León, Ribera del Duero has been a center of wine production for thousands of years. Today, Ribera del Duero remains one of the most important wine regions in Spain, as it is the spiritual home of Tempranillo, Spain's most venerable red grape variety and the source of many of Spain's greatest wines. Here the iconic Tempranillo, also known locally as Tinto Fino and Tinta del País, reaches its pinnacle and demonstrates to the world its inherent virtue.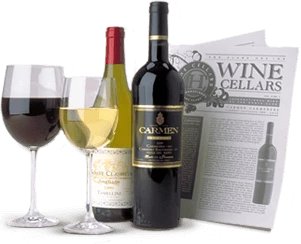 Enjoy Limited Production Estate
Bottled Wines
Discover limited production estate bottled wines such as Vergenoegd's internationally
acclaimed 2005 Cabernet Sauvignon, imported exclusively for our members.
DISCOVER OUR FOUR CLUBS