The Hautes-Côtes de Nuits produces some very fine red Burgundies, especially in splendid vintages such as 2015 and 2016 when the weather shines favorably upon the undulating rows of Pinot Noir vines that cover the hills, but rarely does a wine match the quality of the 2016 Domaine Chaley & Fille Les Rousselots Hautes-Côtes de Nuits. Chaley's 2016 Les Rousselots could easily be mistaken for a village wine from nearby Vosne-Romanée, the most hallowed ground in Burgundy, where dirt determines destiny. Chaley's 2016 Les Rousselots wears a deep red robe that aptly foreshadows its strength and structure. This is no wimpy translucent Burgundian Pinot Noir, but a traditional age-worthy red Burgundy that reveals its intoxicating bouquet of cherries, woodland berries and exotic spices slowly, almost surreptitiously. Similarly, the wine's rich deep fruit flavors, floral tones, and complex blend of bergamot, black tea, and vanilla emerge at a snail's pace, but slow and steady wins the race. This is a wine built for the long haul. Afford this structured, artfully crafted red Burgundy considerable aeration before consuming. One could even open it in the morning and enjoy it in the evening at cool room temperature (60° F). Furthermore, the wise hedonists among us will want to lay down additional bottles of the 2016 Domaine Yves Chaley & Fille Les Rousselots Hautes-Côtes de Nuits to enjoy between 2019 and 2027. Enjoy!
A traditional red Burgundy such as Domaine Yves Chaley & Fille's Les Rousselots Hautes-Côtes de Nuits begs to be served with the finest of ingredients, whether they come in the form of traditional Burgundian fare or emanate from a modern American kitchen. Yes, Coq au Vin is a perennial favorite pairing with Chaley's Les Rousselots, and the Chaley's 2016 Les Rousselots can stand up to a hearty Boeuf Bourguignon, too, as well as to a grilled New York Strip Steak. Chicken or rabbit in a creamy mustard sauce makes for another traditional accompaniment to Hautes-Côtes de Nuits reds. Salmon with either fresh porcini mushrooms or roasted shitakes provides another splendid companion. And when tomatoes are fresh and ripe, an old-fashioned tomato, country ham or prosciutto, and melted Gruyere sandwich on thickly sliced crusty bread provides a real treat in the company of a bottle of Chaley's 2016 Les Rousselots. Bon appétit!
Deep in the heart of Burgundy, or as the French so eloquently say: dans la France profonde, one finds small family owned and managed domains, tiny pearls of fine pedigree and great price, which specialize in Burgundy's illustrious grapes: Pinot Noir and Chardonnay. Domaine Yves Chaley & Fille, located in the tiny village of Curtil-Vergy, is one such rural gem. Although about as deep into Burgundy as one can get, Domaine Yves Chaley & Fille and the village of Curtil-Vergy with its 100 or so inhabitants lies only a short distance as the crow flies from the illustrious Burgundian names of Vosne-Romanée, Chambolle-Musigny, and Nuits-Saint-Georges.
Domaine Yves Chaley & Fille enjoys enviable terroir and specializes in fashioning fine Pinot Noir and Chardonnay from the estate's own grapes; recent vintages of this property's wines have been nothing short of exceptional. Owned and run by the gregarious Yves Chaley and his charming daughter Cécile, this domain may be one of Burgundy's best kept secrets, even though the Chaleys have been vignerons in Curtil-Vergy for 11 generations. Working just 10 prime acres of vines, very little of this estate's wines are exported. Furthermore, the Chaleys are legally allowed to cultivate a little known Burgundian grape, Pinot Beurot, in addition to their excellent Les Rousselots Hautes-Côtes de Nuits red Burgundy from 100% Pinot Noir and a Hautes-Côtes de Nuits Bourgogne Blanc from 100% Chardonnay.
In addition to fashioning three excellent and rare Burgundies, the Chaleys run a small 12 room inn set among the vines that serves a legendary breakfast, hearty enough to fortify even the most ardent oenophile for a day of serious tasting. We hesitate to mention this wonderful little jewel, let alone feature one of Domaine Chaley & Fille's wines, lest the secret of this newly discovered gem create a stir. It was hard enough procuring even a small amount of Chaley's wines, but this property and its wines are too good not to share with our faithful members.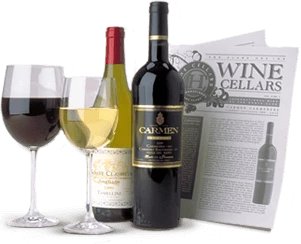 Enjoy Limited Production Estate
Bottled Wines
Discover limited production estate bottled wines such as Vergenoegd's internationally
acclaimed 2005 Cabernet Sauvignon, imported exclusively for our members.
DISCOVER OUR FOUR CLUBS