Domaine Yves Chaley & Fille's Les Larets Hautes-Côtes de Nuits Pinot Gris dit Beurot is a rarity to say the least. Only in select areas of Burgundy where Pinot Beurot is indigenous, such as in Curtil-Vergy, is the grape allowed to be grown and its wine sold as Burgundy. A white mutation of Pinot Noir, Pinot Beurot sports a dark pinkish skin, which adds a rich, slightly golden color to the 2016 Domaine Chaley & Fille's Les Larets Pinot Beurot. The wine's aroma is attractive and its flavor quietly seductive. Unlike Hautes-Côtes de Nuits wines made from Chardonnay, oak doesn't play a significant role in this wine, so that Les Larets' pure fruit flavors, gentle spice, and refreshing minerality all come front and center in one harmonious package from the first sip until the last. Consequently, Domaine Chaley's Les Larets Pinot Beurot bears little resemblance to other white Burgundies or Pinot Gris based wines for that matter. Enjoy this delightful, unique white wine moderately chilled (40° F), allowing it to gently invigorate your nose and delight your palate. Enjoy!
The flavorful, medium-bodied 2016 Domaine Yves Chaley & Fille's Les Larets Hautes-Côtes de Nuits Pinot Gris dit Beurot easily finds itself in the role of aperitif extraordinaire. It makes a wonderful pre-dinner party wine, as it is simply delightful to sip solo. Yet, the Chaleys' Pinot Beurot is equally at home on the table with a wide variety of foods. Grilled fish and oven-roasted chicken provide easy to prepare accompaniments to this wine. Both the wine and food shine together. More complex fare suits the Les Larets Pinot Beurot equally well. Chicken, veal or pork with creamy sauces pair beautifully, too, as do country pâtés, foie gras, and terrines. Crispy Quail served with a savory fruit sauce and Ginger Chicken with a side of grilled vegetables also make fine companions to Domaine Yves Chaley's distinctive, rare Pinot Beurot. A selection of mild cheeses such as Burrata, Buffalo Mozzarella, and mild goat cheeses such as Humboldt Fog Chèvre or Garrotxa, the latter an especially mild-tasting goat cheese from the Spanish Pyrenees, provide wonderful complements to Domaine Yves Chaley & Fille's exceptional 2016 Les Larets Pinot Beurot. Bon appétit!
Deep in the heart of Burgundy, or as the French so eloquently say: dans la France profonde, one finds small family owned and managed domains, tiny pearls of fine pedigree and great price, which specialize in Burgundy's illustrious grapes: Pinot Noir and Chardonnay. Domaine Yves Chaley & Fille, located in the tiny village of Curtil-Vergy, is one such rural gem. Although about as deep into Burgundy as one can get, Domaine Yves Chaley & Fille and the village of Curtil-Vergy with its 100 or so inhabitants lie only a short distance as the crow flies from the illustrious Burgundian names of Vosne-Romanée, Chambolle-Musigny, and Nuits-Saint-Georges.
Domaine Yves Chaley & Fille enjoys enviable terroir and specializes in fashioning fine Pinot Noir and Chardonnay from the estate's own grapes; recent vintages of this property's wines have been nothing short of exceptional. Owned and run by the gregarious Yves Chaley and his charming daughter Cécile, this domain may be one of Burgundy's best kept secrets, even though the Chaleys have been vignerons in Curtil-Vergy for 11 generations. Working just 10 prime acres of vines, very little of this estate's wines are exported. Furthermore, the Chaleys are legally allowed to cultivate a little known Burgundian grape, Pinot Beurot, in addition to their excellent Les Rousselots Hautes-Côtes de Nuits red Burgundy from 100% Pinot Noir and a Hautes-Côtes de Nuits Bourgogne Blanc from 100% Chardonnay. Pinot Beurot, the Burgundian name for Pinot Gris, is a white mutation of Pinot Noir which has been grown in the village of Curtil-Vergy since the Middle Ages; it is one of the few exceptions in Burgundy to Pinot Noir and Chardonnay that can legally be made and sold as Burgundy wine.
In addition to fashioning three excellent and rare Burgundies, the Chaleys run a small 12 room inn set among the vines that serves a legendary breakfast, hearty enough to fortify even the most ardent oenophile for a day of serious tasting. We hesitate to mention this wonderful little jewel, let alone feature one of Domaine Chaley & Fille's wines, lest the secret of this newly discovered gem create a stir. It was hard enough procuring even a small amount of Chaley's wines, but this property and its wines are too good not to share with our faithful members.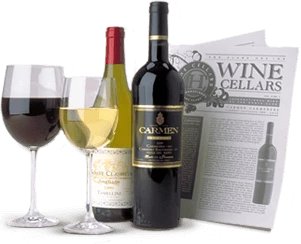 Enjoy Limited Production Estate
Bottled Wines
Discover limited production estate bottled wines such as Vergenoegd's internationally
acclaimed 2005 Cabernet Sauvignon, imported exclusively for our members.
DISCOVER OUR FOUR CLUBS