Always consistent, the sunny, straw-colored 2016 Domaine Talmard Mâcon-Chardonnay exhibits all the classic, time-honored goodness of Mâconnais Chardonnay. From its ebullient straw colored robe emanate orchard scents of ripening apple and pear, coupled with soft floral tones reminiscent of acacia and mimosa. Interlaced among the wine's floral aromas is beguiling limestone minerality, the very calling card of the finest Mâconnais Chardonnays, thanks to the region's unique terroir. And to everyone's delight the 2016 Domaine Talmard Mâcon-Chardonnay carries its delightful olfactory onto the palate. Imbued with a wonderfully smooth texture and bearing a host of savory orchard fruit flavors, minerals, and lemon zest, this bone dry, medium-bodied Mâcon-Chardonnay leaves the mouth invigorated and refreshed. Delicate, yet flavorful, the 2016 Domaine Talmard Mâcon-Chardonnay is best enjoyed moderately chilled (40º-45º F). And like most fine white Burgundies, this wine begs for a few minutes in the glass to reveal all of its magic. Enjoy!
Companionship comes easily to the 2016 Domaine Talmard Mâcon-Chardonnay, as all that any authentic Mâcon wine needs to please is a slight chill and a clean glass. For those who relish a truly dry white wine with a soul, the Domaine Talmard Mâcon-Chardonnay provides the ideal aperitif. However, we can't imagine any self-respecting gourmand or oenophile passing up the opportunity to enjoy this wine with such fine accompaniments as seared sea scallops served with avocado and kiwi salsa, or spit roasted chicken with a side of butternut squash risotto. You may also want to consider poached salmon with caper butter sauce, or cauliflower and crab ravioli in a light cream sauce. Grilled trout, sushi, chicken salads with rosemary and walnuts, and light tempuras all pair beautifully with Talmard's Mâcon-Chardonnay, as well. Goat cheeses and most cows' milk cheeses provide first rate accompaniments, too. Enjoy!
Domaine Talmard traces its origin back more than 400 years. Begun in the 17th century, Domaine Talmard is one of the oldest continuously producing family run wine estates in southern Burgundy. It is also the premier domain in the 1,000 year old village of Chardonnay, which is perhaps best known for bestowing its name upon the world's most illustrious white grape. With more than 60 acres of prime south-facing vineyards in the Mâconnais villages of Chardonnay and Uchizy, the dedicated Gérald Talmard and his father Philibert fashion classic white Burgundy under the Mâcon-Chardonnay and Mâcon-Uchizy appellations.
Nowhere is the importance of terroir more in evidence than Burgundy, and Domaine Talmard provides the ideal case in point. Domaine Talmard's vineyards thrive on the low, rolling, limestone-rich hills that were once the floor of an ancient sea, resulting in classic, dry, mineral-driven Chardonnay. Furthermore, only indigenous yeasts are employed in fermentation at this estate, providing the modern taster with an authentic taste of Chardonnay. In keeping with tradition, Gérald eschews the use of oak barrel aging for his wines. Talmard does, however, utilize modern temperature controlled equipment to fashion his classic Mâcon-Chardonnay
Chardonnay is the most widely cultivated white varietal on the planet. Twice each year at harvest time (because the seasons are reversed in the northern and southern hemispheres) in its native France and countless locales on six continents, Chardonnay grapes command premium prices. In tribute, Chardonnay produces the finest, most flavorful dry white wines in the world to which writers and connoisseurs devote countless columns and untold hours exalting its virtues and dissecting its flavors. Whether it be from Mâcon or Champagne, Napa or Sonoma, or from the most illustrious of vineyards perched atop the slopes Corton and Montrachet, Chardonnay is the yardstick by which all other dry white wines have come to be measured.
From its home in the village of Chardonnay in the Burgundy region of France, the Chardonnay grape has traveled the world. Today, Chardonnay is produced on all continents, except Antarctica. In many locales, Chardonnay produces premium wine that reflects in every detail the soil and climate (terroir) in which it is grown. In California, a few areas stand out for quality, but none appear to be more successful than the cooler growing areas of Monterrey, Santa Barbara, and Sonoma Counties.
With food, Chardonnay is a peerless match. Burgundy-style Chardonnays provide superb complements in the company of seafood. And fuller, fleshier Chardonnay wines, typified by the best New World versions, can more than hold their own with heavier, more complex fare, rich cream sauces, and meats. Moreover, the finest Chardonnay wines shine on their own, requiring nothing but a clean glass to please the palate. Enjoy!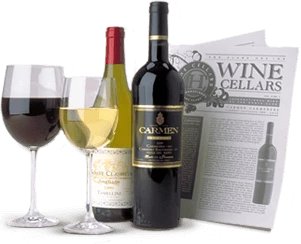 Enjoy Limited Production Estate
Bottled Wines
Discover limited production estate bottled wines such as Vergenoegd's internationally
acclaimed 2005 Cabernet Sauvignon, imported exclusively for our members.
DISCOVER OUR FOUR CLUBS