The 2014 Domaine Sigalas Santorini Assyrtiko is indeed special and absolutely unique. It appears the color of the bright Aegean sun and offers an aroma that is nothing short of intoxicating; a mélange of citrus and floral tones reminiscent of Clementine and orange blossom captivate the nose. In the mouth, the youthful 2014 Domaine Sigalas Assyrtiko positively explodes with concentrated citrus and mineral flavors that are carried on a long thread of bright acidity to a smashing finish. Domaine Sigalas and the many Masters of Wine who sing the praises of Sigalas's Assyrtiko counsel ageing this wine at least two years before consuming, but we just couldn't wait to drink more of this special wine now. If there were another white wine to compare it to, it would be Premier Cru Chablis, but even that doesn't do this rare and unique Assyrtiko justice. Taste and see for yourself. Serve chilled (40° F).
Lovers of crisp, dry, white wines that offer plenty of body and flavor will revel in drinking the 2014 Domaine Sigalas Santorini Assyrtiko as an aperitif without any accompaniment. They and the rest of the wine drinking world will enjoy this rare Assyrtiko even more with great seafood, pastas and even meats. Try it with calamari tossed with a light wasabi glaze, or steamed littleneck clams with sautéed butternut squash, black beans, sweet corn and garlic simmered in a heady stock. Potato encrusted mahi-mahi and steamed shrimp and pork dumplings also provide tasty complements to the full-flavored 2014 Sigalas Assyrtiko. Bouillabaisse, paella, and even grilled lamb or pork chops with black beans and brown rice provide excellent accompaniments to Santorini's signature wine. Enjoy!
"Sigalas is one of Greece's finest white wine producers – in fact, a short list candidate for the best. This producer is universally acclaimed for his skill with Assyrtiko of all types. He is simply a master with this grape." - Robert E. Parker's The Wine Advocate
Santorini is an island of legend and lore with a history that dates back many millennia. Situated in the midst of the Aegean Sea, the island was devastated by a massive volcanic eruption and earthquake in the 16th century B.C.E. so great that it is thought to have destroyed all of the inhabitants of Santorini and caused a massive tsunami that put an end to the rich, highly developed Minoan Civilization of nearby Crete. Today, with its rich volcanic soils and ideal terroir that cannot be replicated elsewhere, Santorini is home to a wealth of indigenous grape varietals that account for many of Greece's greatest wines. Most notable among these ancient varietals is Assyrtiko. Santorini's vineyards of ancient varietals are generally acknowledged to be the oldest continuously cultivated vineyards in the world, dating back more than 3,000 years.
Domaine Sigalas was founded in 1991 by Paris Sigalas and two of his companions. The wines were initially made in Sigalas' converted home, but by 1998 the group had built a new vinification, bottling, and aging unit around Oia where Santorini's indigenous Assyrtiko, Aidani, Athiri, Mandilaria and Mavrotragano grape varietals thrive. Sigalas concentrates on the production of Santorini's native grape varietals, which the domaine cultivates organically. And because of Santorini's unique soil composition (a mixture of sand and volcanic ash), phylloxera, the dreaded vine disease that devastated nearly all of the world's vinifera vineyards, has never attacked Santorini. This allows Sigalas to cultivate his ancient vines on their own original rootstocks, unlike the vast majority of vines throughout Europe and the New World that have been grafted onto native North American rootstocks in order to survive.
Assyrtiko is a rare white grape varietal indigenous to the Aegean island of Santorini where it thrives in the island's dry, sandy, volcanic soil. This grape varietal has since made its way to some neighboring Aegean islands, but the Assyrtiko of Santorini remains the benchmark for the distinctive world class Assyrtiko varietal. Assyrtiko-Santorini is a white wine that can be drunk young or aged. On its native Santorini, Assyrtiko provides the ultimate accompaniment to all kinds of fish, seafood, meat, and vegetables.
Sigalas is widely acknowledged to be the master of the Assyrtiko varietal. Sigalas makes Assyrtiko in several styles, both dry and sweet. This month's selection is Domaine Sigalas's classic dry rendition of Assyrtiko and should not be confused with the lighter, less expensive Assyrtiko-Athiri blend from Domaine Sigalas.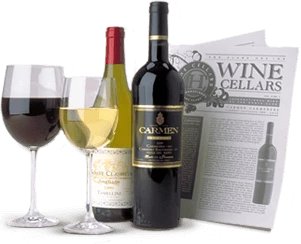 Enjoy Limited Production Estate
Bottled Wines
Discover limited production estate bottled wines such as Vergenoegd's internationally
acclaimed 2005 Cabernet Sauvignon, imported exclusively for our members.
DISCOVER OUR FOUR CLUBS