The 2018 Domaine Moreux Les Bouffants Sancerre emanates from a small, steep hillside parcel rich in limestone and rock next to Les Damnés, the "Grand Cru" of Chavignol. The exceptional 2018 vintage, which many in Sancerre are already calling legendary, has yielded a delightfully rich, energetic Sancerre. The 2018 Les Bouffants exhibits Sancerre's telltale pale yellow color, striking aromatics, and ripe fruit flavors infused with the appellation's mouthwatering minerality. In short, 2018 has allowed the Moreux brothers to fully work their magic. They have crafted a classic, full-throttle Sancerre that is resplendent with juicy citrus and passion fruit flavors infused with melon, fig, and fresh, mineral-rich acidity. Balanced, flavorful, and delightfully dry, Domaine Moreux's riveting 2018 Les Bouffants Sancerre is the wine of choice when only the finest Sauvignon Blanc from Sancerre will do. Enjoy!
In Paris bistros and upscale American restaurants, the prevailing sentiment is that "Sancerre is made for seafood," and frankly we believe there is hardly a better wine to pair with seafood than Sancerre. A favorite pairing is a glass or two of Sancerre with a plate of oysters, lightly sautéed or on the half shell. Better yet, who could resist the 2018 Domaine Moreux Les Bouffants with Pan Roasted Sea Scallops, served with saffron risotto, baby carrots, and sautéed spinach; Steamed New Zealand Green Lipped Oysters, prepared with tomato, fennel, and crème fraîche; or just plain old-fashioned smoked salmon, served with capers, red onion, and cream cheese. In fact, just about any white fish or shellfish, including crab and lobster, provides the ideal complement to Moreux's full-bodied Sancerre. With such wine and seafood one might be tempted to re-think one's definition of paradise. Yet, why not ask for more? After all, Domaine Moreux's Sancerre is more than just a seafood wine. It pairs beautifully with tapas, country pâtés and smoked meats; and it easily doubles as an aperitif par excellence. Last, but hardly the least, we suggest you finish a bottle of the Moreux brothers' delicious 2018 Les Bouffants Sancerre with the regional cheese Crottin de Chavignol – it is not to be missed. Bon Appétit!
Domaine Roger & Christophe Moreux is a family estate located in the tiny hamlet of Chavignol, a village of barely 200 inhabitants along the Upper Loire River whose inhabitants are as renowned for their wine as they are for their cheese - Crottin de Chavignol – which has it own appellation. Roger and Christophe are the present Moreux proprietors and vignerons, but they are certainly not the first from the Moreux family to bear those titles. The Moreux family has been making wine in Sancerre since the 16th century, which earns the Moreux brothers the recognition as one of the oldest wine families in the entire region. More importantly, the brothers Moreux have learned a thing or two from their ancestral lineage – namely how to make world class Sancerre.
Roger and Christophe cultivate just 10 hectares (22 acres) of vines from which they fashion six special Sancerre offerings: four very tasty, traditional white Sancerre wines from 100% Sauvignon Blanc, a Sancerre Pinot Noir, and a Sancerre Rosé. All are entitled to bear the appellation designation Sancerre. And as Domaine Moreux is a member of Vignerons Indépendants, a prestigious group of elite, independent wine growers, all this domaine's wines are certified for authenticity and exceptional quality, but then one taste of any of this estate's wines can speak to the quality one can expect from Domaine Roger & Christophe Moreux.
Sancerre is an Appellation d'Origine Contrôlée (AOC) for wines produced in fourteen villages near the town of Sancerre. This appellation lies to the southeast of Orléans, along the upper reaches of the Loire Valley. Sancerre is considered by many to be the spiritual home of Sauvignon Blanc, as the appellation's greatest claim to fame lies in the production of a crisp, elegant, eminently drinkable white wine made exclusively from Sauvignon Blanc grapes. The chalky, limestone-rich soil of Sancerre is ideal for the cultivation of Sauvignon Blanc. Consequently, white Sancerre was one of the first wines to be awarded appellation status by the French government in 1936.
As if the crafting of some of the world's purest, most enjoyable white wine is not sufficient acclaim, Sancerre also fashions very fine dry rosé from Pinot Noir and light, aromatic red Pinot Noir that rivals the village wines of Burgundy. Sauvignon Blanc and Pinot Noir are the only legal grape varieties permitted in Sancerre.
Crottin de Chavignol, the Loire Valley's finest goat cheese is also made in Sancerre. It was awarded its own appellation status in 1976. It ranks among the finest cheeses of France and it pairs beautifully with Sancerre's incomparable Sauvignon Blanc.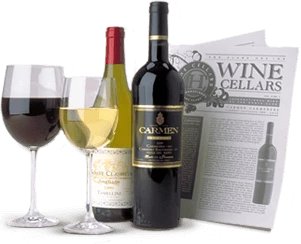 Enjoy Limited Production Estate
Bottled Wines
Discover limited production estate bottled wines such as Vergenoegd's internationally
acclaimed 2005 Cabernet Sauvignon, imported exclusively for our members.
DISCOVER OUR FOUR CLUBS