Just when we thought it would be hard to match the incredible 2016 Raspail-Ay Gigondas, we were wrong. The 2018 Raspail-Ay Gigondas (94 Points – Wine Advocate; 94 Points – Decanter) is every bit as compelling. The 2018 Domaine Raspail-Ay Gigondas once again captures the Ay family's consummate craftsmanship as well as the greatness of the 2018 vintage, one that was short on quantity but long on quality. The 2018 Raspail Ay Gigondas is aromatic, juicy, and bold in color, flavor, and intensity, all while keeping its equilibrium. Balanced and vivacious, it offers rich, savory scents and flavors of black raspberry, kirsch, and garrigue that mingle with exotic spices and subtle hints of violet and rose to deliver a complex, intriguing and wholly enjoyable bold red. The wine's ripe tannins make their appearance, too, to frame a cornucopia of flavors and deliver a vibrant finish that is certain to assure a long, happy life and a decade or more of drinking pleasure. For optimal enjoyment, afford the superb 2018 Raspail-Ay Gigondas at least 30 minutes of aeration before consuming it at cool room temperature (58°-60° F). Anticipated maturity: 2022-2030. Enjoy!
Domaine Raspail-Ay's outstanding 2018 Gigondas provides the ideal accompaniment to all kinds of grilled meats, especially lamb and chicken flavored Provençal style with rosemary, thyme, garlic and black pepper. A glass of Raspail-Ay's Gigondas with such pairings evoke fond memories of Provence and the sleepy village of Gigondas with its rocky terrain and aromatic "garrigue," where one inhales the intoxicating scents of rosemary, lavender, flowers, and wild herbs that infuse the crystalline summer air. Yes, in a glass of 2018 Raspail-Ay Gigondas one can be transported and taste Provence. Lobster ravioli, duck breast, roast quail, and thick sausage and bean laden cassoulets provide other superb accompaniments to Dominique Ay's outstanding Gigondas. Cheese and meat lasagna; risotto with sausage and wild herbs; rich pasta dishes made with fresh tomato sauce, garlic and olive oil; and smoked meats and cheeses also pair handsomely with Raspail-Ay's superb Gigondas. And if none of the previous pairings appeal to you, consider serving the 2018 Raspail-Ay Gigondas with another Provençal favorite, gourmet pizza, a traditional Provençal staple the locals claim as their own. Bon Appétit!
We first met Dominique Ay at his rustic domain on a sun-drenched Provençal day more than a quarter of century ago, and we have been a fan of his brilliant Gigondas ever since. In the last several years, Dominque's son Christophe and daughter Anne-Sophie have joined with Dominque to fashion truly world-class Gigondas. Not surprisingly, Robert Parker, Jr, and a coterie of wine writers and critics have also discovered the Gigondas of Raspail-Ay and constantly sing its praises. It is easy to like Dominique Ay, the serious minded proprietor of Domaine Raspail-Ay, and even easier to be charmed by the warm, seductive Gigondas he coaxes from his 46-acre domain.
Located on the terraces of the rugged Gigondas appellation, the last outcropping of the mighty alpine chain with the imposing rock formation of the Dentelles de Montmirail looming as a backdrop, this classic southern Rhône estate produces each vintage no more than 6,000 cases of a single superb Gigondas and a tiny quantity of rosé. Although rich and full-flavored, Dominique Ay's Gigondas also displays elegance and sophistication, elements often missing in the wines of many of his neighbors, and Raspail-Ay's Gigondas is better for it.
The Gigondas of Domaine Raspail-Ay is an artful blend of Grenache, Syrah, and Mourvèdre that is always ripe, generous, and rich on the palate. One can always count on this estate to fashion a wine with a mouthful of ripe, dark fruits – black cherries, cassis, and raspberries – with tasty notes of licorice and black pepper playing in the background. Curiously, the tannins of this domain's ethereal Gigondas always appear ripe and supple, too, mellowed no doubt by a hiatus of 20 months in large oak foudres. In addition, Dominique Ay ages his Gigondas several more months in old demi-muids in his refreshingly cool chais. The result is a wine that exhibits ripe, dark fruit aromas and a supple rich texture that belie its 15% plus alcohol content. Miraculously, the fruit in the wine lasts all the way from beginning to end, before exploding in a long, ripe, satisfying finish.
Gigondas and the neighboring Provençal villages of Cairanne, Vacqueyras and Châteauneuf-du-Pape produce the finest red wines of the southern Rhône. Relying upon old vines of Grenache, married to lesser quantities of Syrah, Mourvèdre, and Cinsault, Gigondas turns out a startling array of big, beautiful, tasty reds from nearly 2,500 acres of vineyards. Spanning a combination of soils, from the gravelly clay of the flat plains at the base of the craggy Dentelles de Montmirail to the sheer bedrock of the Dentelles themselves, Gigondas is testament to the belief that in this enchanted corner of Provence known as the Vaucluse one can even extract blood from stones in the form of a vigorous, deeply colored red wine.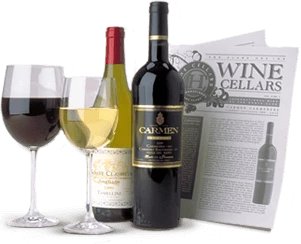 Enjoy Limited Production Estate
Bottled Wines
Discover limited production estate bottled wines such as Vergenoegd's internationally
acclaimed 2005 Cabernet Sauvignon, imported exclusively for our members.
DISCOVER OUR FOUR CLUBS